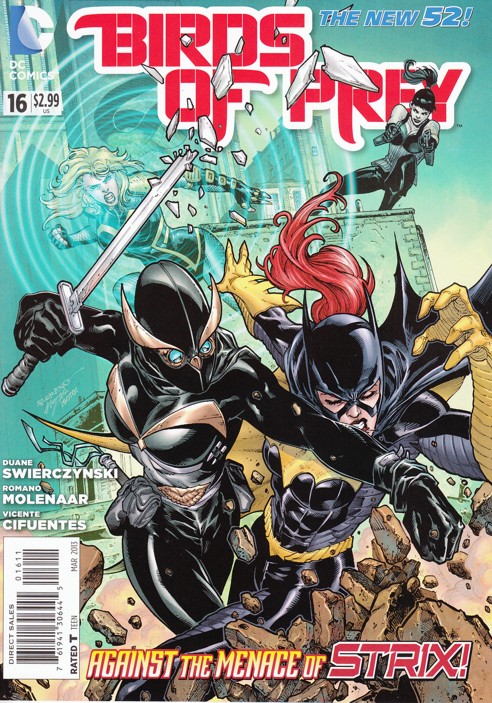 Last issue ended with Batgirl bringing the female Talon to join the team. This issue's cover? They're fighting the Talon!
My guess is that the Talon is punching Babs in the face because the Talon thought Batgirl was bringing her to join a well-written team. But her reasoning will have to remain a mystery because she's mute and can't tell anyone. I guess if she can do sign language and her reasons have to do with cookies, goats, and helicopters, I'll be able to understand her. I guess I know the signs for cats and raccoons as well!
How long do you think it'll be before I make a "Strix are for kids" joke? Probably fairly soon. I might even tell the joke three or four times! Get ready!
Black Canary and Starling are ready to fight the Talon even though the Talon is just sitting in the background stroking her pudendum.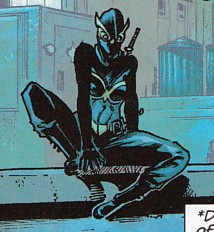 If only there were a rabbit masturbating, I could tell my joke!
Batgirl urges her fellow Turds to try Strix out. They might like it. But they know they're in a Duane Swierczynski comic. They're right to be suspicious.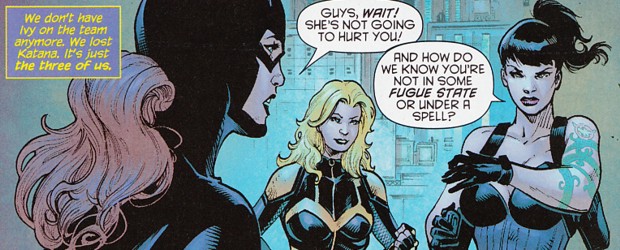 Please. If she were in a fugue state, she'd currently be Balthazar Getty.
Black Canary and Starling find it easier to believe that Batgirl is out of her fucking mind than to believe that the Talon that isn't currently trying to kill them because she's masturbating on a building ledge isn't going to start trying to kill them at any moment. I think that sentence made sense. If it didn't, you can rewrite it yourself and pretend that's what I wrote. Help me out and do some work, why don'cha? Sheesh. Do I have to read this crappy comic all by myself?
Am I the only one that reads "Strix" as "Str-nine"? I also read Netflix as "Netfiftynine." I also read the old Jack in the Box logo as "Jack in the Bejesus" because the "o" and the "x" merge and look like a Jesus fish. Did you know that if you write Christmas multiple times along the horizontal and then write it along the vertical making a big grid pattern of the word CHRISTMAS over and over again (like you probably see on wrapping paper and gift bags around the holidays), It says "SHIT" over and over again on the diagonal? People must see that, right?
S
C H R I S T M A S C H R I S T M A
C
H
R I S T M A
S
C H R I S T M A S
H R
I
S T M A S C
H
R I S T M A
S
C
R I S
T
M A S C H R
I
S T M A S C
H
I S T M A S C H R I S
T
M A S C H R
Anyway, it looks like maybe they might begin discussing things civilly even though the cover shows a different story. That's because the covers get things wrong all of the time. Maybe it's due to scripts changing after covers have already been painted. Or maybe it's just that DC hates their readers and just loves lying to them as often as they can. But the talking never happens because an unexpected guest (no, actually, he was expected) arrives!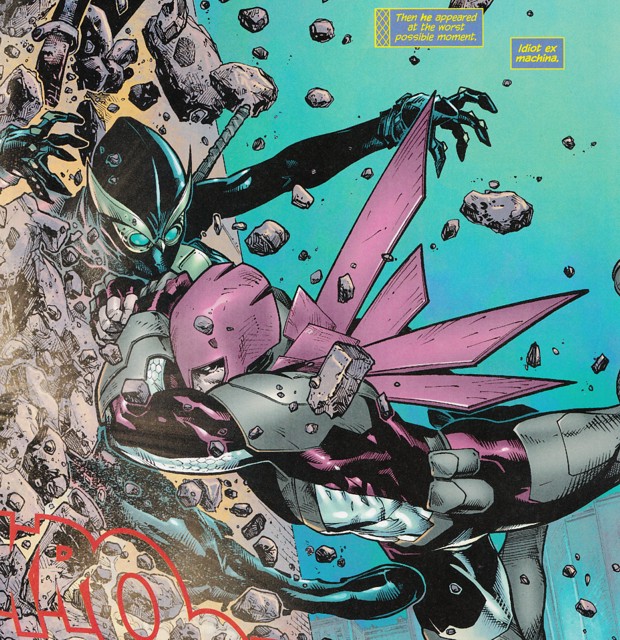 Okay. I admit it, Duane. I chuckled at the idiot ex machina line.
Now I don't know why Condor decided he needed to smash into Strix. Perhaps it was an accident? I guess everybody has heard of the Talons at this point and the big, brave man thought he was saving the little women. Whatever the reason, I can't forgive him. Because now I suddenly have to sit through twenty pages of a fight caused by a misunderstanding that simply delays the Turds accepting Strix as their new member.
Obligatory paragraph where I wonder why nobody ever talks about what happened between Poison Ivy and Katana.
Obligatory panel with people falling off of a building.
Holy shit! I think Grunion Guy's "50 Birds of Prey" fanfic is coming true!
It's about this point when I'm distracted by the advert for the second trade paperback for Snyder's Batman. This is the review quote from popmatters.com: "Batman has become a showcase for the possibility of the literary and the explosive to be paired as equals." WTF? Fucking bullshit. Reviewers so love the taste of their own cum. How come DC isn't tapping me for review quotes?! I can wank all over myself too, DC! "Batman captures the feelings of a young man's first tour of duty in the jungles of 'Nam when he first encountered the dizzying relationships of Edith Wharton's "Age of Innocence" in the quiet, desperate humidity filled times between the chaotic rush of seconds-filled gunfire that lasted eternities. But even while praying that each muffled bullet he heard fired wouldn't end his short life, he couldn't forget the heartbreaking choice of Newland Archer that was destined to be wrong because he'd always love the fantasy of the woman he didn't choose more than the reality of the woman he married. Yeah. Batman is like that." Was that too long for a review quote? I guess once I start jerking off to my own words, I just can't fucking get enough. I should make a picture of my quote so that everyone can print it and paste it in their comic books over the popmatters' quote. Unless you like their quote better! If you do, you can stop reading right now and never find out what happens to the Turds of Prey!
Still here? Good choice!
Hold on a second! Black Canary wants to interrupt me with an insightful insight!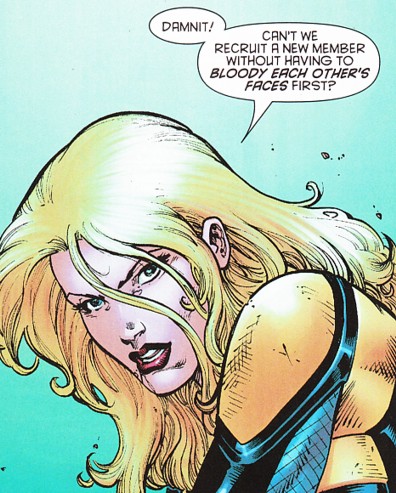 Says the Turd of Prey that wanted to kick Strix in the tits a few panels ago.
Meanwhile somewhere above Gotham (that's what Duane said in his meanwhile box! Apparently the Birds of Prey were on the tallest building in Gotham for Strix's interview), Starling tells Condor that his masculine bullshit damsel saving tune doesn't fly in a Birds of Prey comic book! It's just a lot of squawking and feather displays! When he drops birdshit like that, he just lays an egg and it makes him look like a cock that's hard to swallow. I think I might be ostriching the bird jokes a bit so I'll shut my flapping beak. Anyway, I should be making turd jokes not bird jokes! I'm so stupid!
Starling pulls off Condor's wings to get even with him for dropping her off the building in Yokohama. Ha ha! He'll be sorry for doing that when they both splatter on the streets of Gotham.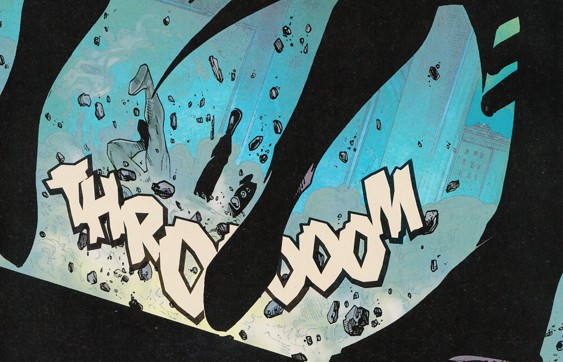 Or on the same roof Starling tackled Condor off of. I guess he flew them about for awhile which is why they were so far above all the other buildings. Pretend you didn't witness me interpret a comic book incorrectly. This'll be our little secret, okay? I'm sure you're the only one reading this stupid commentary anyway. Nobody else cares what's happening in this shitty comic book that I wish were better because it's the Birds of Prey! Come on! I want a well-written Birds of Prey comic book! Maybe DC can put out another one as one of The New 52 and call it, "The Well-Written Birds of Prey!"
Before Starling and Condor fall on Strix's head and piss her off even more, Batgirl gives a description of The Turds of Prey to Strix. She says, "We band together to take on the threats that
no one else
can." [Trigger warning: Sexist Jokes Ahead] What fucking threats are those? Severe cramping? An all female group of villains called the Harem Syndicate? Skinny jeans that cause saddle bags? Male dominated super hero groups that don't think twice about a roster full of men but always have to ask why the Turds won't put a man on their team? That last one was because everyone who read the Trigger Warning expected Sexist Jokes all aimed at women and then BOOM! I turned it around and called out men for their bullshit! Oh yeah! Touchdown dance! Or whatever you call the dance a woman does after her first menstruation! I never learned the name of that dance because I was never allowed to see the girl's filmstrip in fifth grade.
Everyone decides to play nice since they still have ten pages of comic book left to deliver an actual story. Condor knows where some Basilisk guys are that Black Canary wants to kick in the balls, so she allows him to tentatively join the Birds of Prey as their token male member. But only because he has a bird name!
I said male member.
It's too bad Strix doesn't talk because she can't participate in the zany back and forth dialogue that the other members engage in. I think I liked the ten pages where they weren't talking and they were simply punching each other in the noses.
As they break into the place where the Basilisk guy is demonstrating a device that will cut power to all of Gotham, Black Canary has one of her Kurt Lance Power Surges and blows a fucking hole in the Basilisk hideout. This sets off the power grid sucking bomb, sending Gotham into the dark. And just when the Mother of All Monsters is climbing into the city! The best part about the accident is that Starling is knocked out and finally fucking shuts up.
Turds of Prey #16 Rating: No change. I keep hoping this comic book will suddenly be worth reading but it never is. It's too bad that an all-female team is relegated to making bad all female-team jokes instead of just being a kick ass team. They even give Condor a hard time because he's male trying to worm his way onto their team. They should be giving him a hard time because he's an asshole and not worth having. And I don't know what value Strix is going to be. I guess her undead assassin personality should fit right in with the other block of wood personalities Swierczynski has given the other members of the team. Except for Starling. She's a right pistol, ain't she? Fucking annoying dick.