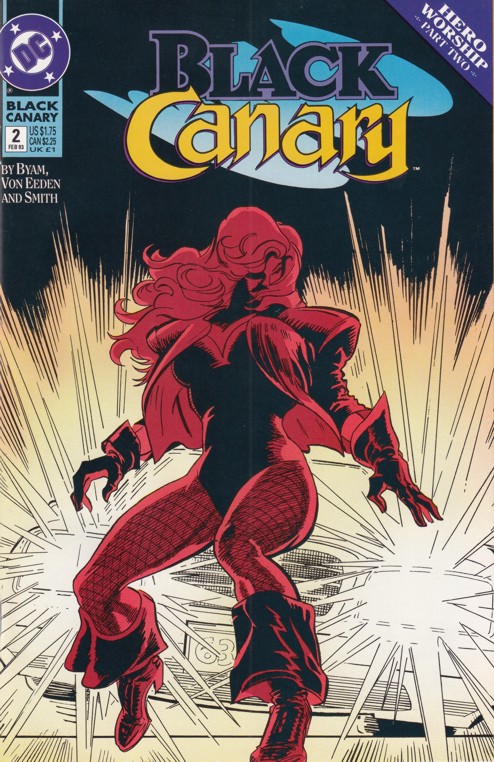 Black Canary and Deathstroke shop at the same footwear store.
I don't have any more issues of Black Canary after this so maybe I should discuss how confusing her history was in the DC Universe. Or maybe I'm just not that type of writer. You know, one who researches things and acts as a facts middleman. The things I know, I simply assume other people know. I begin with the assumption that anybody reading a review of a Black Canary comic book comes to it with the knowledge of her confusing Earth One and Earth Two background which forced DC to create a mother/daughter situation that only makes sense if you squint just right after slamming your head in a car door four times. The Non-Certified Spouse says I'm too willing to give people the benefit of the doubt. But no matter how cynical I might seem, I truly believe everybody I meet is my equal until they prove that they're not. Obviously I never assume anybody is more than equal to me! That would be crazy! But I don't meet people and begin with suspicion and doubt. The problem with that is that I generally find I don't have as much to write about. A good portion of intellectual reviewing of art comes down to people quoting more important thinkers and philosophers. But who needs that? I don't want a lesson on some art critic I didn't choose to read or some critic's mathematical proof (using quotes from other critics and philosophers instead of theorems) on how they came to their opinion of some piece of art. I want to hear each individual person's response to the piece. I want to hear something new and unique. Also, it's hard to remember all the literary theorist's names and what each one's philosophy and arguments were! At 48, I don't have time to re-remember all that crap! Plus at 48, I don't have the 20-or-30-something need to prove my intelligence to everybody who comes along. If you think fart and dick and exploding vagina jokes can't be smart and satirical, what do I care?!

I've been away from reading comic books for the last week or so because my brain chemistry might be fucked up. I only say this because one time in my life, I was beyond despair and found myself kneeling in front of a beaded curtain with the image of Ganesha on it, crying and asking for the obstacles in my life to be removed. The next day, my Xbox broke down. If I were into religion, I'd definitely be Hindu. But I'm more into playing Xbox games so instead I just thought, "Ha ha! Good one, Ganesha!" Then I decided I didn't mind feeling like lying in a mud puddle until I drowned if the cure was not playing Halo.

What I'm saying is that I'm not spending any time researching the details of the Black Canary mother/daughter relationship because it might cut into my Apex play time and hating myself.


Remember when stopping villains from robbing banks and enacting strange world domination schemes was fun? But holy gee whiz doody farts, it sure sucks now that they sometimes cut people's heads off and fuck the neck holes.
Previously in this comic book (you know, in issue one!), we learned that a politician was paying people to get homeless people drunk so that they wouldn't put up much of a fuss when they were forced to the polls to vote for the politician. Unfortunately, some of the homeless people died from tainted alcohol which might have simply been formaldehyde. Black Canary remembered how this same scheme was pulled when she was young which caused her to go fight crime for the first time in her mother's costume. I don't think I commented on it in my last review because I didn't know how old she was supposed to be and whether I should say she looked fuckable.

One of the people paid to get homeless people drunk was a punk named Sally. The guy she gave alcohol to died so now she's scared and on the run. Black Canary has decided to help her because who else is going to help her? Green Arrow?! Don't make me laugh until I puke out of my nose and consequently shit myself. I don't know if I used the word "consequently" correctly there but based on past experience, those things totally go together.


I guess a nuclear bomb just went off because Seattle never gets this much sun.
That girl with the mohawk and the hangover is Sally. She disappears after this but Black Canary is on her trail! She's working with the police but since she's not a police, she can do illegal things like break into a crime scene and remove evidence. The police chief just says things like, "Knock that off!" and "Stop giving me all this illegal evidence!" and "You're not real police or else you'd know that you're not doing anything we don't do all the time anyway, young lady!"

Black Canary goes undercover as a prostitute by simply going out in the day in her Black Canary outfit. I bet Nightwing could manage the same thing with those dick huggers he wears. If I didn't think that, I'd have to write a few paragraphs on sexism and how I'm totally against it. Unless the sexism is really feminism and women posing naked for me to jerk off to is empowering. Oops, that was a typo. I meant "for men to jerk off to."

The story flips back and forth between the present and the first time Dinah put on the Black Canary outfit. I think. It's hard to follow the story since it's two similar stories intertwined and I really don't remember the names of the bad guys from the first book. I think Black Canary stops the bad guys in the past and this issue ends with her confronting the politician's muscle as he's about to kill Sally. It ends with a "To Be Concluded" tag but I guess I didn't care enough about the story to go one more issue back in 1993. Even though I liked the mini-series and I enjoyed the first issue! But this issue was just a bit too convoluted so I can see why I either gave Issue #3 a pass or simply forgot I was collecting it. That sometimes used to happen if a story didn't grip me so that it stuck around in my head for a week or two after reading it. A month would pass and I'd simply forget to look for the next issue of a comic I was reading because it just didn't do anything for me. I think that's what happened here.

Black Canary #2 Rating: C. And that was it for my foray into being a Black Canary reader. I think six comics might be more of a chance than I've ever given to Green Arrow so I'd call it a bit of a success on Sarah Byam's part.