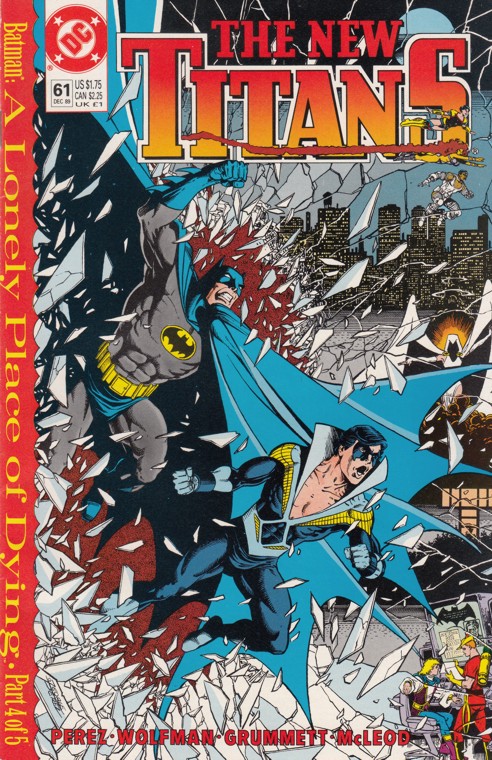 Jericho is about to jerk off Speedy in the lower right hand corner.
A Lonely Place of Dying hasn't been as terrible a series as I expected. I figured the title itself would be my favorite part. It kind of makes me sad because it makes me think of a wounded cat going off to find somewhere peaceful to die. So I'm already emotionally invested because the saddest thing I can think of is a cat dying. The second saddest thing I can think of is an old man weeping about how he should have shot his own dog. Especially when that lesson is extrapolated to your best friend. That's pretty sad too, that George would just give up and shoot Lennie in the head before the murder squad chasing them does it. I wish Quentin Tarantino would remake Of Mice and Men so that it could end in a bloody shoot-out where George and Lenny blow the shit out of all the redneck farmers. He'd probably have to make a few other changes to make it palatable, like have Lennie framed for killing Curley's wife and maybe have her kill all of the puppies with the boot of her high heel. That way there's no arguable reason to put Lennie down! Of course then the ending has to be the failure of George and Lennie's rabbit farm. The final shot would be of the farm with an out of business sign and a pile of mangled rabbits.

Tim continues to try to get Dick into a Robin costume but Dick just yells at him and tells him to fuck off in the most Comics Code Authority way possible. He then rides off to find Batman.


I wish Judd Winick had believed this.
The entire story doesn't simply revolve around Batman's reaction to the death of Jason Todd and some punk kid presuming to think he can fix Batman because this chapter is in The New Titans. So the Titans get a few pages where they deal with a crank phone call.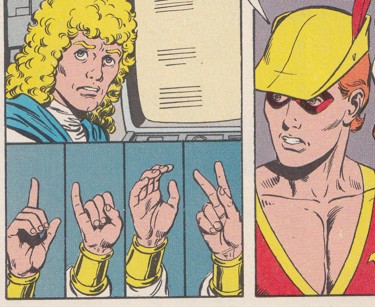 Also Jericho comes on to Speedy. And judging by the cover, it works.
After not being able to find Nightwing last issue because the only thing they tried was paging him, Raven tracks him down instantly when Jericho needs to get rid of her to have some privacy with Speedy. She tracks him down using her powers of, um, feelings? and teleports directly to him. She has a recording of the message the crank phone caller left that can only be played on Dick's wrist computer (which I guess didn't have email in 1989? Not even Eudora or Lotus Notes? What good is Waynetech if they can't even make that shit portable?!).

Meanwhile, Speedy spurts all over Jericho's face. Don't worry, it's off-panel. But I pictured it in my head!

Nightwing figures out all the clues left him by Batman's crank phone call and meets up with Batman. No wonder Dick feels like Batman doesn't give a shit about him. What kind of a way is that to contact your son?! You can't just page him like everybody else? Oh! Nightwing's pager was presumably off. That's why the Titans trying to contact Nightwing was important! But Batman knew an alternate way of contacting Dick that wasn't too sappy or seemed too desperate or would end in some kind of intimate hug. Although the two do smile at each other when they meet up so I think that means they've reconciled?!

Batman crashes into the building to capture Two-Face (or fall into two traps) while Nightwing goes around back to block off Two-Face's retreat. I bet if Two-Face knew that Robin had recently died, he wouldn't be poking at the Batman like this. When Batman finally catches him, Two-Face will be glad that Nightwing was brought in so he can save Two-Face's life.

Nightwing turns on his homing beacon to let Alfred know they need help when he and Batman can't figure out Two-Face's plan. He's more responsible than I am. I'd never ask for help because I know Batman would yell at me afterward. I'd rather be dead in the collapsed building like Batman and Nightwing than have to face Batman's wrath. Oh yeah, Two-Face collapses the building on them! They're dead!

I mean, obviously they're not dead. But they need to be saved! And I'm sure Alfred will dress up like Batman to save them and not send an inexperienced young Master Drake in a Robin outfit instead. Right?!

The New Titans #61 Rating: B. Seriously, I don't know what's going on but Marv Wolfman's telling a pretty good story here. Although I wish it had a little more angst-ridden Batman rending his garments over poor dead Jason Todd. I know he's not prone to showing emotion but he can cry at least once, right?! I guess when he tells Dick, "I nee...I could use your help," that was him saying, "I'm so fucking lost right now, Dick. What the hell do I do now?! I can't even protect my sons!"