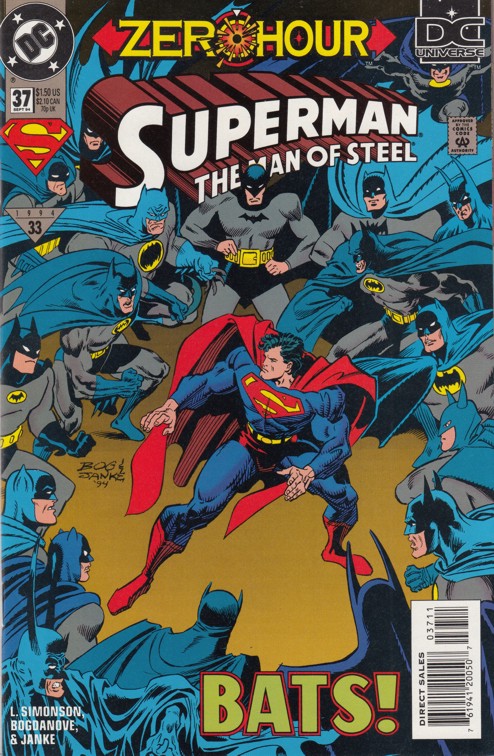 I wonder which of these Batmen is the one who battled Spawn?
Apparently Frank Miller claimed the Spawn/Batman team-up was part of the Dark Knight Universe. So now I know which Batman on this cover battled (and then later teamed-up with after realizing all of the punches were misunderstandings) Spawn!

I thought I liked Superman until I read the first page of this comic book.


Clark Kent is a real square!
Man, that's exactly the kind of talk I'd expect to hear from a mullet-headed Loverboy fan! Shredding Metal rocks! Go chaos! Fuck God! Get fucked by Satan! Whoooo!

I don't even know who this guy in the Shredding Metal jacket is! I wish Scott Lobdell were writing this so I would have a narration box saying, "My name is Jeb. I'm the manager for Shredding Metal. And a living weapon created by N.O.W.H.E.R.E." I'm assuming he's the manager because he looks like a fucking old man.

Batman comes to Metropolis and contacts Superman the only way people could in the 90s.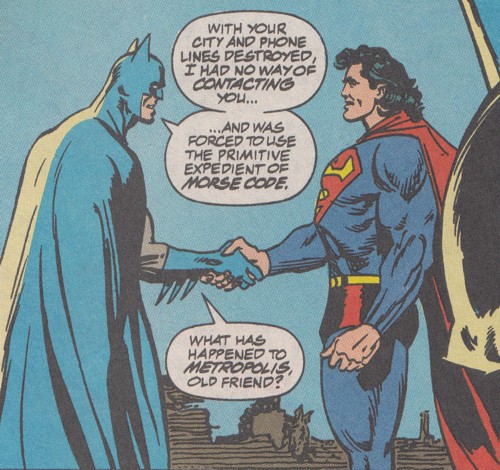 It's not like Superman wears a pager.
This Batman turns out not to be the real Batman. He uses words like "hippie" and "expedient" and uses a mirror to reflect the sun's rays to contact Superman with Morse Code. He also doesn't remember getting his back broken or understand why Superman has long hair. Plus, he shook Superman's hand! What kind of pre-Crisis on Infinite Earths gentlemanly Batcreep is this guy?!



Frank Miller Batman used punches and skulls cracking for his Morse Code message.
Old Timey Batman arrives next. I hope he brought his gun!

Superman and the Batmen can't figure out what's going on so they stop a bunch of terrorists from ruining the concert instead. It's just like Clark Kent predicted! The concert did bring a bad element to Metropolis. Fucking kids!

After the concert is over, the Batmen continue to morph into different Batmen, faster and faster, until they just disappear. That's when the real Batman appears and I realize this comic book was just twenty pages of filler and nonsense. The alternate Batmen didn't even do anything entertaining! I suppose their one trick worked though: they got me to buy this stupid comic book.

The issue ends with Jor-el and Martha-el arriving at the Kent farm in Smallville to bring their son home. But they're so dumb that they think Pa Kent is Kal-el. Even I know that parents who really love their children could recognize their infant son if they never again saw him until he was an eighty year old man. That's just common sense!

Superman: Man of Steel #37 Rating: D. I don't even know why I bought this comic book 25 years ago! Maybe I thought the coming of the Batmen was going to end in an orgy. Apparently if you put a dozen Batmen on the cover of a comic book, my 23 year old self will buy it and prove he's an idiot.