The only weapon you need to provoke a police officer to violence is scorn.
Sorry! The above caption had nothing to do with The Cockroach's first appearance in
Cerebus
and everything to do with how the Omaha Police arrested peaceful protesters by claiming that they're purpose was to "attack and/or provoke police officers to violence." Also, you can tell they're already spinning and lying by adding the "and/or" so they can imply that the protesters are planning on attacking police. And, well, even if they weren't (and they did say "or"!), their other main plan was to provoke them. But of course everybody whose ability to perceive reality isn't clouded by their incessant need to defend police no matter what understands that police will abuse their power at the drop of an eye roll. They believe any slight disrespect is an excuse for a violent rebuttal. They force physical violence on people whom they have no reason to arrest simply so the person can struggle against the assault, as any normal person would do, and then claim resisting.
Police should be confronted by scorn and disrespect at every turn. Only when they learn not to instantly resort to violence and threats will they deserve to not be.
Welcome to my comic book and/or police review blog!
Deni's "A Note from the Publisher" continues on a theme that I hadn't noticed until just now: every new issue of
Cerebus
now seems to be a landmark issue! It's an interesting self-promotion take that I have to admit I'd never thought of trying. "Every new Eee! Tess Ate Chai Tea review is a landmark review!" You know what else is a landmark?
Places & Predators
, my Cribbage-based Roller Playing Game! You don't even really need any friends to play it. Just read it like a book and enjoy it! Or play it like a Fighting Fantasy Adventure Book! Use some online Cribbage app! Figure out how to use the crib in ways the online app definitely won't let you!
Oh, the reason this is a landmark issue is because more letters came in than normal! It's a hit! Deni also reveals that she'll be making the Cerebus plush toys that were advertised in previous issues and at half the price! So kudos for stealing that job from the person who originally made them! It probably wasn't anything so dramatic but what fun is going through your life defaulting to the best, most optimistic possibility in every given situation? Have some fun! Act paranoid! Purposefully misunderstand your father and scream in his face! Kick a dog!
Sorry! I got carried away! I would never kick a dog unless it was attacking me. But even then, I'd be wishing I was kicking the owner who let it go off leash. The dog doesn't deserve my epic self defense tactics in its soft face. But the owner certainly does!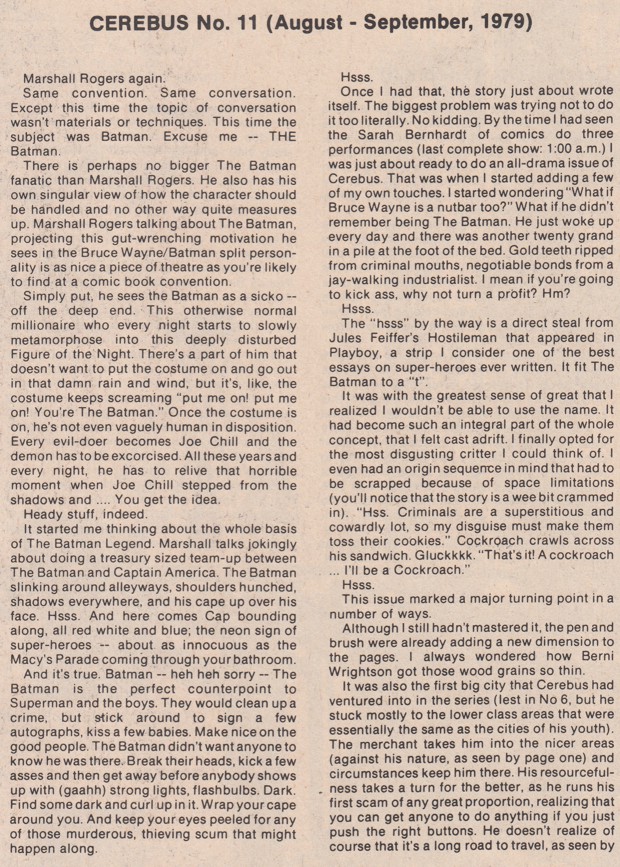 The basics on the origin of The Cockroach.
I didn't realize Dave came up with The Cockroach because it was gross and disgusting. I just thought it was a more clever version of a bat, keeping to the shadows, hiding, surviving, a constant annoyance to poor people. In any case, The Cockroach is the greatest parody of The Batman, hands down. Because The Batman has become such a parody of himself time and time again, you just need an absolutely Batshit insane version of him.

I don't do segues so Cerebus has come to Beduin to sell the Black Blossom Lotus. Just look at all the continuity Dave Sim is giving his readers! I wonder how many comic book fans would list "continuity" as their number one favorite thing about comic books? Like, are there people who would list that above great writing or terrific art? Judging by how terrible a lot of mainstream comic books are and how rabid many of the fans, I'd suspect it was a fairly high number. Maybe 65 out of 100, Bob. Change that card!

The Merchant Cerebus deals with is a kook who might just have a super secret identity. It's weird to think of the Roach as being capable of actually living an independent life! I suppose he's just barely hanging onto his sanity at this point (and, of course, only during the day). But then he comes into the mystical aura of strangeness that aardvarks apparently exude out of their buttholes and he just loses it completely. He becomes less a merchant slash superhero and more a superhero slash zombie cosplayer. Also he becomes one of the greatest characters ever created! There are like four of them in the entirety of Cerebus! The exclamation point is because I think that's an incredibly high number and not because I think it's an incredibly low number. Most comic book's protagonists never quite make it to the greatest ever! Plus I'd probably give Cerebus more than four but a lot of them are just really good parodies, satires, and slightly-off representations of characters and people who already existed.

The merchant buys the Black Blossom Lotus from Cerebus for 100 gold pieces and then promptly drops it out of the window and into the Feld River.


Not only does Dave Sim come up with a bunch of memorable plots across three hundred issues, he also comes up with a lot of good Dungeons & Dragons campaign ideas.
The Merchant pays Cerebus a sack of gold and gets ready for bed as Cerebus begins to leave. Before Cerebus can even exit the hallway outside the merchant's bedroom door, Cerebus begins to hear loud ranting coming from the other side. It's a lot of hissing and threats of murder. Against his better judgment, Cerebus decides to see what's happening and gets his first look at the guy who will be a huge headache to him for the next two hundred issues or so.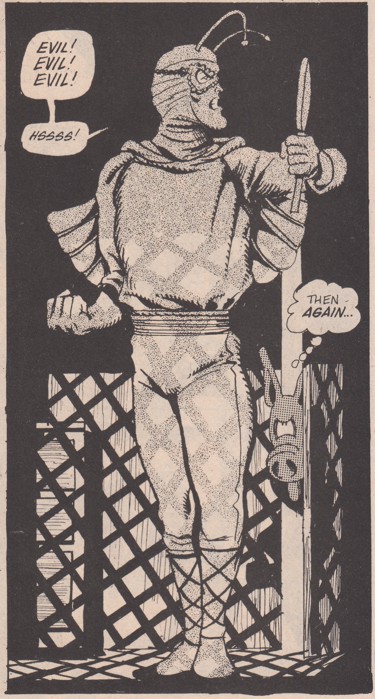 One thing I like about Dave Sim is how honest he is when recounting where he came up with or stole his ideas. He gives plenty of credit for the Cockroach and his hissing to Marshall Rogers and Jules Feiffer. It's admirable because a lot of people would just figure, "It might make me look less of an artist and who's going to know anyway?!"
Just a few days ago, my old elementary school friend who was blown up in Iraq and then became a comedian playing to Christians and patriots (which I mention so you'll understand how, as a wounded veteran, he'll never be criticized by his audience and he'll never really grow as a comedian) posted a Tik Tok on Facebook that was just a film of a television set capturing the "Masked Debate" bit on Last Week Tonight with John Oliver. The clip only shows all the clips of news readers saying "masked debate" and none of Oliver's or the show's set-up. He then watermarked it with his Tik Tok name. Now all of those naive followers who can only seem to reply to his posts with the laugh/cry emoji probably think he wrote it. Better yet, they're probably mostly Trump followers who would never admit to finding that libjerk Oliver or his show funny. What's even better is that the Tik Tok has some quote along top that's watermarked with somebody else's Tik Tok name! So it looks like Bob doubly stole the bit.

Man, I wish I'd joined the army and gotten blown up and then found Christ and developed an audience of uncritical naive yahoos who would wildly applaud everything I wrote! Why didn't I join the army?! Oh, that's right. Because I believed I had a future right out of high school. Well, I guess Bob is having the last laugh now!

Cerebus follows Cockroach across the rooftops to find out what's going on. He eventually witnesses the Cockroach confront a man in an alley, accuse him of killing his parents, knock him out, and steal his gold. The gold part of the night helps Cerebus to ignore all of the other confusing stuff. The Cockroach doesn't gloat for long. He's off to find another victim! Cerebus witnesses him mug another guy whom he also accuses of killing his parents. He also admits to doing this for thirty years. So now Cerebus thinks the guy is crazy but also crazy rich.

At the end of the night, the Cockroach returns home and drops the gold purses into a secret panel in the wall. He falls asleep, wakes up, and, when he sees Cerebus, acts as if Cerebus were just leaving. So Cerebus realizes that the merchant doesn't have any idea what the Cockroach is doing. Which means Cerebus is going to recover those gold purses before the Cockroach comes back! At the moment, Cerebus doesn't realize that he's going to be finding thirty years worth of gold purses in the merchant's walls. Can you imagine how boring the last two hundred and eighty-nine issues of Cerebus would have been if Cerebus managed to steal all of the Roach's gold?! I'm sure some of you are thinking, "It wouldn't have been any worse than the last hundred issues we did get!" Also, can you imagine how fat Cerebus would have gotten drinking tons of ale and eating loads of rich foods? I'm laughing so much just trying to picture it! Ha ha!


Eight feet of gold would make Cerebus fatter than a domesticated raccoon!
In the end, Cerebus only makes it away with three sacks of gold. But in the process, he manages to completely screw up the Roach/Merchant equilibrium that's lasted for thirty years. In trying to exploit the man's mental illness so that he'd help Cerebus move the gold, Cerebus drags the Roach personality into the daylight. From here on out, the Roach will simply be a pawn of others, susceptible to almost any second-rate demagogue (although most of the people who subsequently control the Roach are of the first rate variety).

The Aardvark Comment section was two pages this issue and had this letter that I don't think was being sarcastic?


I guess I also wouldn't necessarily consider a chainmail bikini as "a disgusting costume." He's probably thinking about Power Girl.
Also, and I admit it might have been a joke, but Dave Sim reveals that Ronald Reagan is Cerebus' father. That, um, makes sense!

Cerebus #11 Rating: A. I almost gave it a B+ for variety but then I remembered I just read the first appearance of the Roach. I also forgot that my ratings don't actually mean anything.