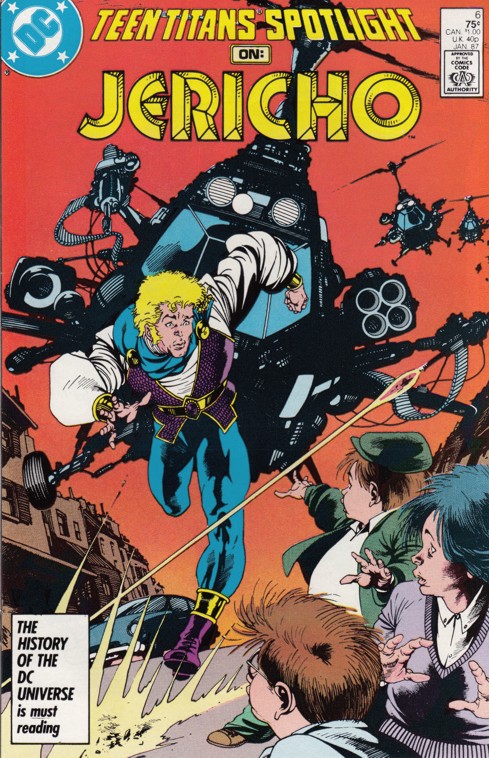 Who are all the chubby children? The Quraci Newskids Legion?
I'm so angry about having to read a fourth Jericho comic book that I'm going to invent time travel so I can go back in time and punch my teenage self in the face. "This was your favorite Titan?!" I'd scream in his zitty face. "You're never going to get laid! I should know!" Then I'd...hey! I remember that happening! I kept wondering, "Who is this fat fuck and why does he care about my love of fashion and facial hair?!" Then I cried for a bit while mumbling, "I'm never going to get laid? You're never going to get laid!" I guess I was right!

I realize I'm utilizing time travel incorrectly. I should be going back in time and convincing Marv Wolfman not to do a four issue story arc about Jericho. Or killing his mother. But, really, what did she do? She got pregnant and now I have to suffer through reading a Jericho comic book for ten minutes. The retaliation might be a little disproportionate. I should kill Marv's father too!

Forget going back in time to kill Baby Hitler. How many people would go back in time to abort Baby Hitler? That's the more interesting philosophical conundrum. Some people would want to go back in time to get Hitler's mother pregnant before Papa Hitler got her pregnant but that's just asking for the person to realize that they're sperm is evil and they always fathered stupid Baby Hitler. Maybe I'd go back in time and step on whatever the fuck sprang to life in the Primordial Ooze. Just get the whole fucking thing over with.

This issue is called "Conflagration" which is an anagram of "con flag ration."


If Joseph is lucky, Penny is totally hot for her father.
Arthur and Penny's plan is to destroy Qurac and replace it with a H.I.V.E. franchise. If I were Jericho, I wouldn't bother stopping them until after they destroyed Qurac. And I wouldn't feel bad about civilian casualties because according to DC's Who's Who, every single person living in Qurac is a vile terrorist. It makes it easier for writers to avoid political pitfalls! You don't just want kids in America thinking, "Fuck those Quracis! What devils!" You also want your Middle Eastern audience to be all, "Fuck those Quracis! What devils!" And since Qurac doesn't actually exist, you aren't losing any money from Quracis offended by their portrayal!

Curt finishes telling Addie everything he knows even though I thought he already did that back when Joseph was still alive (wink, wink!). Adeline discovers that Lord is on his way to destroy Qurac so she rushes off to help. That leaves Curt alone to star in a wacky one page story that should probably end with fruit pies.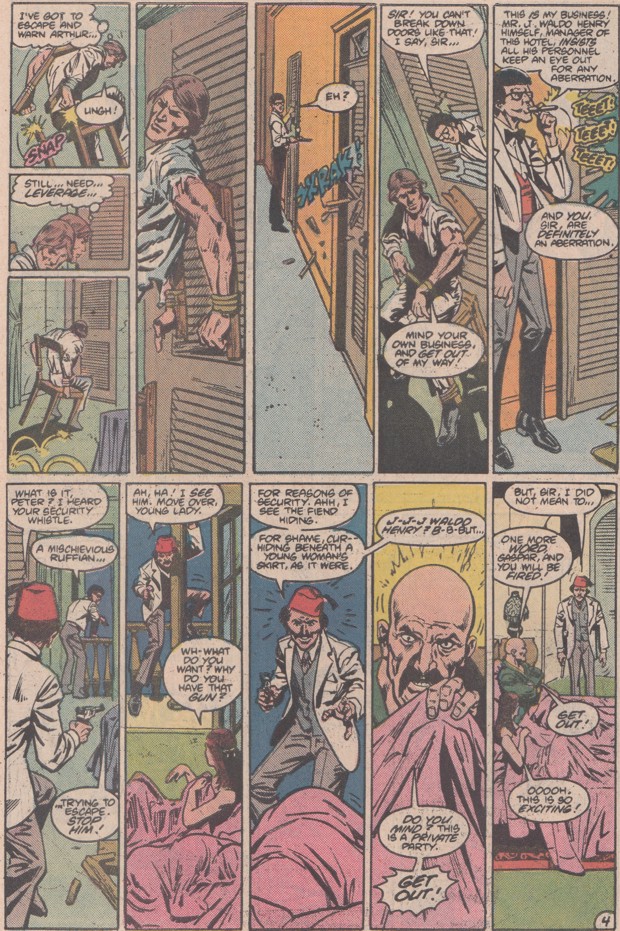 Apparently Marv's script was one page short and he needed to add some filler.
On the way to bomb Qurac, Penny's father regains consciousness and says those words that always make me giggle: "Penny, he's inside me!" Penny answers, "What?! Why didn't you use the warm potato salad trick?!" Penny realizes the only thing she can do is shoot her father in the head. I would probably try bluffing first but then I'm not H.I.V.E. material for a reason. But before Penny can pull the trigger, Joseph makes me laugh again: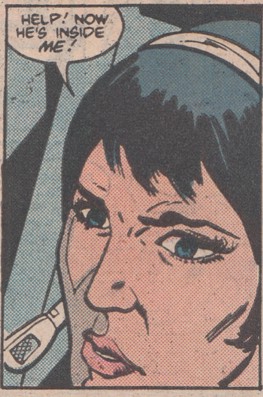 Who forgot the potato salad now?
To save the capital of Quarc which is I have no idea, Jericho switches back into Arthur (and of course Arthur screams, "He's inside me again!") so he can attack Arthur's squadron of helicopters. Joey fails to blow up all the other helicopters so he just ejects the gas in Arthur's copter and bails out of the helicopter to hide inside some children. None of the children say, "He's inside of me!", because that would be inappropriate.

Lord's helicopters begin destroying the Quraci buildings and even the narrator doesn't give a fuck about all the innocent deaths.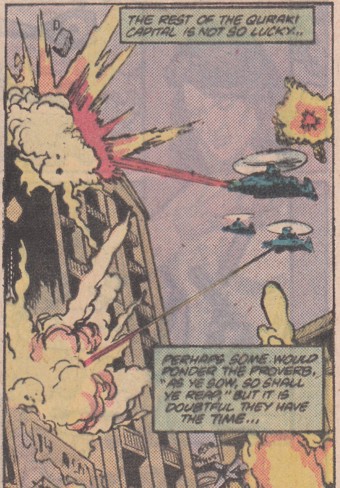 Because there are no innocents in Qurac!
Once again, Arthur and Jericho face off in hand to hand combat. Arthur tells Jericho, "I've beaten you once, son. I'll do it again!" Apparently Arthur doesn't quite remember his last fight with Jericho. To be fair, he was unconscious for the end of it.

The fight ends when Penny shoots her father thinking that she'll somehow kill Jericho while he's still in the body. Maybe she's not as stupid as this moment makes her out to be. Maybe she secretly loved Joseph this entire time and was just waiting for the chance to kill her father!


Nope. Just stupid. And really fucking angry!
Arthur Lord manages to survive but he's left crippled. And Jericho returns to making lewd signs.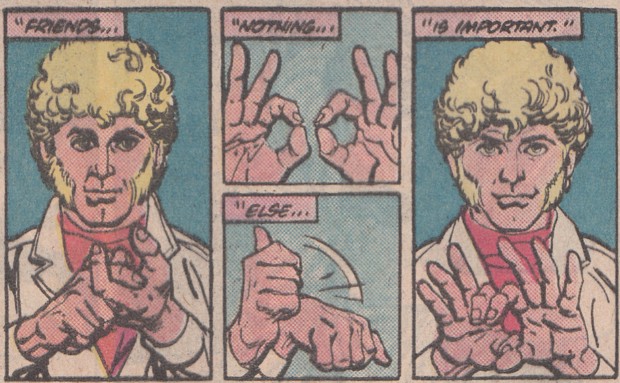 "I fuck butts now. I'm gay for cock."
Teen Titans Spotlight #6: Jericho Rating: B. I liked Jericho when I was younger because it was odd to see a sensitive hero who tried his best to resort to pacifism. Not wholly against physical violence when he had to engage in it but he definitely used his powers to try to deescalate situations. That seemed heroic to me when I was younger. And dumber, apparently, because I think comic book fandom is about loving huge fist fights! I'm totally getting on board that train now. Whoo whoo! No wonder so many people hated Tom King's run of Batman. What is the point of Batman if he's not breaking jaws and cracking skulls?!