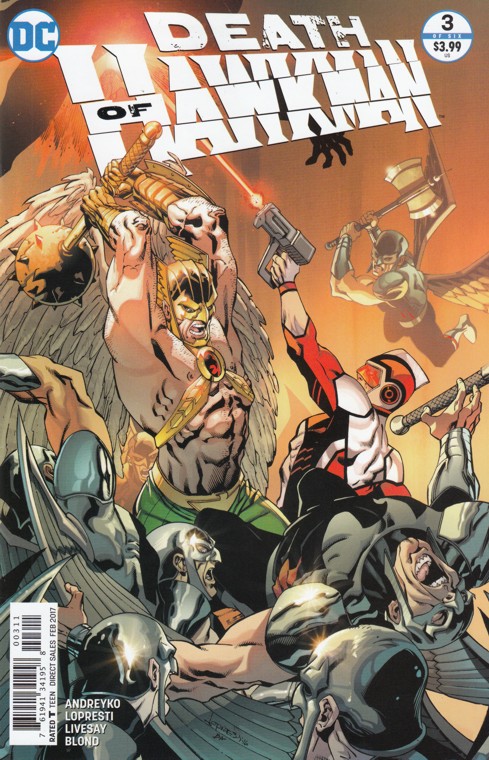 I hope these two guys discuss archaeology for most of this book.
I hope Andreyko decides to surprise everybody and kill off Hawkman three issues early! The story would still have to deal with the aftermath of Hawkman's death and Adam Strange would have to overcome crazy odds to win (because he's, you know, just stupid Adam Strange. All he has is a laser pistol. Although it's better than a mace, I guess?). The only reason I can think to not kill Hawkman this issue is that it's the only reason most of us are probably reading this series. As soon as Hawkman dies, I'll be satisfied with the story.

Adam Strange is having trouble dealing with killing people. He's not used to being in actual wars where lives are at stake. The only thing he's good at is banging his students. He's apparently so manly that he nearly vomits seeing Katar's penis. Unless Thanagarians have disgusting looking genitals. That's probably a better explanation.

Seeing Katar's penis was where the flashback left off last issue. The story continues from there which is a shame because Hawkman is definitely not going to be dying in a flashback.


Aha! Strange is definitely intrigued by Katar's nakedness!
The woman who bedded Hawkman is named Seraphene so if I knew anything about DC Comics, I'd probably know how she's super important now or something. The only Seraphene I can think of is one of those Forever People. But I don't think she's white or blonde or into fucking Hawkmen.

Katar and Adam realize Despero is behind the attempt to set Rann and Thanagar on a path to war. But they're no match for Despero! They're only C-List members of Justice League Canada. What can they do to save two worlds from destroying each other?

Seraphene might not be as important as I thought she'd be. She's just a plot point so that the security forces on Thanagar would know where to find Adam Strange when the report goes out that he's wanted.

Cyborg is able to confirm that Despero is no longer in Belle Reve. Well, maybe somebody should have placed him in The Catacombs underneath Death Valley! That's where the truly dangerous cosmic villains are supposed to be held. I guess The Catacombs didn't actually exist at the time. Or maybe Batman forgot to tell Justice League Canada about the prison.

Before Hawkman and Adam Strange can begin their pursuit of Despero (without any help because, as usual, the rest of the League is "on a mission." And nobody cares if Cyborg joins them. It's going to take a lot more than a White Noise Cannon to stop Despero), some Thanagarian security guards arrive to beat the shit out of Adam Strange.

Back on his home planet, Despero kills the priests maintaining the stasis pods of everyone on Kalador. He then frees them and convinces them to be his army to take over some other planets. I hear Rann and Thanagar are particularly nice this time of the galactic cycle. I mean, I don't know where they're actually headed but Hawkman and Adam Strange are headed to Kalador, so maybe they'll run into each other along the way.


Meanwhile, Alanna is acting like an asshole. Maybe she's only now realizing Adam Strange's abuse of power and manipulation of trust in forming a relationship with one of his students. Or student aides. Nearly the same thing.
The Ranking!
No change. DC Comics has decided that all of their mini-series need to be six issues long. But none of their writers seem to be able to come up with a six issue long story. So the pacing is generally all over the place as they try to stretch what little story they have over 120 pages. This issue is absolutely a filler issue. Everything that happened this issue could easily have taken place in a couple pages at the end of last issue and maybe a couple pages at the beginning of the next issue. And I'm sure both of those issues have some pages they could have tossed out.