The only good thing about these variant covers is that they don't spoil the story inside.
Speaking of variant covers! Did anybody else see the Martian Manhunter Variant with all the Old Portugese [sic] pointing out different aspects of his physical characteristics? They had it in the case at my comic book store last Wednesday and because I can read stupid Old Portugese [sic] without a key now, it made me laugh because the final line points to his midsection and reads, "Thin Waist." That's one of the best super powers! Although he might lose it if New 52 Martian Manhunter discovers Oreos.
I'm sure there are vast vistas of uncharted technological territory still to discover thanks to the advent of cellphones but I think Periscope is the logical conclusion of social media and texting. Most people's lives are full of vast stretches of boredom punctuated by brief moments where survival instincts kick in and flood us with adrenaline, after which we proclaim we will no longer take anything for granted and will live every day as if it is our last and jump up on our desk and recite a fairly average poem. But soon enough, the long stretches of boredom will erode the feeling of living and we're forced to live vicariously through somebody else's life. Periscope is the perfect application for that! Now you never have to experience life through your own boring eyes! You can watch other people living life from the comfort of your own home! And the second best thing to viewing somebody else's experience through Periscope is Periscoping your own mundane existence so that it seems more exciting! "Look at me!" you say to all the viewers that missed you saying that because they were busy doing something else while you were Periscoping your profound experience feeding ducks.
Social media is just a place where we're all wasting our lives desperately trying to prove to everybody else that we're not wasting our lives.
Fuck you. This blog is different! Assholes.
I think that's enough words for looking down my nose and judging other people for this commentary. I should move on to judging Cullen Bunn's writing. How many comic books is he writing for DC now? Half of them? Plus about a dozen at Marvel and a few at Image? I don't usually trust aphorisms but I'm going to trust that "quality over quantity" is probably correct and most of what Cullen Bunn writes is hastily written garbage that even Hemingway wouldn't find worthy to shove into a short story.
This issue begins by proving that Twat Lobo is the manliest man in the universe because he just had sex with a vagina with two women attached to it.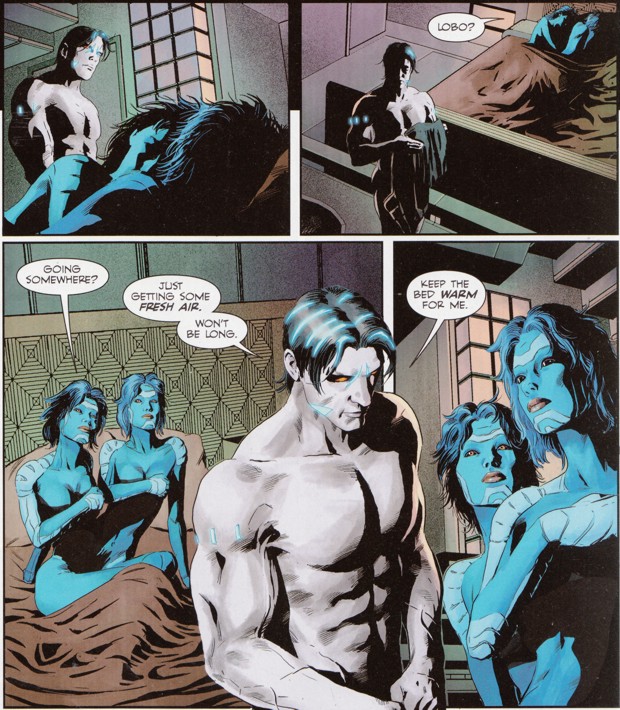 Also, the women's right arms seem to be attached to their nipples.
The previous six issues have convinced readers that Twat Lobo is actually a pretty decent guy who wouldn't just blow up his own planet if he hadn't had his heart broken. Also it might not have been his fault but the fault of some Xrexian (ptui!) named The Pariah. Twat Lobo has no weaknesses at all, if you don't count his obsession with making up "rules" to follow based on the contracts he takes. My theory about Twat Lobo is overly complicated so I won't go into it. Also it's at the end of my review of Twat Lobo #6 if you're interested enough in reading even more words on the screen that you can be using right now to look at pornography or funny cat pictures. I would have used two other examples so that it seemed like I was making up a new joke there but, come on, we all know what the internet is really used for. The only things being read are headlines and the word "Submit" so that you know which button to click on after typing up an angry and poorly thought out rant in the comments section of the headline you just read. Do kids today even understand that headlines aren't the whole story? There are actually more words to read after the headline! It's called an article.
Twat Lobo's first Narration Box is this: "Typically, Geology is not a get-rich-quick science." Are you starting to see the value of the plot of land I've chosen for the Anti-Cullen Bunn Encampment? That's not a thought anybody but a lazy writer would ever have for any reason. Which means it's probably only ever been typed by Cullen Bunn and Ernest Hemingway. So, Geology isn't a get-rich-quick science, eh?! How about signing me up for one of them that is then! Woo-ee! We gonna git rich on one a dem sciences, boys! At first I uz all, "Yer crazy! Geology?! Dat ain't one of dem get-rich-quick sciences! We should maybe try dat dere Biology! Or Ornithology! But Geology?! I thought fer sure you'd gone round the bend! But when I read yer plan, I was all, 'Geology? More like OMGeology, amirite?!"
Now, maybe you're still over there stroking your genitals and hugging your Cullen Bunn comic books. Maybe you just figure I'm biased and an awful critic. Maybe you're Cullen Bunn's mom. What do I care? Like the guy! You can like whomever you want! I'm too busy hanging out in Powell's knocking Ernest Hemingway books out of people's hands and yelling, "NO! BAD READER! BAD!" I don't have a stake in whether Cullen Bunn makes a living off of comic books or not. But let me give you the second Twat Lobo Narration Box. And I'm going to repeat the first one so you get the flow. If it makes sense to you, good luck with you. We can part company now.
"Typically, geology is not a get-rich-quick science. Varnu Vain's the exception to that rule."
Before I move on, may I also point out that Geology is probably a pretty good science to go into if you want to make some bucks? I figure some major billion dollar corporations have a lot of well paid geologists on staff. Now imagine that we're not just talking about the resources that can be found on Earth but across the entire universe? Probably a lot of money to be made for scientists who know their mineral makeups of asteroids!
Maybe Cullen Bunn ends the Narration Boxing much better than he began it but that just shows he had a thought he wanted to write down but had no idea how to get to that thought. So he just began by typing whatever came to mind. Like that stupid line about geology, or some nonsensical bit about a variant cover to a comic book.
Twat Lobo has killed a bunch of people in the VIP Room at the club while waiting for Varnu.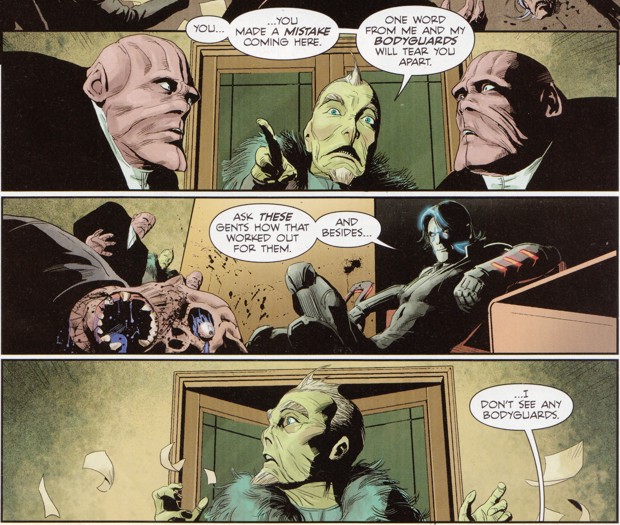 The cartoon papers in the air due to the bodyguards fleeing so quickly pulls me right out of the story! Okay, fine. I was never really committed to the story due to my initial bias against Twat Lobo and Cullen Bunn anyway!
Twat Lobo wants Varnu because he's investigating the person who put out the contract on Earth and Czarnia. I thought Twat Lobo was going after the banker at the end of Issue #6 but since that was two months ago, DC assumes I'll just remember that he was going after the geologist hired to, I don't know, assess the makeup of the planet and mark it for demolition? I suppose it can be fixed in the Trade or else it'll read weird. Or maybe I should just assume that the banker didn't pay up (for the Czarnia job which Twat Lobo believes he's owed for because he destroyed it and not The Pariah) so now Twat Lobo is searching for other means to find the Contractor. Whatever the case, somebody doesn't want Twat Lobo to continue on this path because they blow the brains out of the head of the geologist. But they do it from the dance floor which will make it next to impossible for Twat Lobo to discover them!
It turns out to be a whole army of goggle wearing freaks in catcher's pads! Some of them have swords which is weird when the other ones have lasers. Why bother? If you don't have enough lasers for everybody, don't hire so many people! An electric sword is small consolation when you could have been given a Big Fucking Laser.
Twat Lobo spends the next couple of pages disemboweling and beheading and despleeninating the army of goons. Is this what DC Comics thinks made Real Deal Lobo so popular? The gruesome, gory, over-the-top murder of lots and lots of people without any sense of black humor, irony, or satire? I feel dirty just reading this book because it's obvious DC Comics wanted to make sure Lobo was cool for the current generation (which is how he became a Twat) which means they must think murder and gore for murder and gore's sake is what the kids today are really into. Who am I to argue? I'm a fucking dinosaur! This dope is whack!
Is Twat Lobo acknowledging that Real Deal Lobo is just his future self?! Am I reading this wrong (in much the same way I read everything incorrectly?! (Fuck you! Harvest is so Tim Drake!))!?
Twat Lobo finishes his Narration Boxing with "...or I'll get myself fragged right this very moment." See?! He says "fragged"! And he acknowledges that if he dies at this moment, he'll never become muscular and hairy. Which means he's eventually killed by himself but he probably didn't want to be old and hairy and not a Twat anyway. See? New Twat Lobo Theory!
Twat Lobo heads back to his motel room where he finds some spotty alien named Kadra and more goggle eyed army men waiting for him. She works for the top assassin's guild in the universe, The Void Whisper. They're the guild who all the assassins trying to destroy Earth worked for.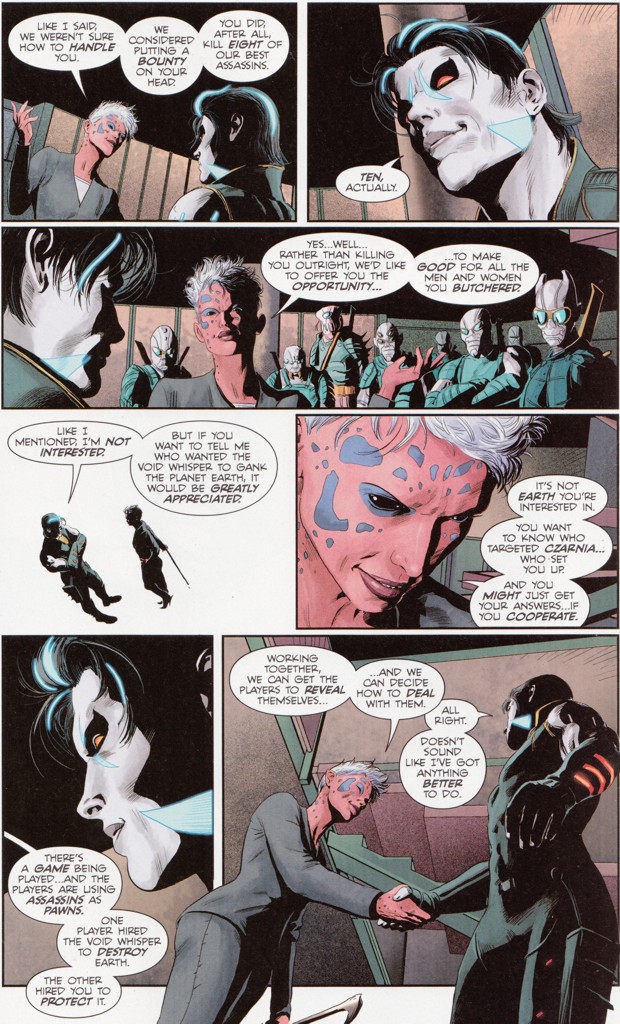 So the greatest assassin's guild in the universe takes on anonymous clients? As Twat Lobo said earlier, "That's a good way to make enemies!"
Obviously Kadra is lying because even Twat Lobo knows that you don't take contracts from unknown clients for unknown reasons simply for the money. You do your own research. So Kadra knows the person responsible for the Earth contract. She may not have learned that it was a game until later but she knows the person for whom her people were working. This is just another way to deal with Twat Lobo! And maybe get him to deal with a troublesome client. Let's not forget that it could also just be a lazy piece of writing to move Twat Lobo into position for Cullen Bunn's next story beat.
Maybe with this new information, Twat Lobo could even go back to Rhialla to find out who hired him to protect Earth. Maybe, with this information, I could even go back to Issue #1 and see if Rhialla mentioned the client! Probably not though since that would be confidential and the main reason why assassins would work through a middleman to do jobs for clients. Can't have the butcherers knowing the identities of the money men!
Twat Lobo figures that the Two-Torso'd Woman he was fucking sold him out to Kadra, so he plants a bomb in one of their mouths in his farewell kiss.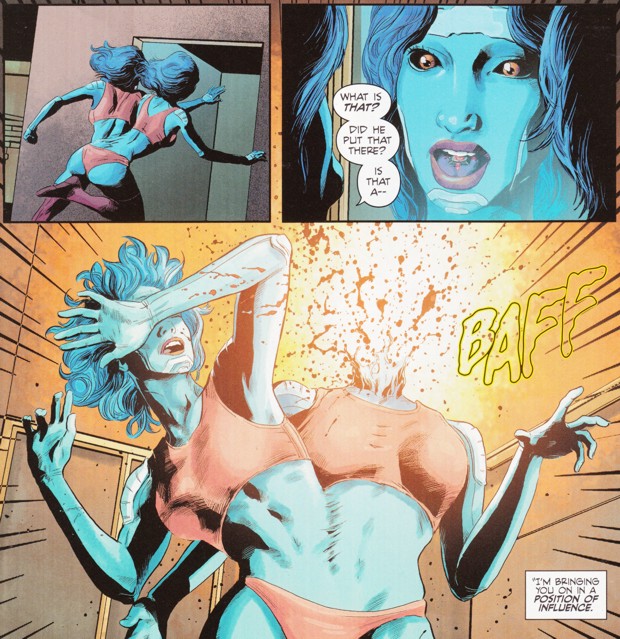 That's one good way to ensure that nobody will ever want to fuck rat on you again.
To get the information Twat Lobo needs, he isn't just going to work with Kadra to find out who hired the assassins. No, he's going to become her personal assistant. So basically he'll continue to be a bounty hunter but for a different employer. And he's got a quest to find out who wanted Czarnia destroyed. Oh! I know who! It was Real Deal Lobo and he did it because of low self-esteem problems and taking the whole "unique snowflake" culture to its extremely illogical end!
But I guess DC Comics has heard that genocide is bad and if they're going to have a palatable anti-hero, he's got to have not committed any genocide at all. At least not on purpose, I mean. Whew! Good thing because the only reason I could find not to like Twat Lobo was if he was a purposeful committer of genocide! Take that out of his back story and, BINGO!, likeable dude!
On Twat Lobo's first job for The Void Whisper, he tries to kill a guy that passes on warnings to The Void Whisper's marks for a price. An Alien Scorpion Space Tracker climbs out of the guy's eyeball before Twat Lobo can kill him. And then the issue ends with a Thanagarian, a Daemonite, and a Martian entering a church. Cullen Bunn doesn't even give us the punchline!
Twat Lobo #7 Rating: -1 Ranking. It has no personality. It's just a bad-ass guy that murders using bad-assery and then moves on to do more bad ass bad-assery. It's not bad ass. It's just bad.