This comic book should have been cancelled when Adam One was killed at the beginning of time.
Not that I want this comic book to be cancelled! It's one of my favorites! It's just that time is different now thanks to the flame-headed people switching everything over to the Magenta Timeline. Although if I really dug into my DC Fanboy Logic Vaults, I can make excuses for anything. And this one is easier than most. Just make Merlin somebody else! Perhaps since there was no Adam One/Merlin, Mordred founded the Demon Knights for his own reasons and they have no connection to anything called Stormwatch at all. They're just a bunch of misfits that joined together through the machinations and manipulations of some dick wizard. Oh wait! That's exactly how it happened with Merlin anyway!
So see? Changing the timeline hardly means changing the current action in most books. But I wonder if there is now an Earth Prime and an Earth Prime Magenta? That's probably the best way to sort Stormwatch and the rest of the Earth Prime books now.
At the end of last issue, Cain was about to raid Themyscira and Savage was about to raid the Demon Knights' camp.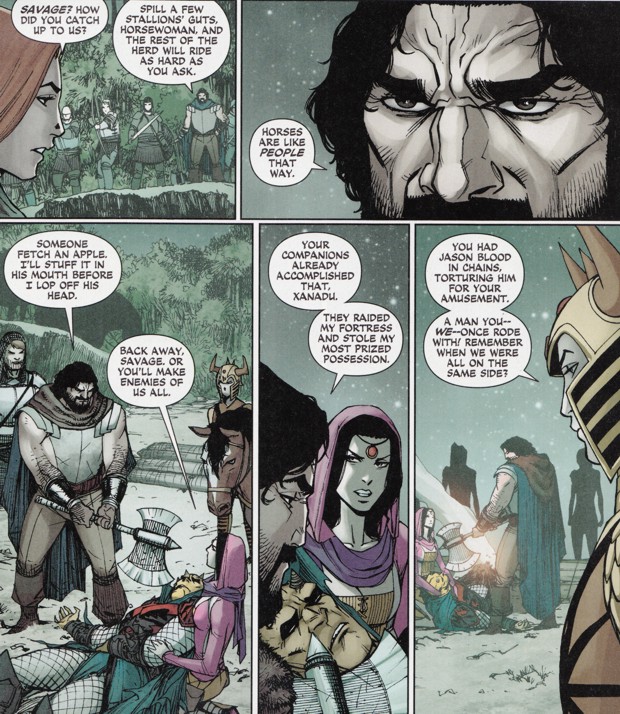 Vandal Savage is crying out for a hug. He's just acting out because he hasn't been included.
I really enjoy how the conversation proceeds from here. Nobody, not even Savage, is rushing to punch anybody else in the throat or simply acting snarky and disagreeable just to be contrary. Vandal points out that everyone should be slightly more than pissed at Jason Blood and Etrigan for taking them to Hell and nearly ending their immortal lives. That's a reasonable point! But then the Horsewoman lets Savage know that he may be immortal but if Etrigan dies, the world as he knows it may end. A compelling argument for someone who indulges his every desire and whim in the current world. Why would he want to see that world come to ruin? So his response to her? "I'm listening." Fucking incredible. Just...just...man. It's fucking genius how Venditti writes the characters as individual characters that act the way you'd expect the characters to act! This could have been three pages of brawling until somebody said, "What are we doing!? We must stop Cain!" And then they'd all go, "Okay! We'll band together for now!" Instead they discuss the situation and when Vandal finally decides they're all idiots anyway and he's going to kill Etrigan despite what might happen, Xanadu blasts him in the chest and that's it for the fighting. The conversation and the pacing make these a really nice three pages to get Vandal Savage back with the group. Solid and believable. And, as always, Vandal makes every line enjoyable.
Meanwhile, Paradise Island has vampires storming its shores. Can't they get the Gods to help them? Or can not even the Gods harm Cain for fear of death? But the vampires don't storm Hippolyta's stronghold because daybreak is nearly upon them. They hide out waiting for nightfall while the Demon Knights finish building their boat and try to catch up.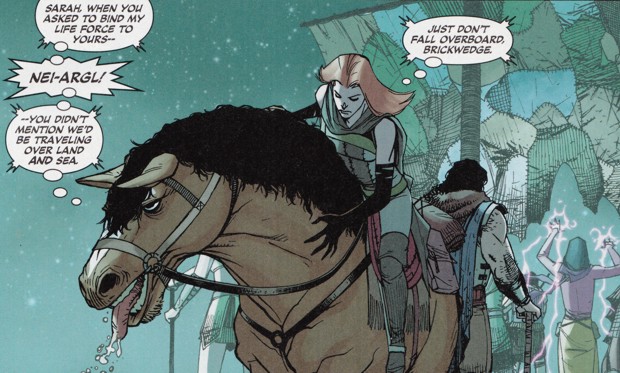 I wonder if the Horsewoman is still alive in The New 52 present and I wonder if she can bond with cows. You see where I'm going with this?
Back in Hell where Jason Blood dared Lucifer to torture him more than Etrigan could, Jason Blood is being horribly tortured. There are certain things you don't say to certain people. You don't begin any sentence to an elderly person with "In the long run..." and you don't tell Satan "I'm not afraid of you!" These things just don't end well. But while Lucifer is enjoying the sweet pain and suffering of the idiot Jason Blood, he has a Revelation.
Okay, maybe it's just a small "r" kind of revelation.
Speaking of Revelations, isn't it somewhere in that Biblical book where they speak about the Mark of the Beast? Oh yes, here it is. Revelations 13:16-17: "And he causeth all, both small and great, rich and poor, free and bond, to receive a mark in their right hand, or in their foreheads: And that no man might buy or sell, save he that had the mark, or the name of the beast, or the number of his name." I don't know about you but it sure sounds like cell phones to me. Why would the vision confuse the mark as being on the hand or possibly the forehead? Oh, I don't know. Because you hold the stupid thing up to your head? Yeah, you all fell for it! You've all been avoiding government chips and ID cards but y'all took the stupid Mark of the Beast of your own volition because it was too tempting not to have! It's obvious that's the way the Mark would end up being distributed. Not as something forced on the populace but something the populace felt they couldn't live without. I don't think my burner phone I use exclusively for work counts since I can't buy anything with it. So I'm saving you all from the End Times by being one of the few not yet succumbing to the Mark. So don't let me die! I'm saving the world over here!
Lucifer is such a pussy. Why is he so afraid of Cain? He's just a man! Well a man blessed by God. I mean cursed by God. I never get that right on the first try!
The Demon Knights make it to land just in time to save Hippolyta and her army with the knowledge of how to kill vampires. Vampires are stupid. How did they ever let the secret way to kill them get out?! They could have been so much more if nobody knew their weakness. I guess it's not their fault. I've been reading comic books long enough to know that the enemy always knows his rival's weakness because most writers are lazy. Not that Venditti is being lazy! That was just an example! If I wasn't enjoying Venditti's writing, I'd make it blatantly apparent by disparaging his ancestors multiple times.
During the battle, Sir Ystin approaches Cain for conversion to Vampiricism because one of Merlin's prophecies said, "An evil that will own your very spirit." There might have been more to it than that but I don't remember it and I'm simply relying on the flashback given in the comic book. Also, Merlin could give that prophecy because this story isn't taking place on the sub-Earth, Earth Prime Magenta. Ystin takes it in the neck and collapses. I wonder if this will backfire on Cain for some reason? Like that time the vampire bit Apollo over in Stormwatch. Oh wait. Nevermind. That didn't happen anymore.
Back in Hell, Jason returns to Earth as a personal favor to Lucifer.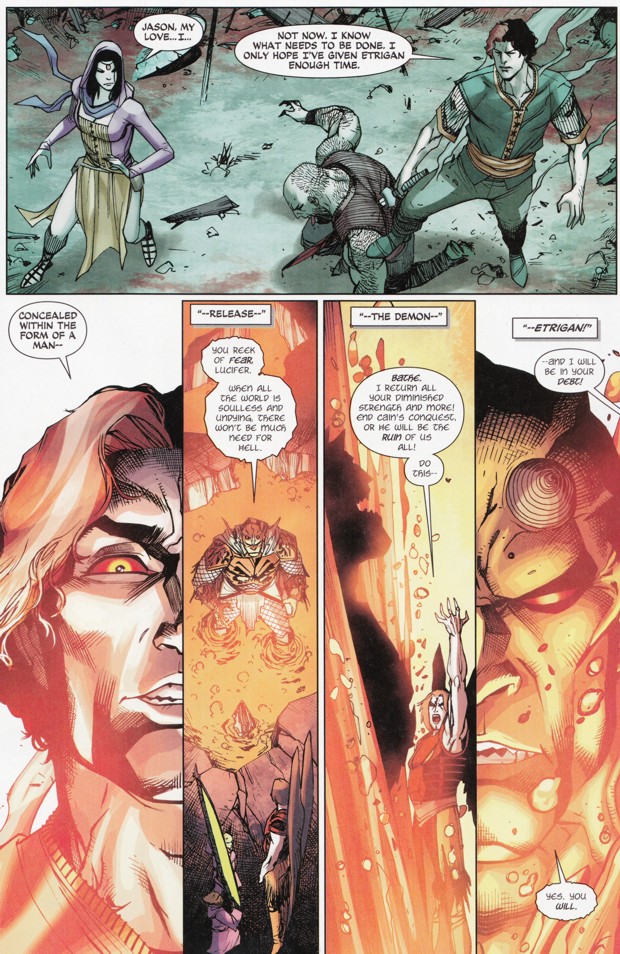 And then Etrigan does a personal favor for Lucifer. Boy, Lucifer is really racking up the debts.
Once Etrigan returns full of hellfire, he lays waste to the Vampires with his fiery breath. With the help of the Amazons, the Demon Knights dispatch the last of Cain's army. He says some typical villain words of bravado before tucking his tail and fleeing. I especially like how he transforms into a murder of crows as he flees. Unless it's a parliament of rooks. Or a writing desk of ravens.
Lastly, Exoristos looks to Sir Ystin. He's been bitten but she seems to have retained his senses, more or less. She mentions needing this curse to continue seeking the Grail and Hippolyta's ears perk up. Instead of slaughtering Sir Ystin and punishing Exoristos for returning to the island, the Queen decides to repay the Demon Knights' help with tea, sandwiches, and information.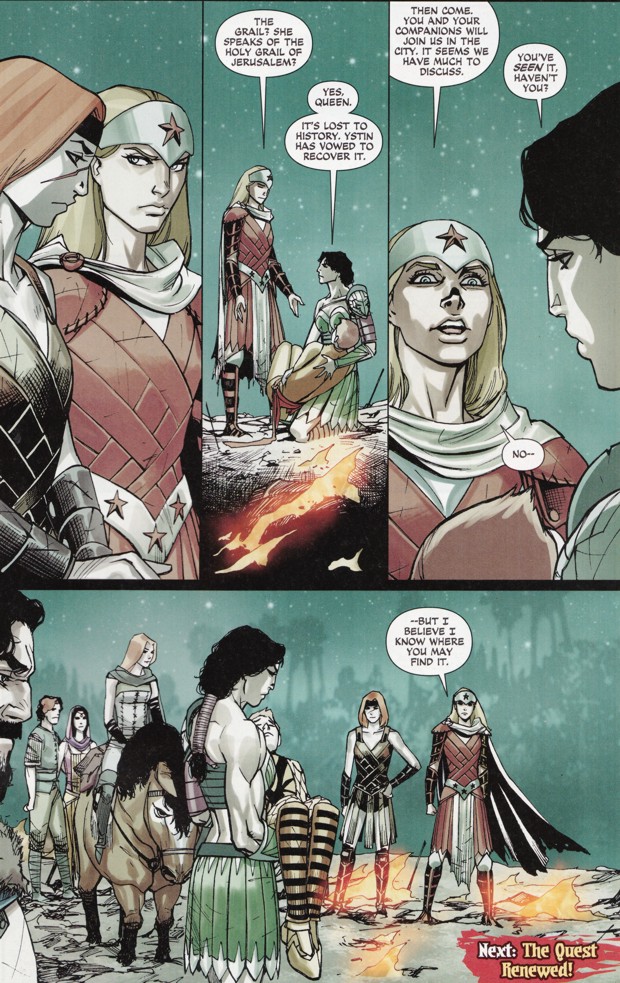 I'm only guessing at the tea and sandwiches.
Demon Knights #19 Rating: +1 Ranking. This comic book fills out twenty pages better than most of The New 52. I rarely feel dissatisfied with the length or the action or the characterizations. What I find truly impressive is that Venditti is the second writer on this book and it doesn't feel like a writer change has occurred at all. This book has been more consistent than some books that have retained a single writer over the last year and a half.