Twat Lobo had better not try to cross over with The Omega Men! Unless Tom King writes it!
Twat Lobo is not interesting because he's the greatest assassin in the universe so the reader knows he's always going to defeat any opponent he battles. He needs another thing to make him interesting and a nice set of abdominal muscles isn't enough to keep me interested. If it's enough to keep you interested then you probably shouldn't be reading this review because I'm not going to discuss how fit Twat Lobo is. All superheroes are fit. What Twat Lobo needs is a personality that's interesting. Instead we have a guy who's super confident and arrogant who follows a supposed Code which he really just makes up as he goes. Perhaps the fact that he says "Sorry. Not Sorry" is supposed to make him hip and groovy and the bee's knees and/or the cat's pajamas instead of what it really does which is cause the bile to rise up in my throat.
What Twat Lobo needs is a flaw of some kind. He needs to be vulnerable in some aspect of his character. Maybe he lost his penis and it never regenerated and he's super ashamed of not having one because he acts so macho and manly with all the sex he's supposedly having? Or perhaps he's super gassy and can't stop farting? Perhaps he's truly sorry about killing all of the other Czarnians? Maybe Czarnians have to mate once every four years or their heads explode and he's desperately seeking out Rob Liefeld's character Sheba (the female version of Real Deal Lobo he created in Deathstroke) so he doesn't die? Perhaps he's obsessed with raising gerbils? Give me something to fucking like here, Cullen! Who needs another bad-ass killer with a hot body? A person can only look into a mirror so often before they're completely bored, you know?!
First page has eleven Narration Boxes because Cullen Bunn hates that he's writing comic books. I think he'd rather just write plot summaries.
Does that count as a kind of vulnerability? An aversion to insects and countesses?!
So Twat Lobo has always hated insects and Countesses. Now we're getting somewhere! I'm finally understanding who this Twat Lobo really is! He lost his only love when he destroyed Czarnia but his tight abs and strict Code helped him to put her out of his mind and, by the way, he hates insects and Countesses. I've had Twat Lobo all wrong! I just thought he was a cardboard cutout of yet another unbeatable cosmic killer! I'm totally fucking into this guy now!
Oh hey! Remember a few sentences ago when I said Cullen Bunn would rather just write plot summaries?!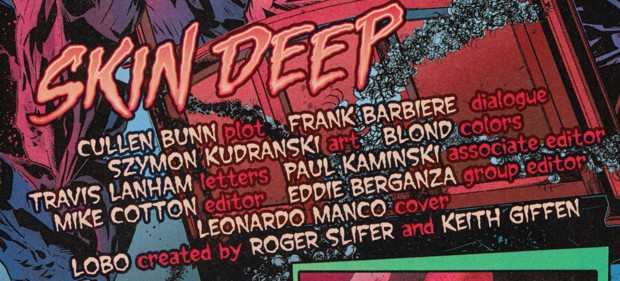 I love when I get proven right!
So Frank J. Barbiere is doing dialogue, eh? How much work is that in a Twat Lobo comic book? Most of the words appear in Narration Boxes! Do those count as dialogue or are those considered plot?
The Countess decides to rape Twat Lobo since he's under her control now. But he's into it, so it's okay. I guess sometimes when you're raped, it's just being fucked before you realized you actually wanted to be fucked! It's cool and not totally gross at all. I think Cullen Bunn is onto something here! I mean, the same thing actually happened to me once! And I didn't cry in the corner at all afterward! Am I using too many exclamation points to compensate for my inner turmoil and pain?! No, probably not! I suppose I gave tacit consent when I tried to put my penis in her vagina out in front of the library the first night we met! She stopped me that time because we didn't have a condom. And I knew no meant no so I stopped! I don't know why, at a later date, she didn't stop while I was sleeping even though she didn't have a condom!
I have to say, waking up to a woman sitting on your penis is kind of nice. I mean, I was victimized!
I'm not advocating any kind of rape at all (except maybe the kind where a woman I'm attracted to takes out my penis and puts it into her vagina while I'm asleep). I'm just relating a personal anecdote lacking many details and how I felt about that anecdote (which was pretty good! Unless it was traumatic?)! I did stop dating her immediately after that though because, come on! You can't just have sex with me and expect me to remain interested afterward! I mean, you can't violate my rights and expect me not to be upset!
I should probably stop talking about this! I think I'm saying some things that I shouldn't be saying! I totally disagree with everything I just said and that me from a few minutes ago is totally gross and problematic and I want nothing to do with him. Thankfully timed moved forward and I'm totally different now and I've learned my lesson.
Twat Lobo gets infected by dozens of the spider things that may or may not have been salvaged from Ann Nocenti's Klarion comic book. Twat Lobo is in real trouble now! It appears he's powerless against rapey countesses who sweat spider mind-control technology. I wonder how many of them have entered through his urethra?
It's a good thing Twat Lobo Narration Boxes that this "is bad...real bad" and that he's "totally useless...at her will...just a plaything" or I wouldn't understand what was happening. I would say that I was functionally mentally retarded but that would be a retarded thing to say, considering the backlash that I'd get for using the R-Slur even if it communicates exactly what I want to say without actually demeaning anybody because having retarded mental functions is just a thing that some people have to deal with. Most of them own guns and vote Republican. Oh! Burn! Don't worry, I'll pretend to attack liberals and pacifists later! Wouldn't want me abusing my soap box by not being fair and balanced with the things that I say that will get me into trouble and make people hate me.
I really don't mean to upset anybody. It's just fate! One things leads to the next thing and the next thing leads to the thing that comes after that and I have no actual control over what I'm going to wind up writing about. I'm just a victim of my own destiny! You can't blame a person for anything since nobody has any free will! Right? Was that convincing? Is that a good enough excuse to keep using "retarded"?!
Remember that thing I said a commentary or two ago about my writing being too vulgar?! The previous was an example of that! What I just wrote was actually pretty intellectual stuff but nobody will take the time to dissect it in any way except a way that makes me look like a bigoted asshole with a peabrain and probably a tiny penis (I say probably because I don't want to admit to it being small (which it totally isn't because it's adequately man-sized and maybe better! (probably))). Does this caveat about how what I wrote was smart and not just vulgar make what I wrote smart? I hope so!
Ha ha! Wait. Was that a cunnilingus joke? Maybe this wasn't as funny as I first thought.
I'd better make fun of liberals now while I'm still thinking about. Let's see. What kind of stupid things are liberals into? Oh yeah! Why don't y'all just go enjoy your stupid free health care that isn't free at all because everybody pays into it and only some people are going to end up using it! You know, just like private health insurance works now! But, um, different somehow because it's bad or something! Idiots! Oh, and guns don't kill people! Jerks kill people! And they often use guns because it makes killing easy! Also sometimes innocent people like little kids kill people with guns because I guess those kids are jerks! How dare they touch that gun when they were probably not supposed to at all?! Idiots!
Ha ha! She's talking about cunnilingus! Again! I think! Also, why is that White Martian wearing boob armor?
Oh! There it is! Cunnilingus! Ha ha! I knew it would be in there somewhere since it was a woman talking about a man's tongue! Ha ha! Those women have a one-track mind!
I wonder when Twat Lobo is going to Narration Box that he was just kidding about being Countess Odessa's slave?! I don't buy that he's her puppet at all! Although why would he Narration Box that he was when the only people he would be fooling are the readers?!
Twat Lobo asks a question that the Countess really shouldn't answer but this is a comic book so she says, "I suppose it's more fun this way," and then blabs all of her plans and secrets. Yay! Such fun!
The Countess shows Twat Lobo her money-making scheme which is a factory that creates bodies for people who want bodies that are different than the bodies they were randomly assigned at birth.
I don't know if I understand her plan correctly. She implants mind-control spiders into people who give her cash to fund her Flesh Factory? Or she implants mind-control spiders into people who will become the customers for her flesh factory? Why is she involved in the Flesh Factory at all? Why doesn't she just mind-control people into simply giving her cash? I really am too stupid for this comic book!
In the next instant, the jerk with the laser bow attacks. He's from The Citadel because DC probably wanted to try to tie this book (the worst one DC publishes) with The Omega Men (arguably the best book DC publishes (along with Grayson and Gotham Academy)). The problem with The Omega Men is that none of them are young and hot with six packs and huge cocks. Why would anybody want to read about characters that are interesting but don't look good?
Just as an aside because I can't help pointing out every little thing that's wrong with this book: on the eleventh page of the story, Odessa is spelled "Odesa." Ha ha! Typo! What idiots!
Twat Lobo is compelled to attack Mr. Laser Arrow but apparently it's worse than that. He seems to have no control over his body and he's just watching as it reacts to the situation. I don't know if his brain completely understands what's going on though because it praises his body for having the sense to pull the laser arrows out of it yet when the laser arrows are set to blow a few panels later, Twat Lobo's guts blow out all over the place. I guess he missed the only one that was sticking in him that his body supposedly had the sense to pull out? The visuals don't really match the Narration Boxing but that'll happen when you rely on Frank J. Barbiere to do dialogue!
Mr. Laser Arrow sets off an EMP which fries all of Twat Lobo's mind-control spiders, freeing him up to get revenge on Countess Odessa. But don't worry! He's not as bad as she is! He has a Code! So he won't rape her. He merely kills her.
Twat Lobo turns down a job with The Citadel and heads back to his other job he didn't actually want to take with the Void Whisper. But I think he suffered irreparable brain damage during the mission.
"I talk care of problem. With my tongue! Cunnilingus! Cunnilingus! It's the Code!" Lobo talk pretty one day.
Twat Lobo heads off to deal with Sinestro. That story took place in the Twat Lobo Annual where Twat Lobo learned Sinestro wants him on his team too. So this book is just about how popular Twat Lobo is. Everybody wants to work with him! And probably suck him off too!
Super twisty epilogue: Countess Odessa comes back to life and tells her spider children that she now has enough Twat Lobo DNA in her vagina to start producing Czarnian Flesh for her Flesh Factory which seems unnecessary to her plans of becoming super wealthy and shit. Even if her plan is to rule the universe, she doesn't need anything but her mind-control spiders. I think the Countess Odessa might be overthinking her plans.
Twat Lobo #9 Rating: No change! Holy shit! With that "No Change" rating, that means Twat Lobo has remained out of the Worst Comic Position for a full month! Congratulations to Deathstroke for being even worse! What a feat!