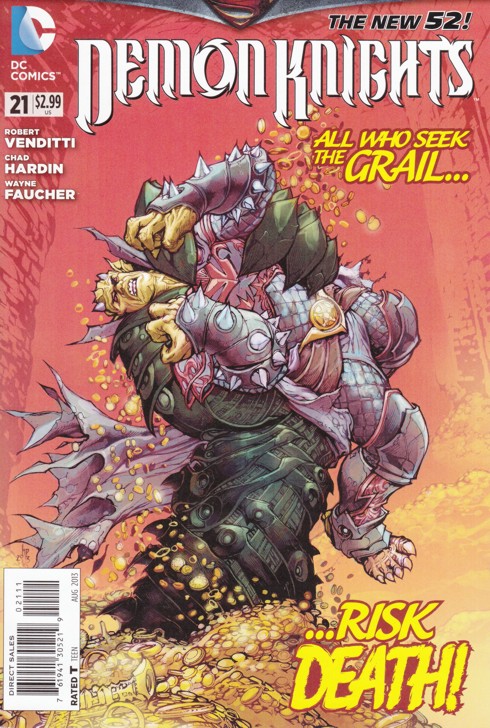 The second half of that statement may as well be appended to every action. "All who leave the house...risk death!" "All who remain in bed...risk death!" "All who drink in public during parades and climb poles to hang from wires...risk death!"
I'm tired and ready for bed so let's just fucking get on with this shit.
The party had made their way through the dungeon, defeated the Giant Octopus, and discovered the final door leading to the Grail. Or possibly leading to the Grail. Madame Xanadu could have failed her Runespeak Skill Check. The treasure on the other side could be an exploding hat stand. Just like a good Dungeons and Dragons party, they spend five pages discussing who's going to go through the door.
Master Fantasyer
: "You step down the stairs and into the Evil Kobold Lair."
Hero
: "I command The Dwarf to head into the room with a torch so I can see what is going on."
Dwarf
: "I do no such thing!"
Hero
: "You'll do as I say! I'm the Hero, dumb dumb."
Dwarf
: "Then act like a Hero and enter the room yourself!"
Master Fantasyer
: The Evil Kobold hears you bickering and throws a poison dart at The Hero."
Hero
: "We weren't really fighting! I told The Dwarf to go in and he did!"
Dwarf
: "I did not!"
Master Fantasyer
: "Look, you told him to go in and he argued with you. So the Evil Kobold heard you and threw a dart at you. Now make your Defend Spin."
Hero
: "But that's not fair! The Dwarf should have to make his Defend Spin since he was carrying the torch into the room."
Dwarf
: "How could I light a torch? I'm carrying a two-handed Bigger Axe, jerko!"
Hero
: "You put down your axe to light a torch? But we're in the middle of a fight!"
Dwarf
: "I never dropped my axe!"
Master Fantasyer
: "After the Evil Kobold threw his dart, he then had time to summon a Bigger Demon while you kept arguing."
Hero
: "We were not arguing! We were having a discussion."
Dwarf
: "We were indeed arguing! I'm not doing what he says I'm doing. Ever!"
Master Fantasyer
: "Did you make your Defend Spin yet for the Poison Dart Attack?"
Hero
: "Why? That hasn't happened yet because I haven't followed The Dwarf into the room yet!"
Dwarf
: "I'm not in the room!"
Master Fantasyer
: "You're both at the bottom of the stairs to the Evil Kobold's Lair and you've been arguing long enough to get a poison dart thrown at you and a Bigger Demon summoned to boot."
Hero
: "This is the last time I adventure anywhere with an obstinate dwarf."
Dwarf
: "You don't even know what obstinate means! Or if it's even spelled correctly!"
Hero
: "Oh yeah? Next time you better play The Sidekick like we agreed on!"
Dwarf
: "No way! You just want to be able to boss me around and have me lick your boots!"
Master Fantasyer
: "Do you want me to make your Defend Spin for you?"
Hero
: "Don't touch my spinner!"
Dwarf
: "When is the damn pizza going to get here? I'm starving."
Master Fantasyer
: "My mom will call us up when it gets here. Now are you guys going to fight these monsters or just complain?"
I'm so tired that I just stole my Example of Play from Grunion Guy's Roller Playing Game, Places & Predators.
They decide Jason Blood, Vandal Savage, and Etrigan will make the journey.
The Portal takes Blood and Savage (that's a good name for a comic book!) to wherever the Grail is located. But it won't allow them to travel back. So Blood and Savage agree to try and meet everybody back in al-Wadi once they're successful. Since both Blood and Savage are immortal, they're simply assuming they'll win through in the end.
While Blood and Savage discover a great treasure room past the portal, the others make camp for the night before heading to al-Wadi. Exoristos tells Ystin that the Black Diamond gave her pointy ears and a stupid half moon on her face and weird blue skin which totally made her look post-retro-faux punk which she couldn't stand. So she hid the Black Diamond to be done with it. Sir Ystin seems rather pleased with this story.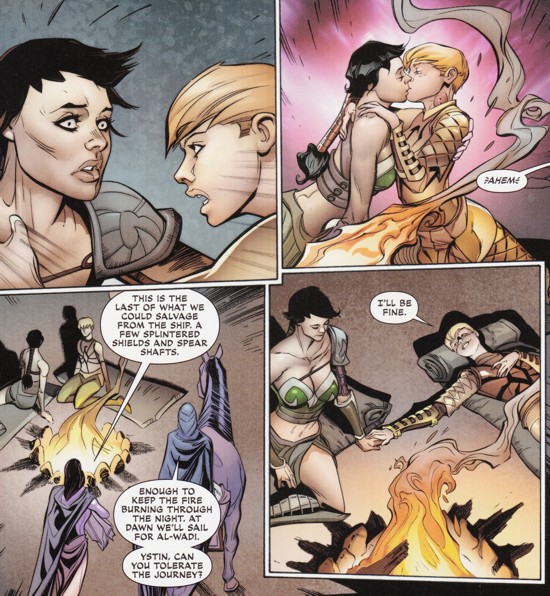 I promised to document all kissing. This is one of the better kisses so far in The New 52.
Meanwhile Vandal Savage is looting the treasure room while Jason Blood searches diligently for the Holy Grail. Jason Blood is such a square peg! That's why he doesn't fit with Madame Xanadu who's a complete fucking asshole. But Vandal Savage is my favoritest! He does have a few flaws though.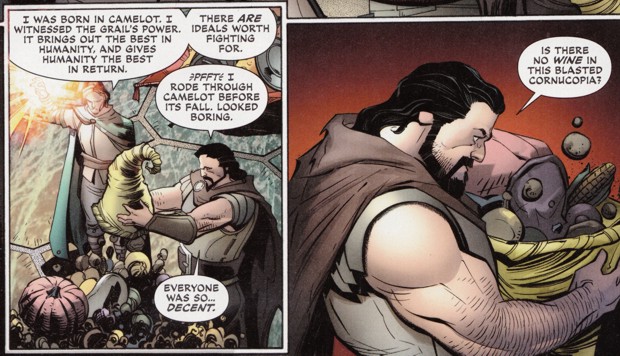 Like choosing wine over beer.
I don't think there's a better moment to sum up Vandal Savage than this: the amount of waste he's causing for his own selfish desires by upending a magic cornucopia to find one specific item. Isn't he to die for?
Jason Blood realizes many of the artifacts in this room are legendary, powerful items that could really help mankind. But somebody is hoarding them. And just after Jason Blood finds Merlin's Box which the Grail is supposedly in, he and Savage meet the guardians of the treasure room: giants! Two hundred foot giants enter the room with more loot. Not a bunch of giants that are two hundred feet tall nor a bunch of giants with two hundred feet but two giants with two feet each that happen to be one hundred feet tall each. But that's okay because Jason Blood has a plan!

Snitch on themselves!
Actually, he's merely snitching on Vandal Savage because Blood has a way out! He says the rhyme as he leaps toward the giants and Etrigan appears to get the shit smashed out of him by one of the giants. Hopefully you all already read this comic book and experienced this moment for yourselves instead of reading my lame synopsis of it because it was hilariously awesome. It's great moments like these that all the non-purchasers of Demon Knights have killed for me and its loyal fans! Thanks a lot, murderers!
And because Jason Blood was carrying the box that supposedly contains the Holy Grail when he said the chant, he winds up in Hell with a weapon he believes will allow him to push Lucifer around. He's hoping he can get Lucifer to send him to al-Wadi and break the link between himself and Etrigan. And who knows? If this comic is nearing its end, perhaps that'll happen? As we've seen, Etrigan winds up buried beneath London without a mortal host for six hundred years.
Lucifer doesn't break the link but he does recall Etrigan to Hell, leaving Vandal Savage alone to battle the two giants. I suppose if Savage defeats these giants, he'll be set for his immortal life. He'll also have enough legendary artifacts to take over the world, so I have a feeling he's going to flee. Or be captured and tortured for a few decades, in which case Jason Blood will have gotten his revenge. I actually like that option, thematically and shit.
Lucifer sends Jason Blood and his Christ Cup Box back to Madame Xanadu and the gang.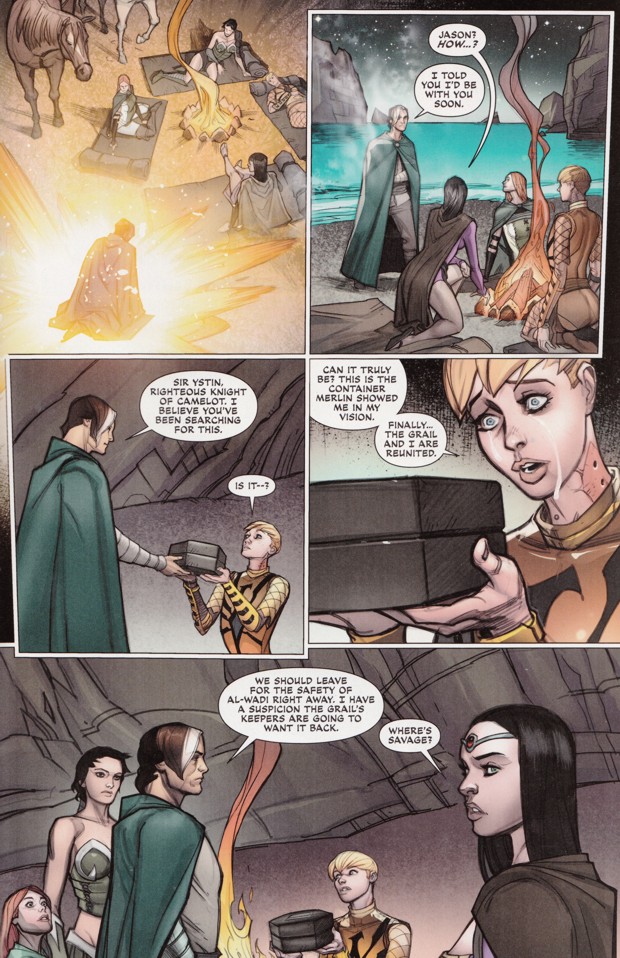 Chad Hardin needs to invest in a t-square.
The last page shows Vandal Savage lying beaten and bloody on the ground with Jason Blood saying, "Vandal Savage finally got what was coming to him." This may have been one of the best and believably calculating plans I've read in The New 52! And I've read a lot of fucking Harvest comic books!
Demon Knights #21 Rating: +1 Ranking. I wish this comic book starred Batman so it wouldn't be on the chopping block!