When Superman does this, everybody screams, "IT'S SUPERMAN!" When Supergirl does it, everybody screams, "BREASTS!"
The Commentary!
Have all of Marvel's superheroes been given a teenage girl version yet? Supergirl was so far ahead of her time! I'm holding out for Young Female Punisher and Young Female Moon Knight. As long as they aren't the most intelligent teenager to ever teenage in an intelligence contest. I'm so tired of that myth! A super smart teenager! Come on! So unbelievable.

Supergirl has recently run away from home because she's the only girl on the planet with a mansion made of crystal in the Arctic. Although Ma and Pa Danvers are super spies working for the DEO so it's not like they don't have access to a supersonic snow copter which they could requisition to be able to fetch their daughter. Supergirl thought being alone while writing entries in her diary that featured the phrase "so mean to me" over and over again would help her move past just another moment of teenage drama. But instead, she has flown smack dab into the middle of even more teenage drama! Because her cybernetic dad is waiting for her! He's all, "Daughter!" And she's all, "Suck my butt!" What she means by that is "You are not my father! You're just a crazy robot that thinks it's my father who just wants to wear my skin!" It's true. He does want to wear her skin.

It doesn't take too many panels for the punching to start. Usually Kara begins the punching but this time, her father shoves her into a wall because she touched his shoulder. That's fair. It's not like she asked for consent to touch his shoulder. That's his personal space, Kara, not your funzone playground of tender time touches.

Cyborg Superman ends the encounter by exploding all over the inside of the Fortress of Solitude.

I have a suspicion that nearly every teenage girl has uttered these words. Minus the "by Rao" bit.
After her psychosexual experience with her father, Kara heads to National City's prison, The Ditch. Every big city in the DC Universe gets their own prison! That's because prison breaks are exciting comic book events which are mandated by editorial. Supergirl visits not to taunt the guy she captured in the first issue but to counsel him in the hopes he can be rehabilitated. Is counseling prisoners a school project? On what authority is a sixteen year old with no counseling experience allowed to enter a prisoner's cell to counsel him?

Supergirl: "You know what you did was wrong and totally mean, right?"
Criminal: "Just touch it. Come on! At least look at it!"
Guard: "All right! That's enough! Get her out of there!"

Later at school as Kara tries to erase the sight of a flopping prisoner's penis as it strains to become erect, Cat Grant hosts an assembly where she picks a student for her Young Innovator's Program. That student is, of course, Ben Rubel, the smartest kid in the DC Universe (tied with all of the other kids in the DC Universe). But since this comic book isn't called Ben Rubel, Cat Grant chases down Kara Danvers to offer her a chance to be part of the program too. It's because Cat Grant understands that girls need the extra help since society has taught them to not speak up as loudly as boys. Of course, Kara Danvers grew up on Krypton so that doesn't apply here. This was just a case of Ben Rubel being one of those loud dicks who thinks pushing people out of the queue in front of you is just a smart tactical decision to get what you want. Although, to be fair to nobody, Cat Grant really shouldn't have asked a question to an auditorium full of students expecting some kind of fair and equitable response among the crowd. Besides, Kara began speaking and Cat noticed. But then when Ben said, "Miss Grant! Miss Grant!", Cat called on him to answer instead of Kara. So, you know, Cat's kind of a dick.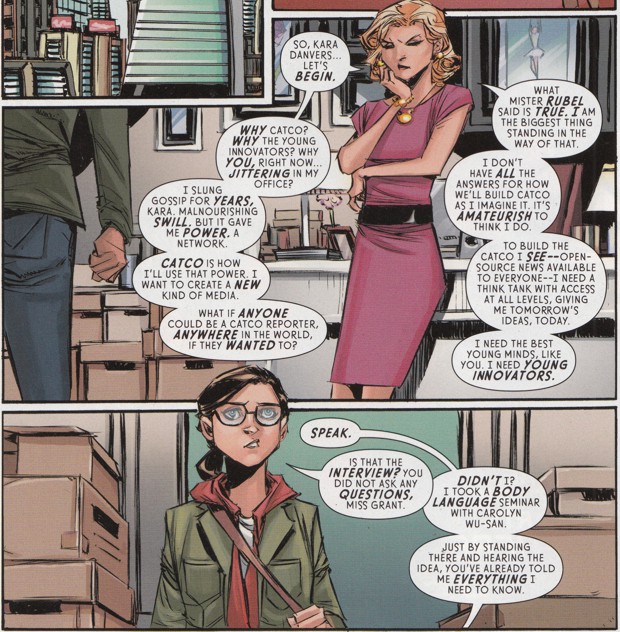 I hate Cat Grant.
Basically, Cat Grant's idea for the next big movement in news is to water it down even more with amateurish, emotional stories about individual experiences that are expected to be extrapolated to everybody's life but really don't mean anything to anybody except to give them a quick jolt of sadness, happiness, or anger that will dissipate and be forgotten quicker than their shot of morning caffeine. What it sounds like she's trying to do is to set up Tumblr but advertise it as a legitimate news source. I mean, really, "open source news available to anyone"? Isn't that just the Associated Press?

On her way out, Kara runs into Ben and they almost have sex right there in the elevator. Actually, they bicker and argue but I know what that's code for in comic books! And television shows. And movies. And literature. And in everything, really, except real life. I know the women I've constantly bickered with because they were pretentious idiots who never actually knew what they were talking about just annoyed the fuck out of me! Guys, too, but then there was never the societal expectation that if I constantly bickered with another man that we should "get a room."

Later, Kara's Fake Mother Boss asks her how her interview with her Soon-To-Be Other Fake Mother Boss went. After that, Cyborg Superman once again speaks to Kara to tell her that Argo City is just about ready and guess who's waiting for Kara there? Her Fake Cyborg Zombie Mother! Kara really has too many parents in her life.

The Ranking!
No change. This comic book is concentrating on the worst drama in a teenage girl's life: parental drama! I don't care about the adults in Supergirl's life! Especially Cat Grant! Oh, and Cyborg Superman! Oh, and the Danvers! I want to read about her dealing with Degrassi Junior High type shit! Also, she should be allowed to battle villains other than Cyborg Superman. Why do comic books feel they need to keep going over the same conflicts? What better way to drive people away from reading the comic books than to tell slight variants of the same story over and over and over? I think the constant repetition of "iconic" conflicts is making me nostalgic for Ann Nocenti. At least her shit was so fucking weird and nonsensical that I couldn't accuse it of borrowing too heavily from the past.

That being said, I like the look and tone of this comic book. It's just...Cyborg Superman again? It just feels like every new writer who comes onto a book brings a hot take on an old story. But it's still an old story! Plus it's Cyborg Superman! On the scale of villains I don't want to read about, he ranks right between Doomsday's left testicle and Doomsday's butthole.