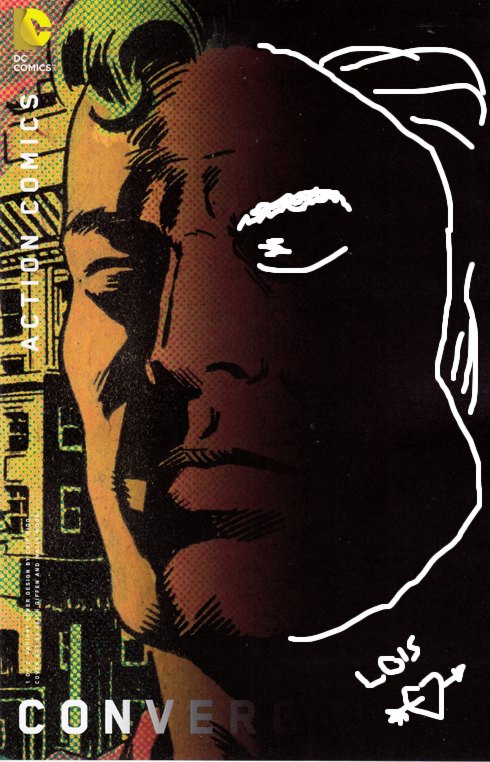 Superman's eyesight is so powerful that he has to squint everywhere he goes or he'll go insane.
The problems with feminism in the modern age are the same problems that plagued feminism in the seventies and beyond. One feminist will believe something that another feminist doesn't believe and they disagree on who is doing feminism better. You know, the whole splitters thing. The problem with this is that it isn't a problem. That's a feature of feminism! The disagreeing is a feature, not the accusing somebody else of not being a feminist simply because they're not doing it the way you would do it. Of course, if their feminism is all about subjugating women, I think we'd have to agree that their feminism might be missing the point. I'm not saying each person gets to define feminism so loosely that it loses all meaning. I'm just saying that, ultimately, feminism is about each individual being allowed to live the life that they want to live without society (you know, the Patriarchy) being a barrier to their dreams and goals. Unless their dreams and goals are, you know, the systematic enslavement and destruction of a certain subset of people based on...well, based on anything, really! Although who am I to genocide shame anybody?
I've always considered myself a feminist simply because I believe in the right of the individual to be who they want to be. But I certainly don't expect anybody to read any of my commentaries and come to the conclusion that I'm a feminist, especially in the current cultural climate. I'm (half!) white. I'm male. I'm heterosexual. I don't believe it's oppression every time the word retard or faggot or nigger or cunt is used (like that time!). Although notice that list (which can be expanded but I don't want to oppress everybody reading this!)? Where is the horribly offensive term for a white heterosexual male, right (even if the list were expanded, I can't think of a slur for a white cishet male (other than calling one a white cishet male! Zing!)? My theory (besides the theory about white cishet males doing all of the oppression in Western Society for so long that they've made up all of the best slurs (I mean best in most effectively used in conjunction with oppressing minorities and not best as in they're so awesome to use all of the time!) is that white males have historically been thought of as the "blank slate" or the "normal" members of society. So they're not told that they're "whatever" simply because they're part of a minority group. From the moment of their birth, they're considered an individual only and they grow up with that mindset. It's the ultimate privilege to not be told you should be a certain way because of your sex or skin color or religion. From birth, white cishet males get to be individuals. And as a "group of individuals," it's hard to come up with a slur that somehow targets and encompasses them all. Also to give credence to the "words as oppressive" argument (notice earlier I said using slurs is not oppression "every time" they're used. Just hearing or seeing the word in neutral context does not constitute being oppressed. Seriously. Buck the fuck up), the minority (and I use that phrase in the context of white cishet males as being the majority benefactors of the current (and historical) Patriarchy) voice cannot be used to oppress the majority. So any slur a minority group can come up with for the majority group will, at best, anger some of the individuals in that majority but can never truly be considered a slur. My high school friend Soy Rakelson used to turn red with rage whenever somebody attacked white males while I just never gave a shit. Because I don't see myself as part of the "white male" group. I just see myself as me.
Identity is key in the discussion of free speech and oppression (I know I'm all over the place here but what do you expect? This is a comic book commentary and not an academic essay!). I have never felt oppressed by speech of any kind because I don't consider myself a part of any overall group (again, this is the biggest privilege of all white cishet males. The ones that get offended by anti-white or anti-male speech are simply making a show of trying to be a victim by pretending that ultimate privilege doesn't somehow exist for them). One of the oppressors key weapons is absolutely language. To fight against the Patriarchy, minorities must form groups based on the traits which the majority uses to oppress the groups. So the Civil Rights movement, which would theoretically wind up benefiting all minority groups, was really a movement for equal rights for black Americans. Feminism is ostensibly about making gender a non-issue but ultimately about equal rights for, once again, all citizens. To fight the Patriarchy, a person in a minority group must ostensibly give up their individuality. They must identify with the group fighting against the powers that be. It's necessary to form a united front. At this point, splitters are dangerous to a movement. First and foremost, it must be about the group identity. And this is when words can (and are, constantly, used to) oppress. The Patriarchy pushes back and uses slurs that target everybody within that group. And everybody in that group must be offended because it is an attack on the movement and what they believe. Words are the front line of all civil rebellion so words used against minority groups must be taken seriously and deemed absolutely inappropriate, and often that's interpreted as in any context (even in a discussion about how these slurs have been used historically and why they should not be allowed).
As a white cishet male, words have never been used as a weapon against me so I can easily support free speech. The thing is, free speech really isn't in any danger of being curtailed no matter how many people angrily rant that their free speech is being eroded because they were called an asshole for calling somebody a retard. You can still call somebody a retard, or review a television show as being gay. It just comes with more social consequences than it did in the eighties. And being called out on being insensitive isn't curtailing your free speech. It's called having to take responsibility for your choices as an adult living in this current cultural climate (which is, believe it or not, a neutral statement by me and not a judgment on the "current cultural climate". Look, I love calling my friends retarded and gay! Because they are! But it's wrong so I don't do it anymore. Unless they do something totally retarded or gay). The fact that people are having discussions about whether or not free speech is dangerous or necessary is testament to how speech is, well, free. People get angry at something. Other people get angry at people getting angry at something. More people get angry at people getting angry at people getting angry at something. And so on and so forth. But nobody is being arrested for having these discussions.
The end of that last paragraph makes it sound like everybody's heads are constantly exploding. But I don't see that at all. Occasionally, you'll see an outbreak of outrage on a variety of levels and from all sides about something on Twitter or Tumblr or Facebook or Whtvr (trademarked!). But for regular, non-troll people that spend a lot of their time on those sites, those moments are few and far between. I see a lot more people just enjoying themselves. And a lot of people agree on a lot of stuff that is seriously good feminism. Yeah, I'm judging their feminism like I said shouldn't be done earlier. But I'm an individual with his own preferences and biases and horrible uses of language and that comes with my own set of horrible opinions that nobody should take any heed of whatsoever.
I know some people probably think I should keep my mouth shut and just listen but that's fucking bullshit propaganda so people don't have to have serious discussions with other people whose views differ slightly from theirs. It's a way to shut up splitters and I won't be a part of that kind of bullying!
Oh! Quickly getting back to the point of it all about splitters and movements and language being used to undermine the messages of those movements! Splitters are inevitable and not a bad thing, ultimately. They will fray a movement if a movement lasts long enough because no group will ever be a perfect representation of all of the members of that group. The group must try to keep from splitting long enough to make changes in the Patriarchy. The Patriarchy uses language to try to cause splitters and get the movement to implode. It's a balancing act for individuals in a movement to disregard their own needs and desires long enough to swing the pendulum of equality as close to the center as possible (dammit! The whole pendulum thing is another digression I should go into! About how the most extreme members of a movement are needed since they create a target for the pendulum to swing far past where it will eventually come to rest. Without the most extreme members of a movement (in feminism, the ones all the white, cishet males (and females too!) will term "feminazis" because they seem so radical (and scary! (not to me! (just to clarify!)))), the pendulum will never move as far as it eventually moves). Once the group has moved that pendulum, splitters will begin to focus on other aspects of the movement that they see as important that other members of the movement might not agree with. So whenever feminists argue about the details (which are important, of course!), they run the risk of eroding the movement which is what the Patriarchy wants, and which the Patriarchy actively encourages. The whole deal with people eschewing the label "feminist" is part of that fight to destroy the movement. If they can make the definition of a feminist seem awful, they can destroy the movement by simply making it unsavory to those that probably actually agree with most of its goals.
To summarize, in some ways (mostly white, cishet male ways), I'm the best feminist ever because I completely support everybody in their right to engage in their own individual pursuits (except for Scott Lobdell. He should stop doing everything he's doing). In other ways (mostly white, cishet male ways), I'm the worst feminist to ever exist! Although I'm not, really. But I can see how people that don't actually know me personally could think that, especially since I can never take anything seriously. I assure you all that I do take things seriously! Just not here on this blog. Sometimes I try! But then I always slip into being facetious and end up undermining everything I previously said. Stupid brain is an asshole.
One more secret about the previous paragraphs: I'm not trying to change anybody's minds or explain anything to them. The preceding is just an expression of what's in my head. It's individual thoughts from an individual and not a manifesto, lecture, treatise, or belief that everybody should view this issue in the same way that I do. I have no historical proof and cite no sources. It's just an expression of one person's opinion based on experience and reading lots and lots of shit. It's also just a lot of rationalizing to justify being whoever the fuck I want to be! Please send dissenting comments to YourMom@hotmail.com.
I don't think I have any space left for writing about Action Comics! This should have been a separate post!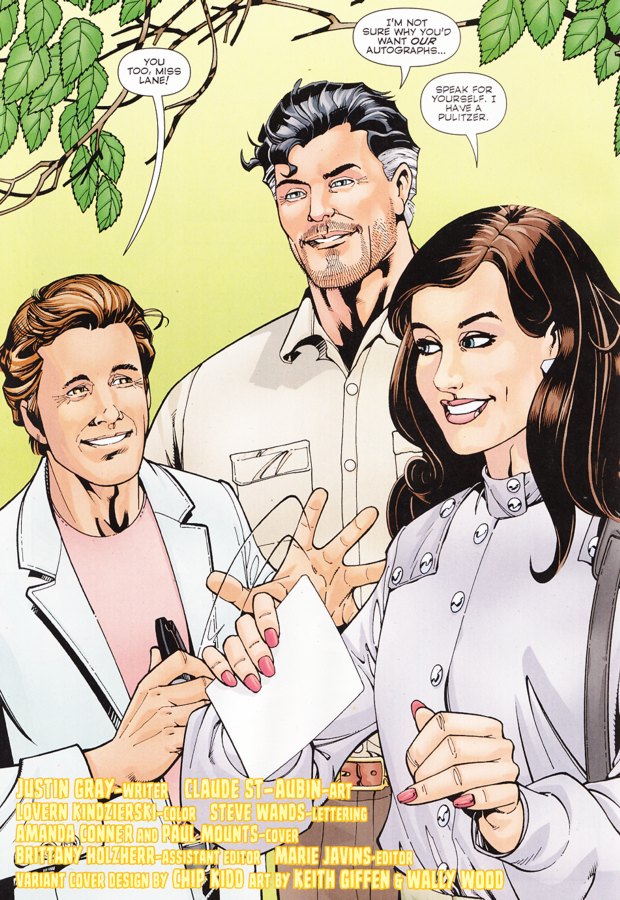 It's surprising that Clark Kent doesn't have a Pulitzer after all of his articles about how great Superman is.
The guy asking for the Kent's autographs is a big fan of their love story. Or his mom was, anyway. He tells Lois that his mother thought Lois was "a hardworking, independent woman taking on the tough stories and always putting herself in harm's way to bring people the truth." After Lois's asshole was nice and clean from this guy's mother's tongue, Lois says that his mother "sounds like a terrific person." I also think everybody that praises me is a terrific person too! Although I really know in my heart that the people who praise me must live with the vilest of evils deep within their hearts because they instinctively recognize one of their own.
Clark revealed his identity to the citizens of Metropolis after the dome fell because that was the best way he knew how to inspire the populace and help them hang on to hope. If they knew Superman was dealing with the same problems, and more since he lost his power, but he was keeping a stiff upper lip about it all, maybe they would be more relaxed and calm about this situation over which they had no control. I guess it worked because everybody seems pretty calm. Except for, you know, that incident with Toyman earlier. But Robin and The Huntress handled that.
Shouldn't Superman be worried about all of the enemies he's made?! Maybe he's best friends with Lex Luthor now that Clark has lost his powers. Lex doesn't have to feel inferior anymore.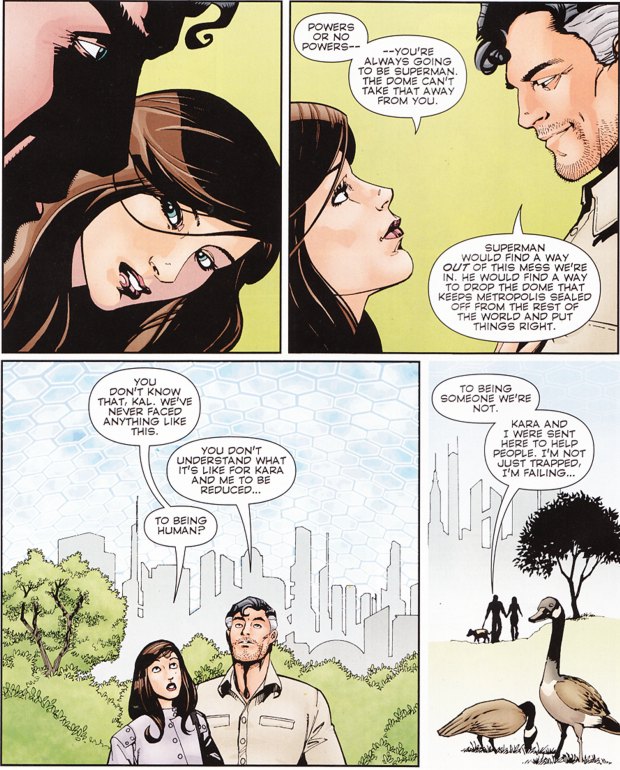 Are the geese a symbol I'm not understanding?! Oh! I bet they're Canadian Geese which represents how they're trapped away from home and family and are powerless to do anything about it!
Meanwhile in the Moscow Dome, Communist Superman and Communist Wonder Woman are having a meeting with Communist Stalin and Capitalist Lex Luthor to try to figure out how to control the Communist peasants and/or break out of the dome and/or how to supply everybody with enough toilet paper.
Lex has a theory that they are in a zoo which leads to his next theory that they will be called on to fight with other animals in the zoo. I don't know what kinds of zoos Luthor has been visiting! The closest I've seen to gladiator style zoos was at the Lincoln Zoo in Nebraska where they kept the Tamarin Monkeys in with the Sloths. I have my own theory about that! I think the sloth perceives time so slowly that it doesn't see the Tamarin monkeys at all while the Tamarin monkeys move so fast, they perceive the sloth as an inanimate object.
Nothing is accomplished in the meeting although they did determine that they all hate Lex Luthor.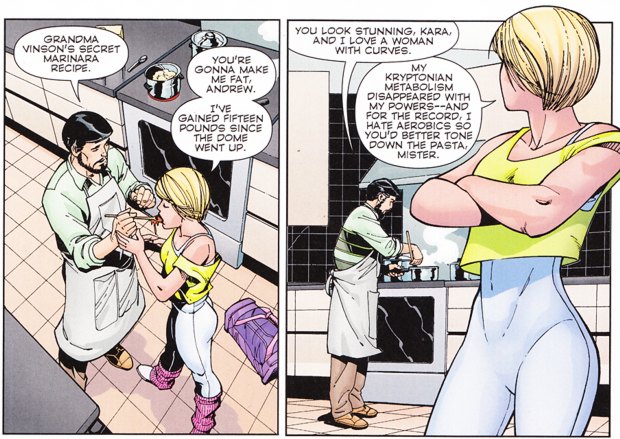 I don't think Claude St. Aubin was informed that Kara gained fifteen pounds here.
I don't know who Andrew is because I don't know much about Earth-2. But he and Kara seem to be fuck puppets. They've invited Kal and Lois to dinner. I hope they're not interrupted by Planet Brainiac!
I can't really scan double page splashes as well as I'd like because I have a dinky little USB scanner, so I'll just have to say that I love the double page splash which occurs when Kara thinks of the past. It's Power Girl and Infinity Inc. battling Helix and it's glorious! Kara actually looks fifteen pounds heavier in the flashback. Sun-fueled Kryptonian muscle mass must weigh less than human fat.
Back in Moscow, Lex Luthor takes his wife Lois Lane to check out some Russian invisible plane technology. While they're looking at it, Lex throws some shade at the old comics and cartoons that had Wonder Woman visible while the invisible jet flew around the sky. This invisible jet actually hides the pilot! Isn't the future amazing?!
While they're underground, Planet Brainiac sends out the message about the coming Battle Royale. Communist Wonder Woman hears it so she must be battling Superman and Power Girl since Communist Superman is off fighting Robin and The Huntress. Superman and Power Girl hear the message on Kara's balcony after dinner. But nobody yet notices they have their powers back. That's for next time.
Convergence: Action Comics #1 Rating: I apologize for the way I began this commentary. I just want to reiterate that it's not a slam at the way anybody engages in feminism. As I said, I think the differences in everyone's ideologies is part of the point of equality. We are all going to differ by degrees. We should always be able to express our dissent when people put forth ideas with which we don't agree. Dissent is a good thing especially when it's directed at something we hold dear for it gives us an opportunity to expound on why something means so much to us. Unless that dissent comes from a sea lion. Then just fucking ignore it. Some people (and many would include me in those "some people") are dinosaurs that don't yet know they're extinct holding on to beliefs and ideals that have forever left them incapable of engaging in the modern world. I'm old enough to know how many of my own beliefs don't quite fit in with the youthful passion of change and rebellion seen on some places on the internet. But that's the benefit of my viewpoint. It's from a perspective that has seen time and time before what young people believe is happening for the first time. You're not engaging in anything new except for maybe changing the language and terms to try to make your argument more revolutionary. Although you might have to fight harder after the social debacle of the eighties. Take that decade as a warning! The harder you swing that pendulum, the further it'll swing back the other way. Those MRA guys that can't help looking like a joke because of the shit they get angry about? They're probably going to be the push back on the pendulum. If that happens, we're in for a sucky fucking decade.
Oh yeah! This comic was enjoyable. I think. It probably would have been better if Jimmy Palmiotti had been there to help Justin Gray with this typing.