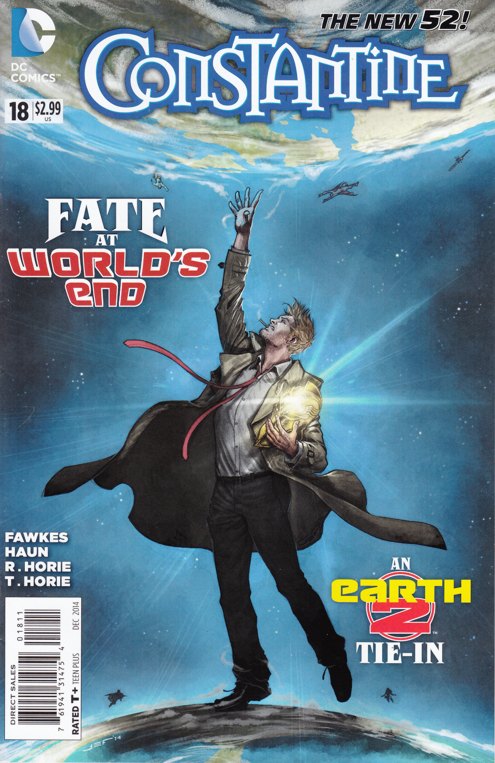 I can't believe Constantine won't be allowed to smoke in his new show on NBC. I bet he doesn't get to say "cunt" either. Lame.
I should probably wait to do this commentary after Constantine airs this Friday but it was next in my stack and who am I to argue with The Stack? Somebody probably organized these comic books to be read in the most entertaining order. Or somebody just pulled them out of a paper sack and shoved them in a drawer. Who can remember what somebody was thinking two weeks ago?
I always think of my past self as some other person. It makes it easier to deny responsibility for all of those horrible things I did as a teenager.
I bet if I had psoriasis, I'd never get anything done. The skin under my sideburns is patchy and flaky right now and I just spent the last fifteen minutes carefully picking flakes out of my sideburn and carefully examining each one's size and texture. Nothing compares to the feeling of slowly pulling a flake of skin from one's scalp (or cheek or whatever!), being careful so it doesn't break apart as you drag it through your hair, admiring it's size, and then, if it's big and beautiful, weirdly keeping it on the windowsill near your shaving mirror for months. That may or may not have been a favorite hobby of mine in junior high.
That previous paragraph was all just speculative fiction for your enjoyment. I never really did any of that! Ha! Ha ha! Heh heh. Yeah.
Last issue, Constantine was propelled into the future by Dr. Occult, losing his Foghorn Leghorn sword in the process. But he wasn't just blasted forward in time! He was knocked across universes as well. He arrives on Earth-2 on his doppelganger's birthday where he meets up with Wonton.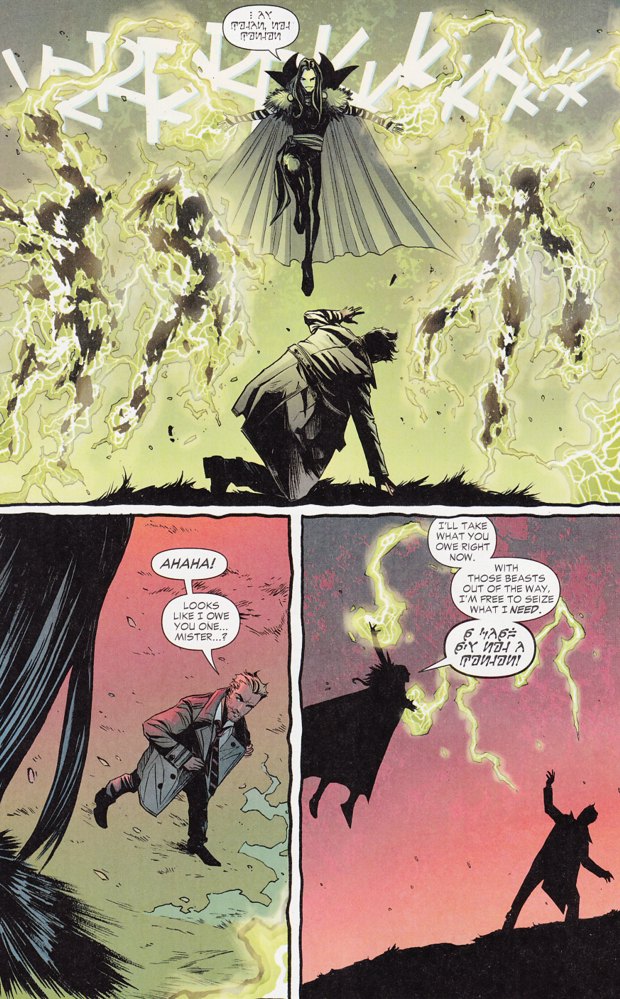 Sorry! Sorry! Geez. Wotan. He meets up with Wotan.
Since John is now on Earth-2, I have to think up a nickname for the Twofer version of himself. How about...Johnny Constantwin?
Johnny Constantwin is hanging out with his Vertigo friends and his wife. And none of them are dead! This world is too weird for me. I hope John gets back to Old Standby Earth soon.
Wotan just wants to use Constantine as a ferry to Old Standby Earth where he'll be the most powerful mage ever! After all the other ones that John doesn't tell him live there. You know which ones I'm talking about! Like Zatara! Or that other one!
While John battles Wotan, Johnny Constantwin feels the fight. It's like he's a Corsican Constantwin.
Eventually, I'm sure, Constantine uses some humble street magician's trick to win the day and then he returns home with Doctor Fate's helmet for some reason. I probably shouldn't trust the cover! This could be one of those Silver Age covers where the cover made the story look way more exciting to an eight year old kid with a dime burning a hole in his pocket. Or her pocket if the cover was a Night Nurse Romance comic book!
I can't resist translating the Runespeak whenever it appears. I don't even have to check my cheat sheet anymore. The main thing I've learned from translating Runespeak? You should never bother translating the Runespeak.
I'll translate the Runespeak in the above panels for all you students that were always told you were wasting your potential but always knew, deep in your heart, that was a lie and, if anything, you were exceeding your potential in the hopes that one of your parents would notice and throw a praise or two in your direction.
In the first panel, Wotan says, "My milkshake brings all the boys to the yard." Constantine replies, "Their like it's better than mine." That's exactly what he said so don't tell me I'm an idiot! Don't shoot the translator! In the second panel, Wotan says, "Anything you can do I can do better." And then little Johnny Howard says, "I can do anything better than you." In the third panel, Wotan says, "What's the guys name on first base?" And John replies, "What's the guy on second, who is on first!" They're such cut ups!
That's my fair warning to resist translating DC's Runespeak. It's nearly always bullshit that pulls you right out of the story. Occasionally the letter will take the instructions literally like in the most recent issue of Action Comics where Superman speaks Krypton and his Kryptonese says, "Three Kryptonian Words." Once, the letters were written backwards and it was a secret message to the letterer's fuck buddy.
Wotan uses Constantine as a portal but since two Constantines currently exist on Earth-2, Wotan is ripped in half and dies forever, never to be seen in The New 52 ever again. I might be exaggerating.
Now Constantine needs to find Constantwin so they can safely devise a spell to get Constantine back to Old Standby Earth.
Constantine #18 Rating: No change. I've got bigger problems right now than caring if Constantine is as good as it used to be. I don't think my cat Judas has much more time left in him. I can't even read one comic book without having to help him with something or clean him up or help him eat or help him drink or make him purr for a half an hour with chin scratches. Maybe for my next commentary, it'll just read, "Batman acts condescending and self-righteous. The end."