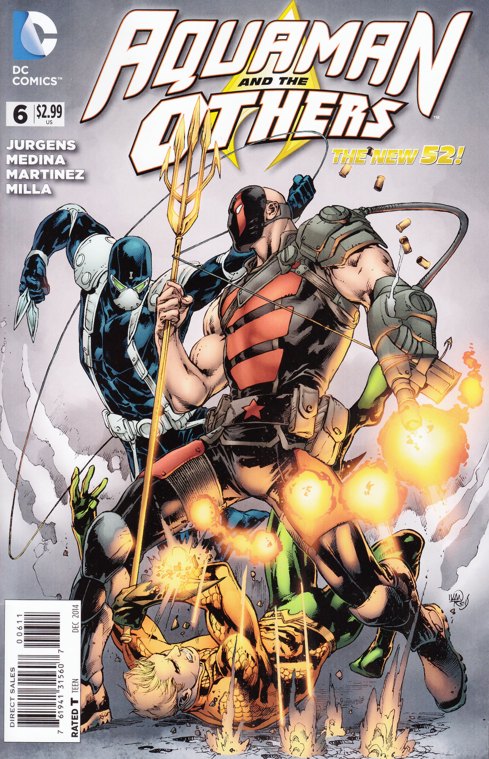 Welcome to the 90s, The Others!
I bet you could replace the punch line of any joke with "Aquaman!" and it would still be funny!
"How many mosquitoes does it take to screw in a lightbulb?"
"Aquaman!"
Okay, maybe my theory was wrong. But at least I took the time to try one experiment before declaring if it was or wasn't valid. Maybe I just inserted him into the joke poorly. Let me try another one.
Aquaman walks into a bar. The bartender says, "Hey! We've got a drink named after you?" Aquaman perks up, excited to finally be recognized, and asks, "You've got a drink called a Big Dumb Stupid Loser Face?"
That joke needs some workshopping but I think it's close!
This issue begins with Aquaman and Mera looking dopey.
They look dopier in the full body shot that left off their feet. But I didn't want to waste the storage space on a full page scan.
The person Aquaman is speaking to is Vostok-XI. But Vostok-XI, being a clone of Vostok-X, still thinks he's Vostok-X. I suppose if he'd been cloned early in Vostok-X's life, he'd think he was Vostok-IX! But Aquaman and the Others, being that they don't live in the Marvel Universe, have not had a lot of experience with clones.
Let's take a quick statistical look at this comic book after three pages, shall we?
Number of Panels: Two.
Number of Seagulls: About thirty-seven.
Idiots That Don't Know Their Roman Numerals: One (at least).
Idiots That Don't Know Their Alphabet: One (at least).
Ya'wara's Butt Cheeks: Zero.
Bored Readers: One that I know of. Actual number probably equal to the number of issues this comic book sold.
iSpy's son, Aaron, is the idiot that doesn't know his alphabet or his Roman Numerals. He thinks that this Vostok, being a clone of Vostok-X, should be called either "Vostok-II" or "Vostok-Z". He's wrong on both counts!
Anyway, who is Vostok-X?! I hope this doesn't turn into a five part story to find out because I don't really care! He's a Russian guy with a magic helmet that lives on the moon. So what if there are two of them? Or were two of them. Just pretend this guy is the real one and get on with telling another story in which he dies. Aquaman decides a replacement copy of an old friend is just about as good as having the old friend back and that's good enough for The Others.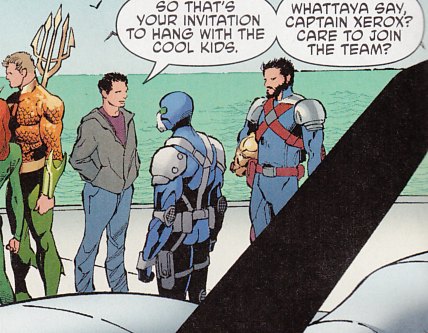 Cool kids? What cool kids? Where?
Aquaman shows Mera just how deluded he is when he tells her that the world needs The Others. Why? What have they ever done to help save the world? I think they hunted down Black Manta and pissed him off which eventually got two of them killed. And they battled a guy that only wanted back the antiquities they stole from him. I think what Aquaman meant to say was that Dan Jurgens needs them or else he isn't going to be getting much of a paycheck from DC.
Four more pages in and the Seagull Count has increased by about 34 more!
Ya'wara and Sayeh head to Tehran where the number one concern is that Ya'wara not go outside because she's practically naked and she'll inadvertently give all the Iranian men boners and then they'll have to stone her for being a vile temptress. Unless the main concern with her roaming the streets is that she's wearing two big daggers on her hips.
A lot of other boring stuff happens and there are more seagulls. And then something less boring happens! Unless it's more boring? I can't tell. Anyway, it's different.
Dan Jurgens was only allowed access to the most boring and inconsequential villains of the DC Universe.
KGBeast isn't alone. He's working with a woman in green. She's probably The Leprechaun and her main concern is a united, peaceful, powerful Ireland. They're probably in a group with other Nation-themed villains called The United Nations of Pain! KGBeast tosses iSpy off of the roof of a building because a comic book hasn't ended with the hero falling to their inevitable deaths in over a month! Mostly due to the Futures End issues not having cliffhangers.
Aquaman and the Others #6 Rating: -2 Ranking. This book is so fucking boring I might actually stop reading one of DC's New 52 soon.