Who would be destroyed by the Gods?
Get your Amazonian Wonder Bracelets ready, kids! It's time for The Bullet Point Review! That's where I get to relax and read Wonder Woman and just list the essential plot points for my future self next month! See? I told you to get your bracelets ready so you could deflect the bullet points I'm going to throw at you!
There may also be pictures.
Wonder Woman and War travel to Demeter's Realm hoping to find Zola's stupid baby that's causing all of this trouble. Why doesn't she just get a kitten?
Hermes ambushed them while saying, "Go, I say, go away War. Ya bother me."
"That's a joke son! See? He's got, I say, he's got rooster feet!"
Wonder Woman battles Hermes and isn't instantly killed. That's impressive, right? He's supposed to be pretty fast! Wonder Woman must get a lot of practice blocking quick hands since she's currently dating Superman.
The First Born battles Poseidon. I don't know the statistics of either of these characters. My guess is The First Born will defeat Poseidon or else the whole First Born story arc will end with a gigantic whimper.
Hermes wants to keep the baby because the baby was put under his protection. The whole maternal bond doesn't seem to be a decent argument as to why the baby doesn't belong to him.
This attack by Hermes seems like a bad idea. Aren't Amazons trained to destroy male genitalia on sight? And he's just offering his up on a figurative silver platter here! Man, I'd like to see him offer them up on a literal silver platter. I wonder if Hermes has a rooster penis?
Using DNA from Diana's ass to locate her in Demeter's Realm, Orion Boom Tubes in and rescues Hermes' genitals by yanking Wonder Woman out of the battle.
Hermes calls Orion a dog.
Orion wants to kill Hermes but Wonder Woman pulls on his leash and keeps him on track.
Wonder Woman and Orion run from Hermes while looking for Zola's Baby, Little Zeus.
Technically Orion doesn't know absolutely that he's supposed to kill Zola's child.
Hermes is crippled yet again when Wonder Woman cuts off one of his foot wings.
War makes his way to Demeter, rips open her wooden belly, and pulls out Zola's baby.
Should I be calling War "Ares"?
The last night of my work week, I sometimes repeat this over and over: "I am Jack's Grecian Urn."
My work weeks generally only run three days. And about five hours a day.
Now that I own my own business, I have this desperate feeling that I can't continue to keep it going. Mostly because I despise having to do things for money. I just want to be "UNLEASHED!" from it all!
Those bullet points were the part of the commentary where I wedge in something about my personal life.
This is the part where I go back to talking about the comic book. Maybe ease back into it by beginning with a picture.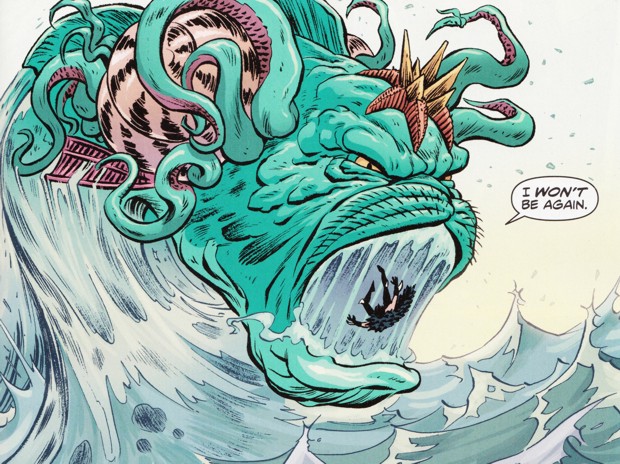 Poseidon makes the classic big monster mistake: he swallows somebody with invulnerability and super strength. Chew thoroughly before you swallow, Sir!
Wonder Woman comes upon the wounded Demeter and shows compassion. What kind of a warrior is she?! She keeps winning all of her battles with hugs and warm fuzzies!
Wonder Woman kicks herself for trusting War. Orion points out she didn't trust him; she took a calculated risk.
Wonder Woman feels consoled. Orion feels her up. Well, not exactly. I imagine he would be a neuter right now if he'd tried. But he does flirt with her! Diana walks away disgusted.
Diana returns to the apartment to find everybody in a good mood because War brought the baby back to Zola! Surprise! War is a big softie! Except he probably just did it so that some people would be in his debt.
This last page I'm about to scan in made me laugh out loud.
What a great family shot. Thanks Cliff Chiang for being the awesomest.
Wonder Woman #18 Rating: +1 Ranking. I love reading this comic book and I hate writing commentary on it. It's a book I should be really talking about and pulling apart and dissecting. But I just want to enjoy reading it. I can't believe how much I'm enjoying the Big Three and a Half Heroes (Aquaman is the 1/2, if anybody was wondering).