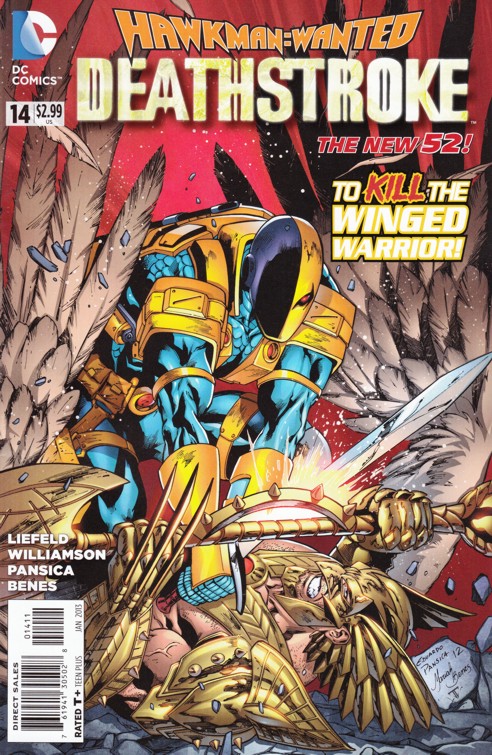 After reading the comic, the cover should actually say, "To ask some questions of the winged warrior." I guess that wouldn't sell as many issues.
There was a time when I looked forward to reading a Deathstroke comic book. I can't remember a single story from the nineties Deathstroke comic but I remember enjoying it. I wonder if I'd still like it now? Hopefully my mom brings up my Deathstroke comics when she comes up for Thanksgiving this week and I can reread them. Maybe I'll just replace these comics with the old ones. Who's going to notice? Is there anyone out there still reading Deathstroke other than self-hating critics?
I would like to know how this Hawkman crossover event was pitched. I think I know!
DC Editor #1
: "How the fuck are we going to get the numbers up on Deathstroke? Why aren't people reading Deathstroke? Deathstroke is cool, right? He's what the kids love! Immoral violence and gratuitous sex with women that don't get any speaking parts!"
DC Editor #2
: "I know that's what I like! I can't get enough of this comic! Or Grifter!"
DC Editor #3
: "Hmm. If Deathstork's number were equal to..."
DC Editor #1
: "Deathstroke."
DC Editor #3
: "Excuse me?"
DC Editor #1
: "You said 'Deathstork' not 'Deathstroke.'"
DC Editor #3
: "No, why would I say..."
DC Editor #2
: "You did. You said it. 'Deathstork.'"
DC Editor #1
: "Hey, be sure to copyright that. Um, anyway, what was your idea?"
DC Editor #3
: "Well, if Deathstroke could triple its numbers, we could keep the comic alive."
DC Editor #1
: "Yeah but we already have crossovers going on in every comic in The New 52!"
DC Editor #2
: "Not Green Arrow and Hawkman!"
DC Editor #1
: "Holy shit! You're a genius! Three birds in one hand and a stone in a bush! But what is the story going to be about?"
DC Editor #3
: "Who cares? If those assholes are buying any of that shit, they're not going to hesitate to pick up the other shitty comics we're putting out. Heh. Can you believe people purchased the Green Arrow trade collecting J.T. Krul's horrible mess? Ha ha! Dumb asses.
And here we are! I'm one of those fucking dumb asses buying these comics that nobody at DC apparently cares about. Look at desperate they are? They're simply keeping Liefeld's name on the book to try to get his fans to accidentally shell out money for them.
Currently, Deathstroke is standing on a building next to a sniper rifle Narration Boxing some really deep thoughts.
I have a feeling DC put the graduated color scheme in the background of the Narration Boxes to make them harder to photoshop. But fuck you, DC! I've been doing it anyway! Ha ha!
Do the writers of Deathstroke not want to write a fascinating character? This comic could be fantastic if someone just put some thought into who Deathstroke is, his motivations, his needs, his flaws, his dead dreams and fractured hopes. But instead they just keep writing a guy that is only concerned about his rep and fighting challenging opponents.
This is not fucking interesting.
Here's the plot: some guy gives Deathstroke a lead on the Hawkman job. Big money to kill the alien. Deathstroke almost refuses the job but is told about Hawkman's Nth metal, which Slade's armor is made from although it hasn't merged with him the way it's merged with Hawkman.
Here's why I hate the plot: Carter Hall has only recently discovered he's an alien from another planet. But suddenly everyone on Earth also knows about his life as a Thanagarian Prince and his Nth Metal armor. If this were just about the metal, maybe I'd forgive it (I wouldn't). But this nobody informing Deathstroke about the hit knows Hawkman's fucking lineage but he thinks the Nth metal is called "Eighth Metal." Even though Nth is in giant letters on the packet this schlub hands Slade.
I hate how comic books have basically taught readers to ignore idiotic plotlines. "So what if it doesn't make any sense! It gets Deathstroke into the action so he can punch Hawkman in the face! You want to see Hawkman get punched in the face, right? Well then, turn that incredulity upside down! That, um, makes it credulity!"
"Or how about Deathstork Deathstroke getting punched in the face? That's good too, right?!"
The continuing plot: Deathstroke gets sucker punched by a Warhawk and thinks, "Sloppy. So focused on the job I didn't notice I wasn't the only one on the prowl."
Why I fucking hate the continuing plot: Deathstroke gets sucker punched while thinking that he should be able to hear Hawkman's wings. What the fuck? So the Warhawk's wings sound so different that Deathstroke just ignores them? "Hmm dee dmm. Looking at my wrist instead of Hawkman's apartment and listening for Hawkman should he come flying up on me. What's that sound? Like large wings beating? But they don't sound like Nth Metal large wings, so I'll just continue to keep looking at my wrist. Dumm dee dum dum dum." And of course Deathstroke knows exactly who his assailant is after he gets punched. How does he know what a Thanagarian Warhawk Hunter is? The only way he would know is if his informer happened to mention them along with all the other information he shouldn't have known. In which case, Deathstroke should have known he might run into them.
As you can see, I cut writers no slack at all. Just because someone is a professional and getting paid for it doesn't mean they're any good at what they do. And they need to be called on their crap when they pass off panels like this as entertainment:
If you thought that was funny, stop reading my blog. Right now. You're not welcome here!
Deathstroke kills this Warhawk and then finds himself fighting Hawkman. But Hawkman is at a disadvantage because Hawkman doesn't know that Deathstroke doesn't want to kill him! That's a snide comment about Deathstroke #13.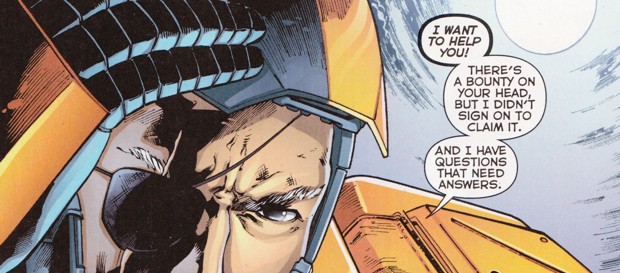 "Look me in the eye! I'm telling the truth!"
Hawkman doesn't want Deathstroke's help. But Deathstroke has one other shallow, cliche trait that doesn't help establish his character; it just makes him look like every other mercenary character in every comic book universe ever.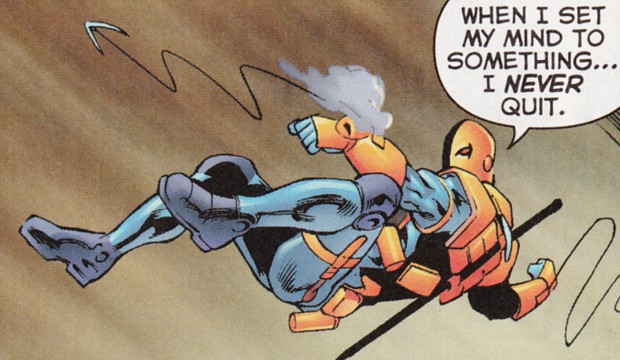 Being flexible isn't a flaw, Deathstroke. Being rigid and unswerving is. Fuckface.
Too bad Hawkman doesn't have the same stance that Deathstroke has! Then they would have to fight to the death because neither one of these idiots never quits. But Hawkman does quit fighting as soon as he takes a good look at Deathstroke's armor. "Nth Metal Brothers!"
Hawkman tells Deathstroke the Nth Metal's history and how it came to Earth. It's all supposition and guess work but what the hell? He can think of it so it must be true! His brother-in-law Corsar's miners stole it and sold it and it somehow made its way to Earth. He doesn't have any proof but who cares? That's never stopped anyone from believing something simply because the thought popped into their head. That's actually schizophrenia but far too many "normal" people do it as well. Have you ever listened to Coast to Coast AM? Occasionally they have "experts" on "angels" and "heaven" and how do they know everything they know? It just seems to make sense to them so it must be true!
"Every time a writer needs it to do something, I suddenly learn a new power of the Nth Metal!"
Where the fuck did Green Arrow go? Wasn't he supposed to be in this thing? Although I'm really relieved that I had that information wrong! Fuck off, Green Arrow!
After Hawkman and Deathstroke become the bestest of friends and Nth Metal Brothers, they're suddenly attacked by more Warbirds led by Pike. I think that's Pike. I'm pretty sure it's Pike. Now he's going to want to kill Deathstroke as well since Deathstroke has Nth Metal armor.
Deathstroke #14 Rating: -1 Ranking. This comic book is just a gigantic disappointment. And I fear it's only going to get worse. It's consisted of Deathstroke attacked by people who want to gain some reputation. People attacking Deathstroke for a challenge. People attacking Deathstroke to get revenge for people he's killed. And now it looks like it'll also have the added surprise of a new plot twist: people attacking Deathstroke to get his Nth Metal.