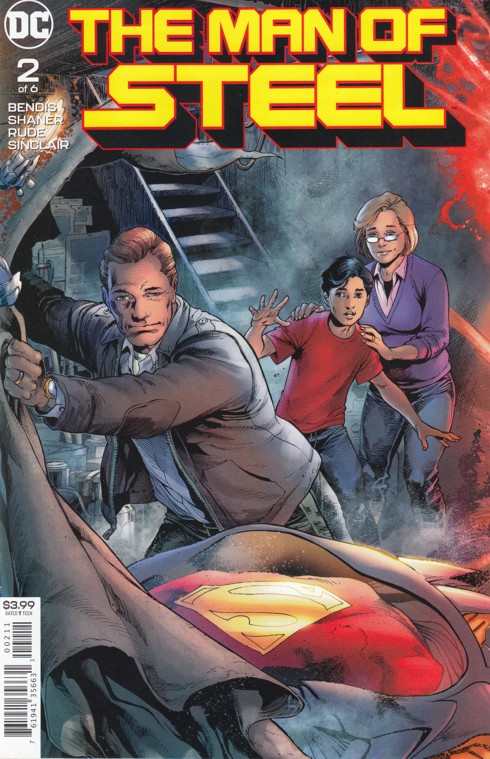 "Happy birthday, son! We got you an alienating back story!"
Over the years, I've had a lot of responses to my comic book reviews. While a few of them were "Why do you hate my I mean Cullen Bunn's writing so much?", most of them were a version of "So I just finished your review and I was wondering what you really think of the comic book." This has always intrigued me. Why would somebody actually want to know a stranger's opinion on what was almost certainly a shitty comic book? Maybe ten of my four thousand reviews were actually meant to encourage people to read the comic book I was reviewing. Most of the reviews were an experience unto themselves. Whenever somebody would ask what I really thought, I realized that person didn't read the review correctly and probably had a learning disability. I mean, it was a Batman comic book! You already know what 95% of that experience is going to be! And if you need the other five percent to be whether some terrible writer on the Internet liked or disliked it, maybe you've got issues trusting your own judgment.

What's even worse is when people argue with me. There was that one guy who totally wasn't Cullen Bunn or his wife who argued incessantly with my Twat Lobo reviews. He then went on to argue with my Not-Twat Lobo-centric Justice League of America reviews. On a number of occasions, I simply responded, "You don't understand this blog." He would invariably answer, "What's to understand?!" which he probably meant as an insult, right? "Your opinions are so simple-minded and biased! Sorry not sorry!" But I refused to explain the magic trick and instead just continued to boggle at his inability to understand exaggeration for effect and obvious bias disguised as impartial critique.

Not that I should be surprised by that response and then insult their learning disability that I'm sure they've been struggling with for years when the whole point of my reviews is that they're supposed to sound like an arrogant yet somewhat stupid asshole who doesn't know how to write reviews! Did that sound convincing? Do you now believe that it was a purposeful fictional voice created all those years ago? I finally fired my therapist and I'm trying a new strategy to get people to like me. Right now I'm trying "Oh, you thought that was my real personality? Silly!" My previous attempt to get people to like me was to not care if they really thought I believed the horrible things I said. Spoiler alert: they all thought I really believed the things I said and hated me for it!

That last statement isn't entirely true. That one time when some petitioner on the street asked me if I wanted to save the pandas and I said, "I hate pandas," she flirtatiously stuck her tongue out at me and I'm fairly certain I only imagined her mutter "Cunt" from behind my back as I walked on.

"So, um, Man of Steel #2?" you might be asking. "Yeah, yeah!" I say charismatically. "I'm getting to that!" That's the segue into the actual review part (which, as I pointed out so that you don't retain any high expectations, will barely be a review).


These four panels basically explain the premise of the entire series. My review of them? "If I have to read this many words in every panel, I'm going to kill myself publicly."
Let's pretend that Rogol Zaar is Bendis's Mary Sue and Krypton is America so that we can theorize how Bendis is anti-America. Who else is on board with that interpretation? To completely understand it, you might have to remember how Rogol Zaar's reasons for destroying Krypton was that Krypton was a threat to the entire fabric of DC continuity. Just like how Bendis thinks America is a threat to world peace. In Bendis's mind, America must be destroyed if we're to save the rest of the world.

Not that I'm saying I agree with Bendis because I live in America and please don't destroy me but it's a compelling theory, right?!

But that whole Rogol Zaar crap doesn't matter yet! The thing that matters is that Lois Lane an Jon are missing and everybody is all, "Did Clark Kent murder them?" Even Hal Jordan was all, "So, I heard from Oberon that things in the Kent-Lane home aren't so great?" But instead of telling Hal, "Well, maybe I could use the Justice League's help because there was this incident last week where this thing appeared in our kitchen and then I was on the moon and...well, I'll tell you more as the story unravels across six issues. For now, that's all you need to know." Then Hal could have been, "Oh, um, excuse me. I need to be on Planet I'm-Not-Making-Up-This-Name in like a nanosecond. Thanks for whatever!"

I wasn't sure how I felt about Bendis and then I got to this page: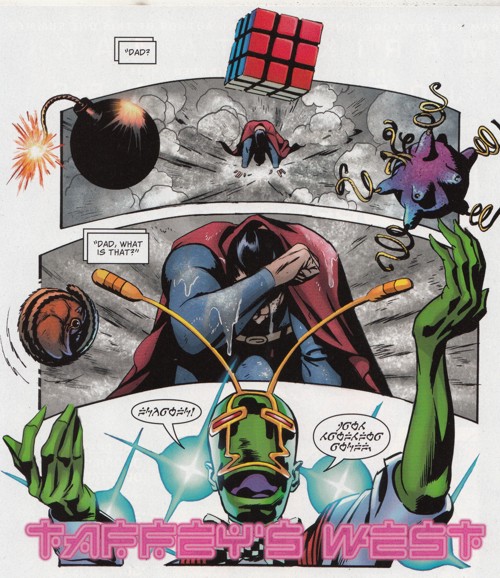 He's the greatest comic book writer of our generation!
Ambush Bug is saying, "Dsagfds! Jgfh hgfdhdfg gfsdd." I guess he can only speak using letters in the home row. In the next panel, he exclaims, "Ljkl!" as he drops the items he's juggling. I guess "Ljkl!" is Homerowese for "FUCK!"

In the galactic bar where Ambush Bug has declared his DC continence (don't argue with me. That wording works better than you think!), Rogol Zaar wanders in to have his once yearly drink. I guess he's been slumbering for thirty something years and only wakes up once a week or something. While there, he sees the symbol of the House of El and learns that there's still a Kryptonian out there. Apparently his rage wasn't that the race of Kryptonians would destroy the universe but that they existed at all. Because he's still super angry about one superman left in the galaxy. His racial animosity flares and, I'm pretty certain, he's planning a trip to Earth. Or what are the other four issues going to be about? Superman looking for Lois and Jon? How much punching will be in that story? Boring!


Maybe Bendis is less the greatest writer of our generation and less angry at America's abuse of power on the world stage and more of a MAGA type. Why are all his homeless people minorities?
I apologize if Bendis isn't as racist as that page might seem. It could also be Doc Shaner or Steve Rude or Alex Sinclair who are the racist ones.
So, um, anyway, Rogol Zaar decides to hop on his space motorcycle in an attempt to be even less like Lobo (that was sarcastic because Lobo rides a space motorcycle and is also black and white and also loves genocide!) so he can zip to Earth and kill Superman.
Rating
: My interest is still being held! There's a story here which is better than all of those comic books that don't have a story. The only problem is that the antagonist has been seen before in several different versions and parodies of those versions. And there's always a new version of how and why Krypton was destroyed. But at least Lois Lane has been kidnapped so that's, um, not yet the different thing I was looking for. What about the Daily Planet going under or being sold? No, no. Seen that. Anyway, Ambush Bug made an appearance! That's got to count for at least fifty cents of the cover price!
P.S. Subscribe to the
E!TACT Newsletter
for great poetry and better reviews by people responding to my terrible reviews! It's better than refreshing Twitter constantly!