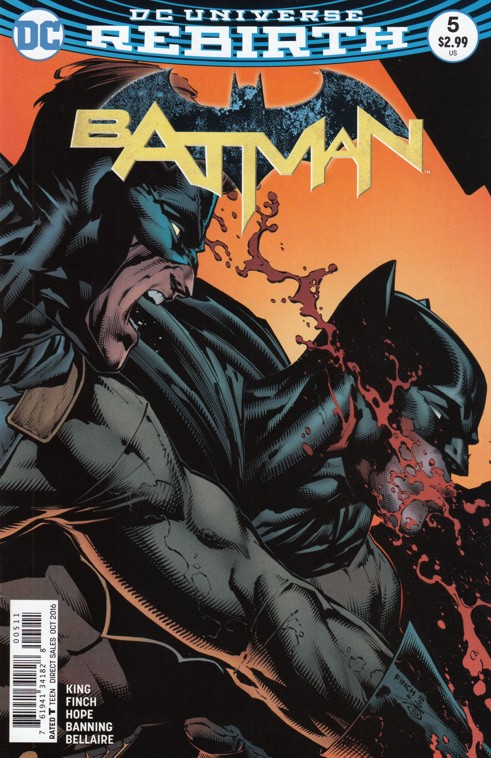 The Review!
The metaphor (meataphor?) of this book is readily apparent to anybody who knows what a metaphor is and can read and has made the connection that Gotham the super hero has the same name as Gotham the city. If it's a bit subtle for some of you, you're probably writing for Comic Book Resources. I don't have anything against Comic Book Resources but I feel like I should really hate anybody I can identify as a rival. Often I'll stand in line at Taco Bell thinking what a fucking slut the person ahead of me is. I don't even have anything against sluts! I think maybe I'm just angry. But then who isn't angry inside a Taco Bell? There's a reason every one of us is under that roof and it's not because we have control over our lives. Especially that slut.

So, um, that metaphor! Let me walk you through it slowly. Gotham is a city and that city has problems. Batman tries to fix those problems. And that's the synopsis of seventy-five years of Batman. But wait! Tom King has come along and thought, "What if...wait for it...wait for it (that first wait for it was asking you to wait for the second wait for it!)...Gotham was a character! But not in that way too subtle and overly finessed way Scott Snyder did it in his incomprehensible run on the comic! I say we make Gotham an actual person! And he can totally represent Gotham in every way and now Batman has to fix him or punch him or put out fires on him or buy up pieces of his body at rock bottom prices and then patrol those neighborhoods to drive out crime so that the value of his properties rise! Okay, yeah, you're right. I'm getting a little bit too literal on the metaphor! But you get where I'm going with this, right? Gotham City is broken and then comes this guy Gotham who is majestic and awe-inspiring and a great place to raise your kids. But then he gets broken too! Now we can watch Batman fix Gotham City by fixing Gotham Dude! Who wants to be the first to shake my hand and pat me on the back?!"

It's actually more complex than that but I'm a lousy critic who is probably just jealous of professional writers and needs to tear down everything they make to feel better about my lousy existence, so how am I supposed to understand the complexity of the metaphor? I suppose I have to remember that Hugo Strange is part of this and, just like all of Batman's villains, Strange is trying to control Gotham. But not the city! The dude! Get it?! But by controlling Gotham Dude, Hugo can now destroy Gotham City. So the metaphor sort of begins to bleed into itself like a Dali painting running from the rain and dripping all over an Escher print.

At one point in the story, Alfred dresses up like Batman to confront Gotham merely to detain him. Gotham says, "What...who are you?" Alfred responds, "I'm Batman." Then Gotham is all, "No...you're just a man in a mask." See?! It's still all metaphor for how the city reacted to some idiot tying a towel around his neck and running about the yard hitting his friends with sticks. Gotham City's first reaction is, "How can a man in a mask help?! We're all dying here!" And, well, the city must be right because Alfred turns and runs away once Batman arrives. Which is the continuation of the metaphor! I think. Maybe it's a different metaphor. Or perhaps I'm wandered into thematic discussion? Anyway, the point is that the city doesn't need somebody in a mask to save it. The city needs the Jeezly Crow Batman! And it can recognize when the pencil mustachioed man with the ill-fitting onesie draped over him isn't Batman.

So now that you've got all that metaphor in your head--don't be distracted by the Monster Men who are coming!--it's time for the big twist: Batman is actually Gotham! No wonder he was so upset when he realized he was infested with owls. Batman is such a huge control freak that he blames himself for everything that is wrong with Gotham because it's everything that is wrong with himself. His failures and his flaws are Gotham's failures and flaws. And with that revelation, Gotham is no longer needed and the metaphor is allowed to run its course and die. But Gotham Girl gets to stick around because she needs to marry Duke Thomas and kill Bruce Wayne later. You can't have a Batman series without a Death of Batman story being wedged in there somewhere, apparently.

So I guess this is becoming a Gotham Girl comic book and not a Batman comic book. I bet David Finch was excited about that! I have a feeling Tom King just finally broke down from Finch's incessant emails asking King to write in more scenes where Gotham Girl can wear a bikini or maybe be in her panties getting ready for bed or perhaps barely covered up by the steam of a shower while naked in the bathroom or perhaps just have her cosplaying White Rabbit! And Tom King was all, "Fine! Gotham Girl Year One! Bone up on your female underwear drawings!" And David Finch was all, "Boned and ready!"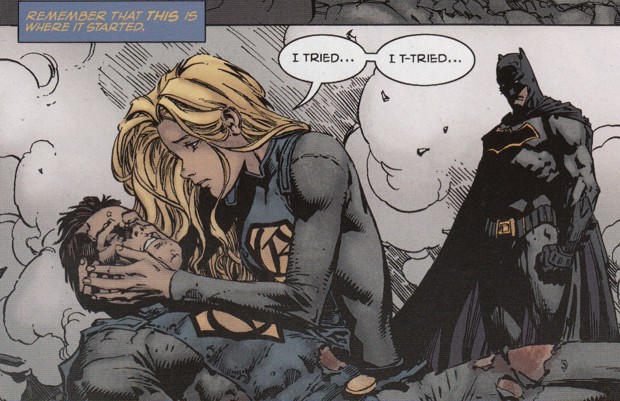 Somebody, somewhere, at some point in time is going to point to this panel to show how much stronger and more powerful Gotham Girl is because she doesn't look hurt at all while Gotham is now dead. But it's really just the only way David Finch knows how to draw women and men. Women are always somehow under good light with clear skin and men are lit by flickering florescent bulbs with old, tattered wrinkled skin (and usually fish lips).