Twenty years ago, I'd have rooted against Hal Jordan. Not today!
Well Twat Lobo! You had a good run. I mean, it wasn't exactly "good" at all, really. It was practically the definition of horrible. But keep your chin up! If you ignore all of the critics who were completely right in saying this was a bad comic book, and disregard the constantly plummeting monthly sales, you were actually fairly successful! Some people who wanted to fuck you decided to ignore the shitty writing and awful dialogue and tone deaf rape scenes so that they could laud the series. And fans of whatever Cullen Bunn has written that has apparently been good--I wouldn't know what that was since none of it has been at DC--have also managed to convince themselves that this series was a truly novel horror title. And I think it was loyal Lobo fans who don't have it within themselves to criticize any version of the Main Man who thought maybe this was a parody of James Bond? Plus if I had to choose the best book of all time and it was between Cullen Bunn's Twat Lobo and Ann Nocenti's Katana, you'd win hands down, Twat Lobo! So anyway, what I'm trying to say is you had a successful run if you squint a bit and lie to yourself and manipulate all of the data and ignore reality. Congratulations!
Twat Lobo has recently let himself go. He's looking more and more like Real Deal Lobo which could mean that Cullen Bunn stole my idea about making Twat Lobo the younger version of Real Deal Lobo and introducing a time travel element into the story which leads to Twat Lobo killing his older self. That totally works for me and makes the series just a tiny bit better overall. He also took a huge overdose of drugs last issue which could explain why his older self has no memory of the details of his earlier life. The drugs have also sent Twat Lobo on a murderous rage across the universe killing other bounty hunters. But not because they're bounty hunters! It's because he's hallucinating Czarnian faces on all of them.
The issue begins with Twat Lobo hallucinating one of those faces on Hal Jordan. That's a good idea because it means Green Lantern fans will pick up this issue and Twat Lobo might end on a less depressing financial note.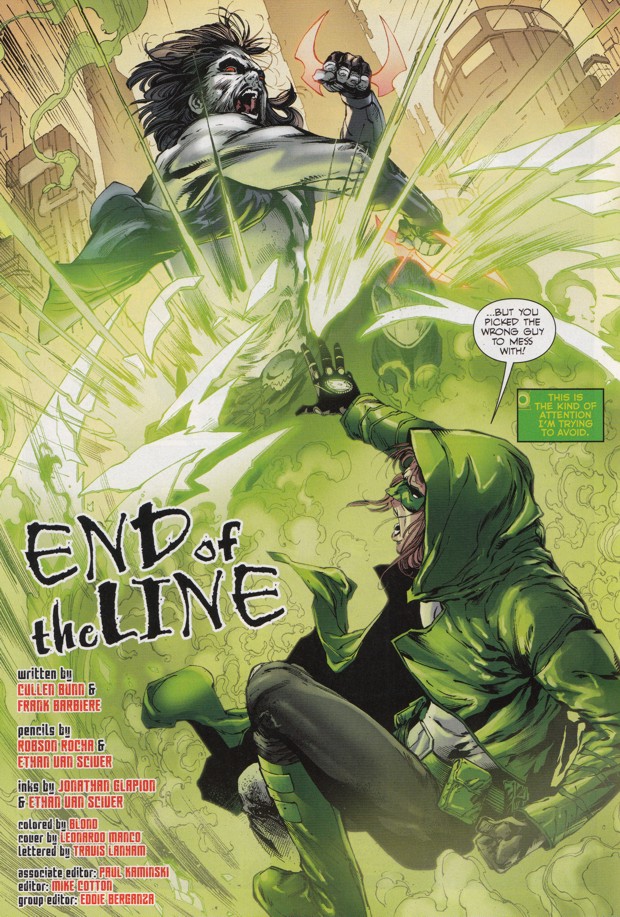 Compare this page to the cover. Since the cover was commissioned, DC has obviously backpedaled on the Twatiness of Lobo.
Hal Jordan points out that this isn't his fight. I'd like to argue the point, Hal. It's all very well to describe being mugged or attacked at random as "not your fight" but it kind of is. You may not have chosen the fight. You may not be the type of asshole that goes around getting into fights (that's a hypothetical person in that statement since Hal Jordan actually is that type of asshole). But once a fight is brought to you, it's your fight whether you want it or not. Because the only other option at that point is to take the beating that, with your logic, wasn't your beating. I'd rather engage in the fight that wasn't my fight than simply take the beating that wasn't my beating.
Twat Lobo hallucinates his old partners from Earth who died. The drugs Twat Lobo took really shouldn't be causing him to hallucinate people trying to help him get the drugs out of his system. What kind of self-destructive drugs are those?! They should be making him hallucinate hot young sex monkeys chirping at him to take more drugs and do weird things with bananas. I wonder where I can get some drugs like those? And some bananas?
Hal Jordan flies Twat Lobo into space and then hurls him back to the planet so he burns up from whatever causes a thing to burn up during atmospheric reentry. Air pressure or something. I don't want to get too technical with my readers so we'll leave it at that instead of having me explain it in detail which I totally could if I wanted to.
See? It's a horror comic book full of sexy ghosts! I mean scary ghosts!
Hal Jordan flies down to talk to Twat Lobo after "checking around" to discover that Twat Lobo was on drugs. Where the fuck did he "check around"?! I was really getting into the story up until that part! Now I've been pulled out of the narrative by some ridiculous bullshit thrown in simply to have Hal Jordan put together pieces of the story he wasn't privy to! And don't say his glove told him because his glove isn't tied into the same World Wide Green Lantern Web that the rings are tied into! Hal pointed that out himself in Green Lantern #47!
Some purple guy from The Citadel picked up Twat Lobo to explain what's been going on. The drugs were made from dead planets because obviously. Duh. Best drugs you can get! The only problem is that Twat Lobo snorted some Czarnia! Oh noes! That totally explains everything somehow! Especially if you want to fuck Twat Lobo! Poor guy! I totally get it! I mean, um, whut's going on?!
Twat Lobo decides he doesn't need The Citadel's help and that he loves the idea of his planet being inside him because it's a cool idea if you're drunk and have a serious concussion, I guess.
Also he's back to being Twat Lobo thanks to the atmospheric reentry makeover.
I cut off the threat on that last page that told people to watch for Twat Lobo in Batman Loves Superman #29. That was the most horrific part of this horror story. Or was it a parody of James Bond? I forget what I'm supposed to think.
Twat Lobo #13 Rating: No change. What a cool ending...I can hear idiots saying. With the drug in Twat Lobo's system and the variance in his looks, my guess is that the first issue battle between Twat Lobo and Real Deal Lobo was an Edward Norton/Tyler Durden Fight Club deal. So there's not difference between Twat Lobo and Real Deal Lobo at all. They're just unaware of each other inhabiting the same body. I don't know if that makes anything better but at least I can imagine Twat Lobo will one day be completely suppressed and I never have to read another comic book about him ever again. Although, I suppose, my mind could easily be swayed if a good writer took on the task of writing Twat Lobo! Until then, good riddance, Twat Lobo!