I've probably dragged this out too long, haven't I?
The next story is called "Stray Arrow" and I should like it since Green Arrow is murdered in it. But I just found it confusing! Black Canary kills a guy who sexually assaults her and then later she kills Green Arrow for not attempting to sexually assault her. It's so confusing! It's a good thing the story was written by a man or else I would assume women sometimes want men to sexually assault them and sometimes don't want men to sexually assault them and if the man guesses wrong, he'll be killed. Although would that be all that bad? Oh wait. Yeah, it would. Because men already act like women want to be sexually assaulted all the time! If they thought they might die if they didn't sexually assault a woman, things would only escalate.

I think men would have less of a problem with sexual assault if they realized that the things they wish women would do to them are not the things women want in return. Like, I was at a party one time and this woman followed me into the bathroom (oh! That reminds me of another time I was at a different party and a different woman followed me into the bathroom! Is this some kind of secret horny woman ritual?!) and proceeded to stick her hand down the front of my pants. As a guy, I didn't think, "Oh whoa! I'm being sexually assaulted!" No, I thought, "Oh whoa! My penis is being touched!" See? That's the problem with guys. They often can't even tell when they're being molested because having your penis touched by somebody new feels amazing!

The other time I was followed into the bathroom, I fought her off. Not physically, of course! Why would I punch a sexy woman in overalls who was just trying to get a look at my penis?! I just evaded the subject (the subject what her mouth would do to my penis) because my cousin (who was also at the party) brought her there as his date. Later she followed me into a second bathroom and I still didn't succumb to her succubussy temptation! Man, do I regret that decision now! Although my cousin did get crabs from her, so good choice, young me! Although would I have really caught crabs from a blow job? They don't live in the mouth, right?! And I don't remember her having a mustache.

Another time, I was at a bar in Los Gatos and this woman at the bar kept making eyes at me. After last call when everybody was standing up to leave, she tackled me into the back room and collapsed on top of me in a booth while trying to suck out my entrails through my mouth. Hitting on men sure is easy for women because men are such horny beasts! Women can do whatever they want with us and we're, generally, just going to go, "Oh whoa! Get ready, penis!" I suppose it would have been different if she shoved me down face first and proceeded to stick a pool cue into my asshole. I probably would have considered that assault, depending on whether or not she used lube.

But men should never mistake these kinds of moves for moves they can pull on women! I know it's hard being a guy who women don't want to constantly maul (I mean, I assume it is? Because how would I know?! I'm like a big fat salmon at the starving bear convention to these ladies!) but you still can't be sexually aggressive. You just have to be patient until a woman decides she wants your disgusting dick touching her soft, supple flesh. Just remember that sex is always the lady's choice. And most ladies, even when they're hungry, don't want to eat pizza out of a dumpster. So stop looking and acting like dumpster pizza. And if you can't help looking like dumpster pizza because you got the shitty end of life's looks stick, you're going to have to...well, I don't fucking know what. This isn't an advice blog! I suppose there's somebody out there for you. Men aren't the only ones who occasionally look and smell like dumpster pizza. Go find a dumpster pizza woman. But you still have to wait for her to make the hand down the front of the pants move!

Man, I should teach a college course on relationships! I'm almost 100% certain that nothing I just wrote was offensive at all and possibly the most mature and responsible thing I've ever written!

It was definitely more sensitive and less tone deaf than that "Stray Arrow" story!

The next story is about Two-Face and is called "Unmasked." It's written by Wrath James White which must be a pen name, right? Who names their kid Wrath?! I'm not even sure I want to read his story now! Wrath! How ridiculous!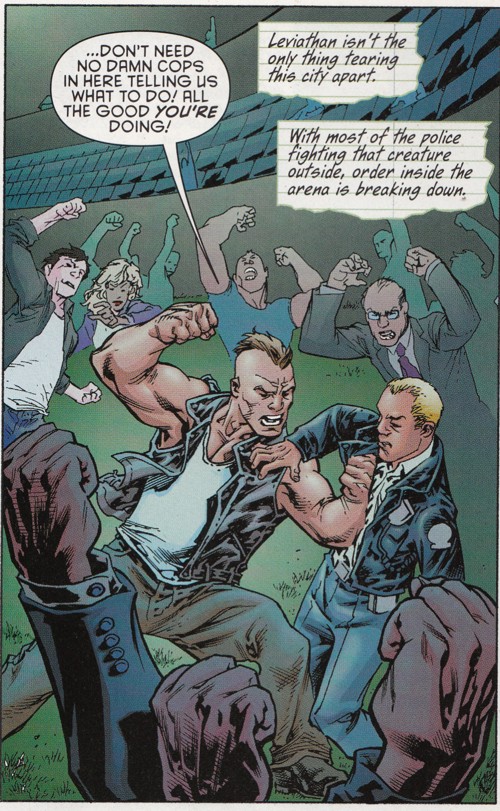 The artist has a tough time drawing men with their arms down.
This story basically winds up telling the same story as the Batman story! The supposed hero winds up being the villain and we learn some kind of lesson in the revelation of that absurdity! Nobody knows their true nature or something. We're all monsters underneath the make-up of civilization! When we least expect it, we'll find ourselves cutting the faces off of innocent people. Man, now I'm afraid of myself.

"Stray Arrow" and "Unmasked" Ratings: They were so bland that I can barely even remember reading them and I just read them like five minutes ago! Maybe I'll read the Billy Batson one before I decide to do a Part Six just to see if it's interesting enough to talk about. As if I ever actually talk about the stories I read! Ha ha! Why do people think I write comic book reviews?!