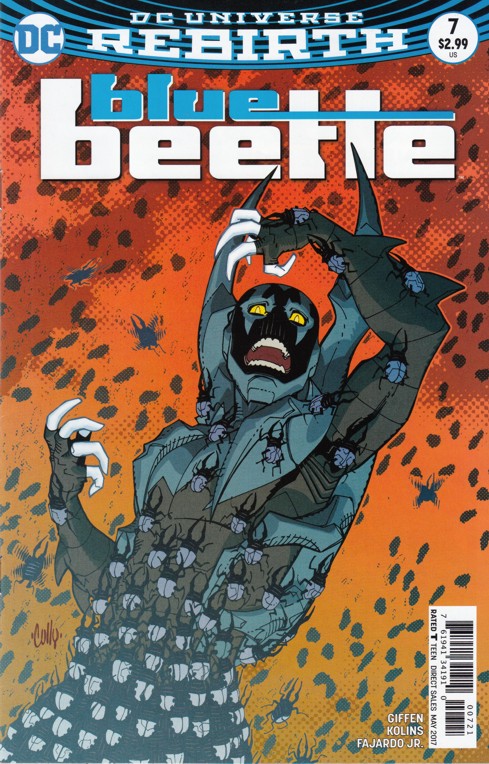 Here's a lie to explain those, Jamie: "I was so drunk when I checked in, I forgot to change the sheets at that hostel in Berlin!"
The Review!
If you want to read an intelligent comic book that is easy to understand, maybe pick up something else. Might I suggest The Flintstones? This book fails on two of the two counts in my initial premise. It is neither easy to understand nor intelligent. Those aren't really judgments against the comic even if they completely sound like they are. Some people (like me!) don't necessarily think "intelligent" and "clearly communicated" are positive attributes! Clarity is for suckers. And anybody can seem intelligent which really drives down the stock price on actual intelligence.

Long time comic book readers will know exactly what they're in for when they see Keith Giffen's name on the cover of a comic book. A light, airy adventure with lots of bantering (which some might call humorous and others might call confusingly annoying). Eventually the lightness takes a dark turn and a lot of people die. Because Ted Kord has still been making jokes, I was almost fooled into believing this comic had yet to take a dark turn. But then I remembered that cowboy guy in the Posse had his head chopped off by Mordecai an issue or two ago, and I don't think it was meant to be hilarious. In this issue, Doctor Fate dies! But don't worry. He only dies for a few seconds which Kent Nelson doesn't take full advantage of because he doesn't realize Nabu has the ability to resurrect himself. It's probably good he didn't know or else we would have been subjected to several panels of Kent furiously masturbating in the Tower of Fate.

By the end of the issue, Arion, Lord of Atlantis, has risen again. I'm not sure what his plans are now that he's back since his plans before being imprisoned by Fate were to save Atlantis. Maybe now he just wants to see the whole world drown.

Also, the Blue Beetle Scarab has been removed from Jaime. So now he's just another boring, normal kid. Hopefully that will improve his chances with Brenda.

The Ranking!
No change! Next issue, J.M. DeMatteis will be coming on board to clear up the confusing banter.