I hope this stars the talk show version of Space Ghost.
James Tynion IV is writing this issue so I bet it's more serious than it ought to be and it'll probably be full of comic book tropes and Space Ghost will come out as bisexual.

The issue begins with a planet in some serious trouble. You know the kind of trouble planets get into in Green Lantern comic books! It's always serious and hardly ever humorous and wacky. Just once I'd like to read about a planet full of sentient penises having to deal with sentient vagina missionaries hellbent on getting the penises to worship their vaginal god. I mean, okay, fine. That's probably a metaphor for a lot of comic books. But I don't want to read it as metaphor! I want to look at pictures of talking vaginas!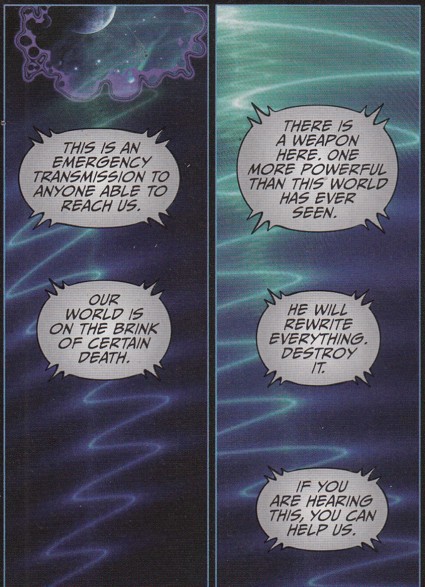 So the weapon is a pen? Is that the big Twilight Zone twist? "He's got the only pen on this world and he's writing lies about us! Future generation will read those lies and think we were all jerks! And we can't get the pen away from him because he's locked himself in the bathroom! And we can't get the door off the hinges because the door swings inward! And we can't pick the lock because our greatest technological advancement (aside from the one really sweet pen!) was perfecting the unpickable bathroom door lock! We're doomed!"
I love to toot my own horn so let me say I probably just wrote a better story than whatever Tynion IV came up with.

I just got to the page with the credits and I want to apologize to Christopher Sebela for not including him in my critique of the writing. I'm sure you've added nothing to this story that James Tynion IV didn't say, "I was already thinking of adding that! I know Scott Snyder!"

I should really meet some of these writers before caricaturing them. Although I feel like I probably nailed Tynion IV. It's just too bad you can't hear, through the written text, the grating, whining voice I gave him.

The first few pages are used to establish that the call for help is coming from a place outside of the known DC Universe. Page one is all, "We don't know where we are!" Page two is all, "I'm Hal Jordan and this is a new space and time dimension that I'd like to enjoy!" Page three is all, "I'm Salaak and I'm reminding you that this distress call is coming from uncharted space that we've never explored because it's outside our universe or even further!" Hopefully that's all the reminders this comic book gives us because even I'm not so stupid that I didn't get the message after rereading it all three times because I was sort of confused about where the message was coming from.

Now that the location has been established, it's time for some action! Larfleeze makes an appearance, as does Space Ghost and Zorak. How did this comic book get so exciting so quickly?! Was it written by geniuses?!

James and Christopher should take that last paragraph as a compliment because it's the nicest thing I'm bound to write today.


Especially if I have to wade through twenty pages of dialogue like this.
Although I wouldn't mind more art like this: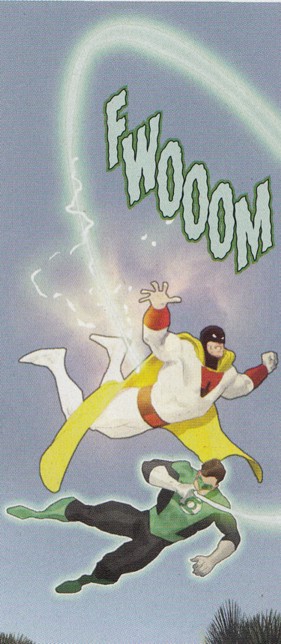 Is this the first time Green Lantern has made a light construct butt plug?
Green Lantern and Space Ghost crash on a planet outside of the known universe (yes, it's mentioned again). It's a planet full of either Robocops, Transformers, or Sentient AT-STs. It might also be a Battletech crossover but since the cover didn't mention Battletech in an effort to get the huge Battletech audience to pick up the comic book, I remain doubtful of that conclusion.

The alien Hal winds up talking to (a regular humanoid alien because the robots are apparently just weaponized vehicles) tells his story and it sounds suspiciously like the plot of Life, The Universe, and Everything. Apparently Green Lantern and Space Ghost have crash landed on Krikkit. I could explain in greater detail but if you aren't familiar with The Hitchhiker series, why would I coddle you and your choice to remain ignorant of something so enjoyable? Although, to be fair and objective and other complimentary things that perhaps aren't completely true of me, Life, The Universe, and Everything was the worst book of the bunch.

The Perterrans attack Hal because they can't have any evidence showing up on their planet that suggests there is more to the Perterran universe than simply Perterran.


I would have chosen Amanda Waller. But I guess that might be construed as racist or sexist or fattist.
Does anybody need to know my opinion on United Airlines and their behavior this week? No? You all know exactly what I would say already? Good. Thank you for paying attention so I can spend less time writing.

Hal gets away so that he and Space Ghost can have a battle. Remember that thing I said about James Tynion IV relying on comic book tropes? Well, here we are with the good guys battling due to a misunderstanding! Only a few pages left before they realize the mistake and work together. I bet Christopher Sebela read the script and was all, "Maybe let's try something different?" And James Tynion IV was all, "Really?! You're going to question my writing! I did mention I know Scott Snyder, right?! Anyway, what do you think of all my great jokes?" And then Christopher was all, "There are jokes?"

The two heroes wind up knocking each other out just as some kid named Keila and her robot on a leash (named P.E.T. because of course it is) enter the scene. She takes them away so that they can learn that they're on the same side and also become part of the rebellion, probably.

So there's some stuff where everybody decides to get along so the plot can continue. Can we get some kind of Comic Book Consortium to set up official tropes so that comic book story space isn't wasted by them? So the first ten pages of this comic book could have been condensed into one panel that read "COMIC BOOK TROPE 1A." Then everybody goes, "Cool. Space Ghost and Green Lantern fought each other due to a misunderstanding and neither actually bested the other before they realized their mistake and began working together to find the real bad guy. Let's get to the story now!"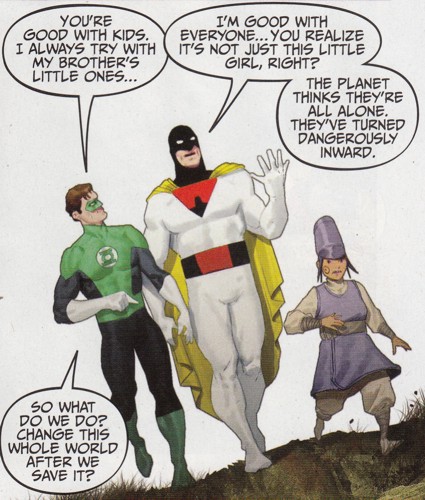 Oh no! This story isn't about a secluded planet cut off from the rest of the universe at all, is it?! It's a metaphor for human loneliness! NOOOOOOOO!
It turns out that this planet that speaks English (it must since Hal can understand the aliens without his ring) has only one major difference in their language: weapon means vehicle! They also have the word vehicle for vehicle which enables the alien to easily explain, "Weapon is our word for vehicle." Well, that sure will cause a lot of wacky mix-ups, right?! Green Lantern and Space Ghost probably wouldn't have shown up if they received a transmission that said, "We have a really powerful car and some guy wants to destroy it!"

Green Lantern and Space Ghost believe the crazy guy with the rocket ship who sent out the distress call. They decide to back his play to destroy the foundation of the entire culture of this world. That seems like the right thing to do. Truth is always better than stability! I mean, even if you believe that truth is better than stability, is it smart to trust the judgment of one guy? I suppose when the other side has already threatened to kill you, it's probably the best decision.

To make matters even more exciting, the military shows up to destroy everybody! It happens so quickly that Space Ghost and Green Lantern are given back boxes holding their ring and wrist bands but the little girl mixed up the boxes! And there's not time to switch! I can't believe I thought this comic book couldn't get wacky! Ha ha! Look at Space Ghost try to use the Green Lantern ring! Ho ho! Look at Hal Jordan try to use Space Ghost's whatevers!

They switch back pretty quickly but Hal Jordan discovers his ring is almost out of energy. Like always! How the fuck aren't Green Lanterns getting stranded on backwater planets constantly? Their rings always get critically low or run out of juice because that's the only way to make the fight tense (at least for unimaginative writers like Cullen Bunn and Cullen Bunn). It wouldn't be a problem if the Green Lanterns hadn't stopped using that Storage Locker Planet to keep their batteries nearby in interdimensional space.

In the end, Green Lantern and Space Ghost inspire the planet to rise up and believe in something greater than whatever they were already believing in. They inspired the Perterrans to not simply sit back and take it in the ass! What a great story! I'm so happy that people are around to inspire other people or else how will all those other people know that there are other ways to live their lives?! People who inspire are life-saving heroes!

I hate stories that glorify inspiration. Inspiration is what people who are too lazy to actually do shit do. It's the acceptance of advertising as the impetus that gets the world moving. "Without a charismatic person singing on a reality television show, how would any young people know that you can become a charismatic person lucky enough to get all the same breaks that that person did so that they could also become an inspiration to inspire people to become inspirations? It just wouldn't happen without inspiration! Nobody can ever be self-motivated or believe in themselves without first being told to believe in themselves! Fuck off!

The Ruff 'n' Reddy story is terrible. It's just a bunch of old jokes and stolen material shoved into a framing story of two comedians trying to find new partners whose last names will make a clever pun or saying. That's just an old Mitchell and Webb sketch! So even the framing story connecting the stolen material is stolen!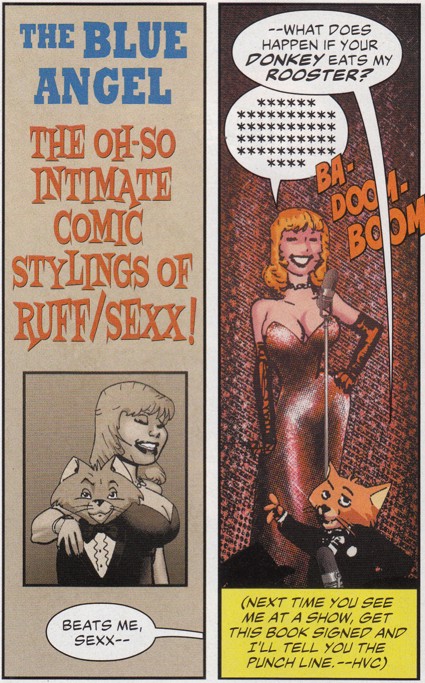 I'm sure the punchline has something to do with somebody putting their cock inside somebody else's ass. Ha ha.
A lot of the material in the Ruff 'n' Reddy story seems way bluer than I would expect DC to greenlight for a Teen Rated comic book. I guess because the filthy punchlines are either never actually mentioned or were deemed not quite explicit enough, DC Comics was okay with it. I certainly don't mind! I just think it's an odd decision. Especially since the main story is about how Space Ghost is good with kids and how people inspire children to grow up to change the world. I mean after feeling good about how little Keila grows up to become a space explorer, the reader is treated with jokes about chickens fucking eggs, cocks inside asses, and walruses raping seals? Way to go, DC!

Oh! There's also a violent depiction of a forced rimjob!


To be completely transparent, I was less upset about this as I was about the stolen Bill Hicks escalator joke! And by "less upset," I mean I masturbated to this.
The Ranking!
Overall, I'm almost sorry I purchased this comic book. At least I'll get a few more private moments with that rimjob pick. Ooh la la!