It's for You, God.
In the mid-90s, I worked with this dude Doug who was on capitalism's side in a debate we were having. He said, "What's a hobby you're really into?" And I was a big old stupid virgin so I said, "Magic the Gathering." And he said, "Well, if you lived in a socialist or communist country, you wouldn't have enough money for Magic the Gathering." I don't want to get into the weeds on this argument or how to defeat it (but I totally could and it involves two Black Vises and a Shivan Dragon). I just want to point out how now, in the twenty-tens, people's argument for defending capitalism's health care system is to tell everybody to stop spending money on their hobbies and the things they love so they can afford it. So I just want to say, "Fuck you, Doug."

As an aside, I'd also like to say "Fuck you!" to that guy in the Magic the Gathering sealed deck league who once cast the sorcery Winter Blast as an instant. Sure, it was my fault for not realizing it at the time but he was still one of those assholes who tried to get away with whatever he wanted whenever he could. Fuck you, dude. Oh, and also, "Ha ha!" Because I beat him with the last card in my draw pile: Ball Lightning. In your face, motherfucker!

I brought the Doug thing up because the first thing I thought when I picked up this comic book from the top of the unread stack was, "Could I afford health insurance if I stopped buying this comic?" If anybody knows any good health insurance policies for $3.99 a month, I'll be saving enough each month after dropping this title.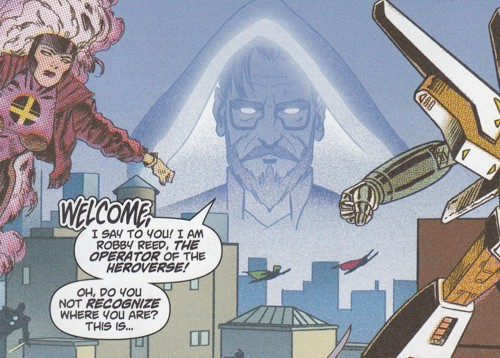 Why is Robby Reed in a vagina?
If you don't get the premise for Dial H for Hero, I'm not going to explain it to you. Because I don't get it. The title says "Dial H for Hero" but it seems like people are constantly dialing the entire word. I think there was even a time when you could dial HERO backwards to become a villain. But Dial O for Villain is a stupid name for a comic book (please don't use that statement as evidence that I think "Dial H for Hero" is not a stupid title for a comic book. I never fucking said that). I feel like one of the dials I saw in some version of this comic book only had the letters H-E-R and O or else why would I have tried to come up with all the other weird things you could dial, like OREO for a quick snack or HORROR for Cthulhu or HOHOHO for either presents or a quickie or EEEEE! for comic book reviews that often forget to review the comic book? Although I think this current series just has a normal dial on a normal rotary phone that's quickly becoming mysterious technology to young people.

The main reason I kept purchasing this comic book was for the fun origin stories in different art styles every time somebody used the phone. But it feels like that part of the comic isn't as prevalent now that the plot has really started rolling along. That's why this is my last issue. That and the need to afford health insurance!

This issue does practically the opposite of what I liked. It highlights a number of different new heroes but doesn't give their secret origin at all! Instead it's like a modern game show where the audience gets to learn all about the contestant when what the audience really wants is to see the contestant play a fucking game for money. I don't care if Tony had low self-esteem and was dating a jerk before he became Sir Prize. Tell me how Sir Prize became Sir Prize, you stupid fucking Howie Mandel of a comic book! Later we learn the girl who becomes Phantasma was tired of dealing with her Lex Luthor Healthcare provider. But I don't care about that! I want to know how Phantasma became Phantasm! This fucking comic book betrayed me! I can't wait to spend my extra $3.99 on corporate health insurance that will try their hardest to not have to pay my medical bills so they can reward their CEOs with more big bonuses.

Throughout the stories, a silent hero has been saving everybody without waiting for a word of thanks. In the end, it winds up being a dog. Boo! BOOOO! The problem with some writers is that they get all of their ideas from the Internet and this was absolutely the story thought up by somebody who has seen the "Dogs are too pure for us" bullshit all over the Internet. As if a starving dog wouldn't eat your face! Dogs aren't pure. They're just needy assholes!


This panel proves this comic book should be called "Dial H-E-R-O for Hero."
Dial H for Hero #7 Rating: C. I'm not anti-social justice story arcs in comic books. Hell, what else are superhero comic books supposed to be about?! Heroes fighting to keep corporate America and the patriarchy in power? Of course not! But what does irk me and it's why I'm no fan of writers like Humphries who seem to take most of their plots directly from Tumblr threads or Twitter memes. In this comic book alone, we have a gay guy in a slightly abusive relationship who eventually finds a group of weirdos who accept him for who he is, a woman angry at a health care provider not providing proper healthcare to protect its own bottom line, an angry youth who tries to use violence to get revenge and winds up being killed, and a fucking hero that's too good to be true because of course it's a fucking dog. It's like a comic book ticking all the boxes for maximum Tumblr reblogs! My issue isn't that somebody decided to write a comic book like this. My issue is that Sam Humphries only writes comic books like this. His Green Lantern with social anxiety was pure "Tumblr is going to love this character!" fawning bullshit. Most of my problem with the character (and this issue) comes down to execution. Just like when I pick up an Ann Nocenti book and know immediately that the characters are going to speak nonsense but still being open to a well written story if it happens (it never happens), I'm all for Sam Humphries impressing me with his "I'm writing for Tumblr" style. He was successful for six issues of this series (which it's too bad I wasn't doing reviews of at the time. So sorry, Sam!). I really enjoyed the style of this series. But this issue just reminded me why I was hesitant to buy a Sam Humphries comic book.

On the other hand, the dog meme translated into this story wasn't that bad! And how can I be angry at the health care story when I began this thing ranting about health care! And, ultimately, I approve of stories in which one person tells another person to be themselves. What better paradoxical advice is there (other than don't fuck your grandmother when you time travel)? It's just that I'm just a hyperbolic bastard who can only respond to how long of an eye roll a comic garnered from me. And let me tell you, that dog reveal was a pretty fucking hefty Liz Lemon eye roll.