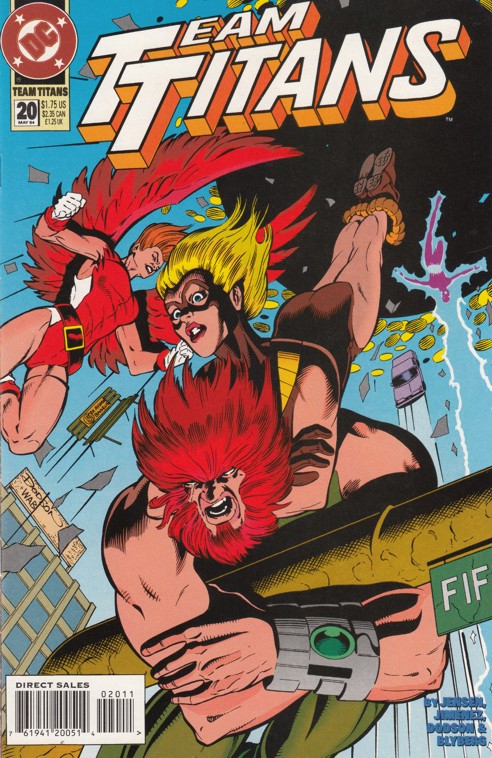 Is it sexist to point out cameltoe?
It's been about two weeks since I read a Team Titans comic book so I can't remember what was happening, which is probably a good thing. It's nice to see that my brain apparently has some kind of organic Roomba that cleans up after I've soiled my mind with terrible media choices. Revamping my old
Patreon page
has kept me away from re-reading terrible old comic books. If you enjoy my take on comic books perhaps you'll enjoy my take on The Bible? Or if you don't like reading astoundingly insightful and probably pretty funny commentary on The Bible if it costs you as little as one dollar per month, you can still bookmark the site because you'll get three free song reviews each week too! But if you want me to review a particular song, you'll have to give me money. I don't give my wisdom away for free! I mean, I do! But only in certain circumstances.
I think what was happening in this comic book was a right-wing corporate and media conglomerate asshole (much like Rupert Murdoch) was preparing to time travel into the future where he could take the place of Lord Chaos and rule the world. It's the kind of plan only an idiotic super villain in a comic book could come up with. Any real life super villain would think, "I have so much money and power right now in a world I recognize, why should I risk everything by traveling into an unknown future where my biggest enemies await? Better to just buy a private island in the present and look at porn all day." But for some reason, comic book super villains are never satisfied. They never think, "I could retire with the amount of money it's going to cost me to create this death satellite!" The always think, "Man, having lots of money really kills your ambition. Maybe I should use it to endanger my freedom and possibly my life?" Idiots!

Based on these silhouettes, one of Lord Murdoch's henchman is just a gigantic sentient penis.
The Team Titans leader for the future narrates the big battle so maybe we'll soon find out who the mysterious leader really is! I think I've been guessing Terry Long throughout most of this re-read because who else could it be? Unless Terry's kid has one of those comic book experiences that ages him quickly, he probably won't be leading the team as a nine year old. Although I can't think why I'm ruling that out when I easily accepted Nightwing once driving a motorcycle straight up a skyscraper and Starfire falling in love with Wolfman-written Nightwing.

A few pages into the battle, a bunch of Team Titans members (not from the titular and most important team!) begin to die. First killed is Gunsmoke. You might not remember Gunsmoke because Gunsmoke was a terrible name and Gunsmoke never did anything except help provide some context on the plot. We learned from Gunsmoke that the Team Titans were spread out all across history because the Team Titans leader created a truly inept time machine. Gunsmoke's last words (aside from "Arrrggghhhhh!") are "Great. Don't tell me y'all saved my butt in the Old West just so I can get it kicked in 1994." I guess in 1994, creating a character that's simply a guy dressed like a cowboy didn't cut the editor's mustard.

The second character to die is Monsieur Poniard of Judge and Jury. He should thank his terrible name for cutting his comic book career short. "Mister Dagger," even in French, just isn't going to inspire the kind of terror that a super villain should inspire. And, yes, I'm aware of how many terribly mundane and crappy names exist within the DC Universe! I'm just saying, "One less is a good start."

The third Team Titan to die is a nameless Titan in the background of Monsieur Poniard's death. She (or he) has orange hair and wears a purple costume so I think we can all agree why he (or she) had to die. You know, because Starfire already had claims on that terrible color combination.

After Lazarium (Lord Murdoch's super villain name) takes down the main Team Titans in one blast, he jokes, "I love the smell of ozone in the morning." I know that's supposed to be a joke because he says, "Heh heh," immediately after. Earlier, Blue (unless it was Green or Purple or Yellow. Remember, the colorist of this current story arc is an idiot) quipped, "Yeah, and monkeys might fly outta my -- OOOOF!" So we have all the evidence we need that Jeff Jensen's main writing crutch is movie and television quotes.

The fourth Team Titans to die is Two Gallon Hat.


I often come up with characters for my stories that I know are stupid but I insert them into it anyway simply so that other characters can call them stupid.
While all of the other Titans from throughout history are being slaughtered by Lazarium's henchmen (where did he get henchmen who put such effort into henchmanning?! I bet he pays a living wage, offers great health care choices, and provides a hefty pension), Mirage remains stuck in traffic on the streets below.


If only Mirage could easily do something to keep from being recognized!
I don't know what she did with Deathwing but I hope it involved a hedge clipper and a blender.

Mirage steps out of the cab to find Cokie Walters staring at the corpse of Two Gallon Hat. Cokie apologizes for some reason which leads to Mirage threatening Cokie if she doesn't help Mirage save the Titans. Now how the hell is a bubble gum gossip reporter supposed to help with that?! "Mister Lazarium! Mister Lazarium! Is it true you pee through the gate instead of over the fence?!"

Realizing that the Titans have met their match, Terra resorts to pleading her case: "Lazarium! No! Please — you can't just kill us like this!" Lazarium, who is a super villain who has really thought out his plan and understands the power of a truly great one-liner, replies smartly: "Oh, yes, I can, Terra — especially you!" I just got goosebumps reading that! Although after the Wayne's World and Apocalypse Now lines from earlier, maybe Jensen stole this retort from a movie too. Wasn't this the great line from the end of Die Hard 2: Dying Ain't My Thing when Bruce Willis sets the airplane fuel alight?

Five hundred and thirty Titans got there asses handed to them by Lazarium and his goons. But not to worry because Prester Jon, Redwing, Battalion, Donna Troy, and just-out-of-a-coma Nightrider have arrived to save the day! And don't think they're going to do it silently! Battalion has a new battle cry that I can't believe didn't catch on with the youth of 1994.


How was this not one of the best selling DC posters of 1994?
Battalion goes down in one shot. Most of the characters will probably go down in one shot because Killowat will probably need to prove himself. Will saving the world from Lazarium be enough to make Mirage forget he's a racist jerk? Hopefully not!

The first person to nearly put Lazarium down is called Liquid Joe. Being that he's called Liquid Joe, you know he's not going to wind up being the hero. His blast of slime doesn't even faze Lazarium. Time for Cokie and Mirage to save Killowat so Killowat can save the day! Cokie knows where Killowat has been restrained because she's a tabloid journalist. This was the era where we all believed Geraldo was going to discover the secret of the universe. Now we know Geraldo's only goal was to uplift Geraldo. That fucker will say anything for praise and a paycheck. I suppose you can say that about anybody who appears on Fox News though.

After losing dozens of Titans, I have to admit that my plan would be to give Lazarium the time travel device so we could be rid of him. If he time travels into the future, he's not our problem anymore! Heck, he probably won't ever be our problem! The future no longer contains Lord Chaos so who knows what he's going to find in 2001. If in 1994 I were told that 2001 would be the beginning of some truly inspiring xenophobic bullshit masquerading as patriotism, I would have been all, "Yeah, I can buy that." Maybe that wasn't a good example.

Killowat defeats all of Lazarium's henchmen with one push of a button. Then he goes after Lazarium. Lazarium believes he'll win for the same reason all bad guys (and Deathstork (who is a bad guy but sometimes people begin to think maybe he's a good guy who was never actually convicted of statutory rape so is it really rape? (Yes. The answer is yes. I'm answering on behalf of a large percentage of male Americans who would get the answer to this question wrong))) believe they'll win.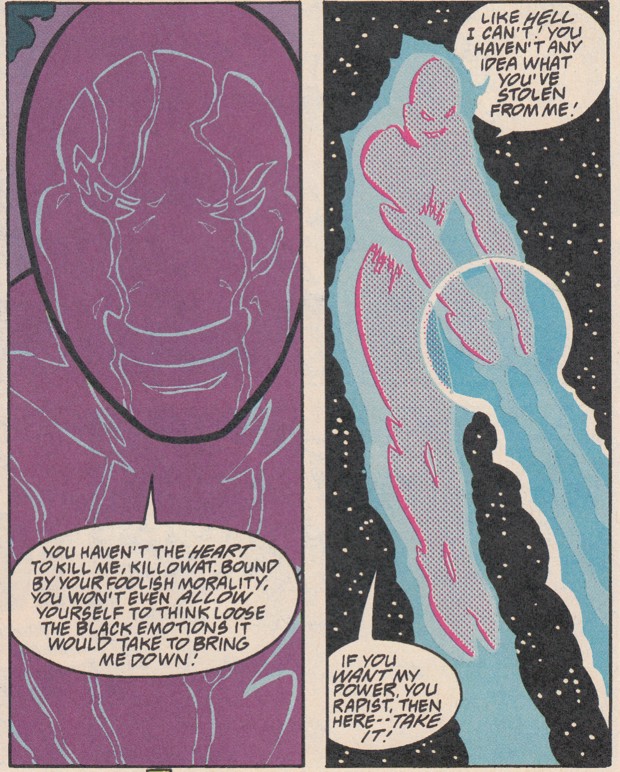 Technically it's not rape if you say, "Here! Take it!" I'm just judging by American legal standards which have an even lower bar than that to declare something isn't rape.
Killowat gives Lazarium a bunch of his power which causes Lazarium to overload and explode into a smoking scorch mark on the roof. But we can't believe Killowat has just killed somebody (even though his name depends on the idea that he kills) so he makes sure to think, "The overload couldn't have killed him. His corporeal form must be around here somewhere." Well, wherever Lazarium went, it's clear that this story is winding down, so he's technically defeated. But he would have been back if this comic book hadn't been cancelled in a few more issues!

Oh wait! He's back a few pages later so Nightrider can feast on his blood. Now nobody has to worry about Lazarium anymore and nobody cares if Dagon murdered him because what's a vampire supposed to do? Not eat people?!

Anyway, the time machine simply opens a black hole in the sky which consumes hundreds of the poorly named Team Titans. Preser Jon shuts it down and now the Titans have to deal with being part of 1994 forever. I mean, at least until the end of the year when they'll have to deal with being a part of 1995 forever. Or for a year, anyway.

The final page of this issue reveals the leader and it's definitely not the leader anybody working on this comic book had planned it to be. Instead, it's Monarch because — guess what, motherfuckers?! — it's Zero Hour time!

Team Titans #20 Rating: A-. I'm only giving it a high grade because this issue was the start of Zero Hour. Not that Zero Hour isn't a completely flawed premise that was just another gimmick to allow DC's editors to fix shit that the fangenders kept haranguing them on. But it is interesting that this terrible little Titans off-shoot comic book is where DC decided to begin the entire Zero Hour premise. My other favorite part of this is how we find out that Monarch is the Leader. My supposition is that Zero Hour was thought up long after The Leader was already a mysterious presence in this book. I'm sure the writers and editors of this book had an idea about who The Leader should be. Maybe it was Dick Grayson, or Terry Long, or Starfire, or a reintegrated Danny Chase. But it certainly wasn't Monarch which meant they changed the goal line as the story proceeded. Which is a microcosm of what happens during the Zero Hour event! It was obvious throughout much of Zero Hour that Captain Atom was going to wind up being Monarch. But since so many fans had guessed it and expected it, DC decided that instead of continuing with a plot and character arc that made sense, they would simply reveal that Monarch was Hawk. Sure, it was a surprise! But it didn't make any fucking sense. Fucking comic books!