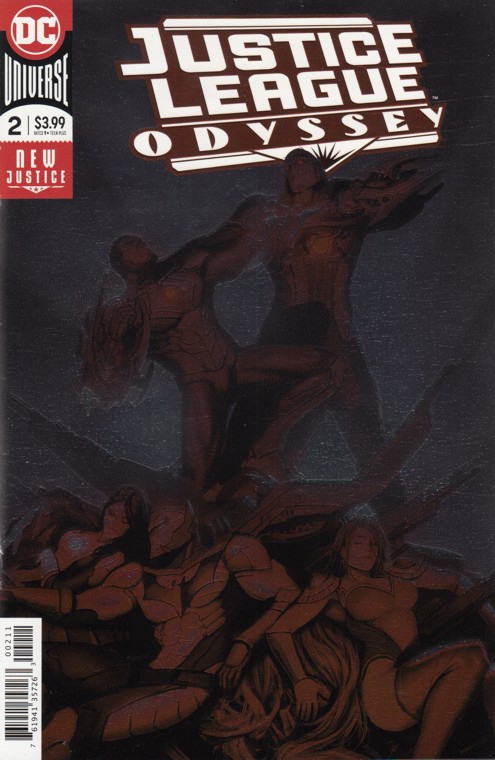 Scanners have trouble with reflective surfaces. I wonder what would happen if I scanned a mirror?
Well, that's it for me! I scanned a mirror and the result was terrifying. I now owe Bloody Mary twenty dollars and am having the Candyman's baby. I'll see you all in Hell!

Ooh! Maybe I've accidentally transported myself into a mirror universe where I enjoy Joshua Williamson's writing! Although would that be a universe worth living in? It's not like I'd have become a different person where I had always enjoyed his work. I still have the memory of knowing he's a terrible comic book writer (even if he's not as terrible as Scott Lobdell, J.T. Krul, or Ann Nocenti. Although, in a way, he's worse because at least they're so bad that they're entertaining. Joshua Williamson's writing is as satisfying as cotton candy is to a raccoon). And if I'm reading Williamson's writing and thinking "This is enjoyable!" while also thinking "He's a terrible writer," I'm going to quickly begin hating myself (I'm assuming that in this mirror universe, I now totally love myself and don't think about death constantly). I guess there's no way to know if I've been transported into a mirror universe until I begin reading this comic book!

Ugh. This is, apparently, the same old universe. I still can't stand Jessica Cruz whose only personality traits are that she's a novice and suffers from anxiety. I also still can't stand Cyborg who's been around for nearly forty years and has yet to be given half the personality of a Jessica Cruz. And Azrael. I can't get started on how much I despise Azrael. Even if Knightfall had been the greatest comic book story arc to ever exist (which it is, by the way¹), I would still hate it because it gave us Jean Paul Valley, a character who is basically just a combination of Scrappy Doo and Cousin Oliver.

I think the main reason I'm reading this comic book that's written by a writer whose plots don't excite me and stars three characters I can't stand is that I forgot to drop it from my pull list.

Grade: C-. I suppose once you've read enough comic books, you've read all the comic books. This isn't a fault of the reader, of course! It's the fault of the lack of imagination of the writer! So here, once again, we have a villain (Darkseid) telling the heroes that they need to work with him to save existence. The heroes, being heroes, recognize the villain and attack him instantly. That's what makes a good hero, you know: a rush to a physical altercation! After Darkseid leaves because he told them what they needed to get the plot started, the heroes bicker because they're heroes that don't really get along. That allows for easy drama throughout the story! After that, they learn a little bit more so that the reader is left feeling like maybe they didn't waste four dollars on this bit of story even though they probably could skip every other issue and still follow along. And finally, the story ends with one of the heroes suddenly turning against the others.

This comic book is a good example of why ancient storytellers used "in media res." Because this is all boring set up. These first two issues were like going to a play and having to sit and watch them build the sets before being able to watch the show. We get it! There's no real reason for these four heroes to be working together, let alone for Darkseid. So Williamson has to spend a bunch of pages convincing the readers that they should buy into the conceit. Also, comic book readers are easily confused. If you begin a story in the middle of the story and don't immediately flash back to the beginning on page two to tell pages and pages of story that could have been guessed at had the story continued from page one, they'll go online and tweet about how shit your comic book is because it doesn't make any sense. None of us are very sophisticated readers! And my purchasing two issues of this comic book is proof of that!

________________________________________________________________
¹ By the way, it isn't.